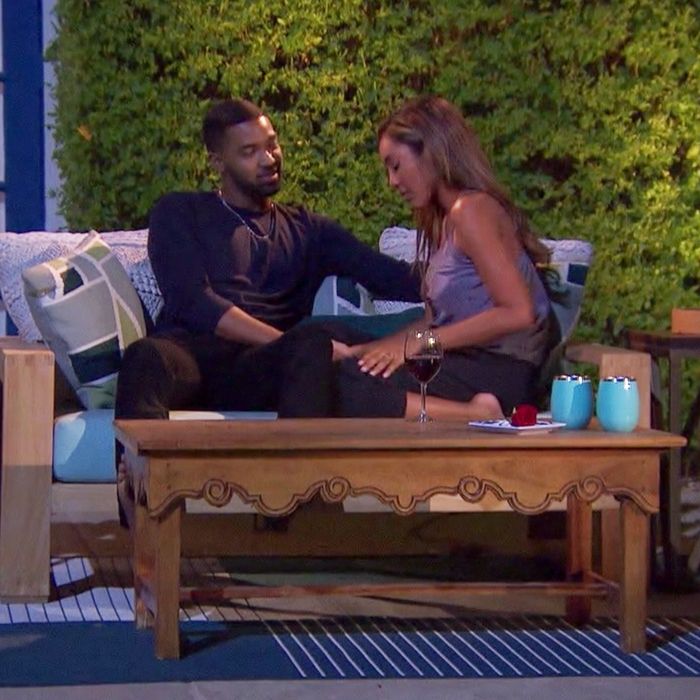 Ivan and Tayshia.
Photo: abc
The Bachelor franchise is not generally known for its progressive ideals. Its entire premise is based on antiquated notions of love, gender, and sex, and the only way to get cast is if you look like a life-size Barbie or Ken doll. It's also engaging, highly produced fluff that is extremely difficult to stop watching once you've started, but much like downing an entire bag of fun-size candy bars on your own, after the initial sugary bliss, you're often left feeling unwell physically and spiritually. Which is why it was so surprising to see last night's episode of The Bachelorette actually tackle real issues in a way that felt genuine.
After a group date where she had the guys write songs for her (and during which producers gifted us with shots of Harvard guy Bennett struggling to think of words that rhyme with "house") Tayshia declares Ivan, an aeronautical engineer from Dallas, the winner. His prize is a one-on-one date with Tayshia, which Noah, this season's newly non-mustachioed villain, thinks will go poorly because Ivan is too shy, and Tayshia likes bold guys. For their date, Ivan and Tayshia hung out in her villa at the La Quinta Resort & Club, ordering room service, playing "the floor is lava," pillow fighting, and eating a bowl of ice cream that is, conservatively, the size of a Toyota Corolla. It was all very cutesy and endearing, but when the pair went outside and started talking about their families, the conversation quickly turned serious.
Ivan shared the story of his younger brother, Gabe, who spent four years in prison after struggling with drug abuse. He told Tayshia that George Floyd's death and the subsequent protests against police brutality "really hit home for me."
"My brother used to tell me stories of how these COs [correctional officers] literally beat him up," Ivan said. "I felt so bad, because my first question was like, 'Well, Gabe, what did you do?' But it doesn't matter. Like, no matter what George Floyd did either way, or what my brother did, these people have a job to do, and they need to do it right. They can't just be hurting people for no reason, you know? So it made me check myself."
When he asked Tayshia how the events of this year had affected her, she became emotional. "Just the way the world is right now, it's a lot," she said, crying. "And it's just overwhelming."
Talking about her experience growing up in the ultrawhite Orange County, she said: "Being the only person that looks like me, I'm realizing that I've been trying so hard my whole life to blend in. Because I knew I was different." She said that hearing her neighbors chanting about Black Lives Matter affected her more than she expected because "those are people in my backyard that I've been trying to prove for so long that I'm the same as them."
It was an unexpectedly raw, moving exchange, and then, when it was over, we were suddenly thrust back into a regular Bachelorette episode: a group date of buff guys playing a game of "Truth or Dare" that included dares like getting Chris Harrison to autograph their butts and doing their best fake sex moans into the La Quinta Resort & Club loudspeaker. The transition was jarring. How were we supposed to care about Bennett's fake proposal to Tayshia when we had just watched her and Ivan share something so real and vulnerable?
Tayshia is only the second Black Bachelorette in 16 seasons of the overwhelmingly white show. Rachel Lindsay, the first Black Bachelorette, who starred on season 13 of the show, has said that she had to deal with racism not only from viewers but also from a contestant on her season. And next season's Bachelor, Matt James, is the first Black Bachelor in 25 seasons. In a show and franchise that has historically shied away from or fumbled important conversations about race, the emotional exchange between Ivan and Tayshia was an exceedingly rare and welcome moment of authenticity and frankness.
The rest of the episode paled in comparison. Big Guy Ben went to Tayshia's room in the middle of the night to apologize for not talking to her on the last group date; Baby Man Ed also tried to go to her room, but ended up at Chris Harrison's instead. Bennett and Noah kept fighting, and Noah tried to start some drama by telling Tayshia that some guys were accusing her of only giving him a rose to stir up resentment. It was all fine, and all of the contrived activities and conflict would have made for perfectly average Bachelorette viewing had we not just gotten a glimpse of real emotion. Will the Bachelor franchise continue to tackle more serious social issues from now on? Can we even trust the show to handle these conversations well? I guess we'll have to wait and see, but for now, it looks like next week's episode is all about Bennett and Noah fighting, so I'm hesitant to get my hopes up just yet.