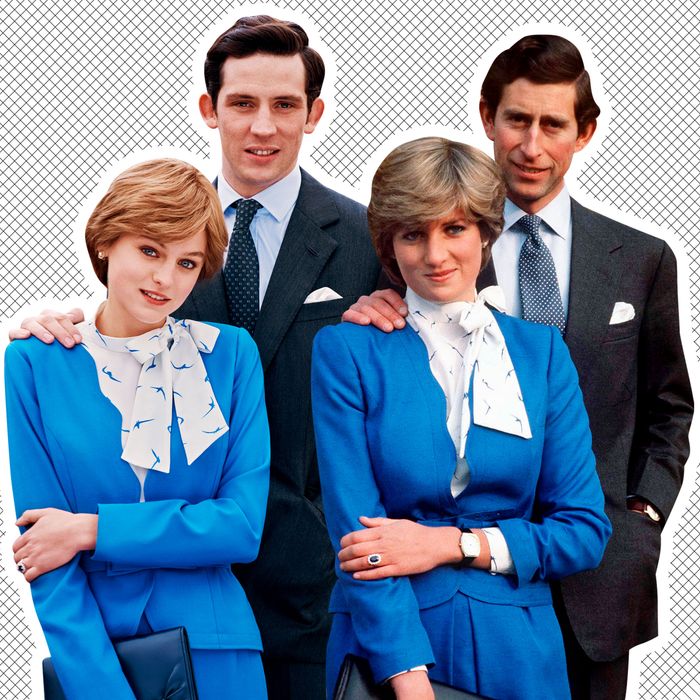 Photo-Illustration: by The Cut; Photos: Netflix, Getty Images
Season four of The Crown is disorienting in a good way. Lead actress Emma Corrin bears such an uncanny resemblance to a young Princess Diana, it's easy to forget that you're watching a dramatized television show and not a documentary. This is, of course, thanks in part to good casting and a perfect wig, but costume designer Amy Roberts and her team also worked hard to re-create some of Diana's most iconic looks, from her Laura Ashley frocks to that sheep sweater (which you can now buy yourself), to the wedding dress seen 'round the world. It took three people four weeks to re-create the last of these outfits, with its 25-foot train and puffy '80s sleeves, and it was only on camera for a few seconds, mostly from the back. Now that's commitment.
Diana's outfits are so well-known at this point that viewers are likely able to spot the most obvious dupes. (For the less obvious ones, this thread by GQ writer Rachel Tashjian is a great deep dive.) But not all of Currin's costumes are exact copies. That would be too easy. Boring, even. Like the show itself, they seem to be a convincing cocktail of real-life and fiction, sometimes changing colors and silhouettes. You never really know what to expect. Except for big collars … so many big collars.
Whether you recognize these outfits or not, though, what's so thrilling about seeing them again in 2020 is that they are exemplary of someone who had fun when they got dressed in the morning. As I binged hours and hours of the show this weekend in my boring gray sweatpants, I felt inspired to throw on something more lively and colorful when I woke up the next day.
Below, some side-by-side comparisons between The Crown and Princess Diana in real life. We'll add more as we keep watching.