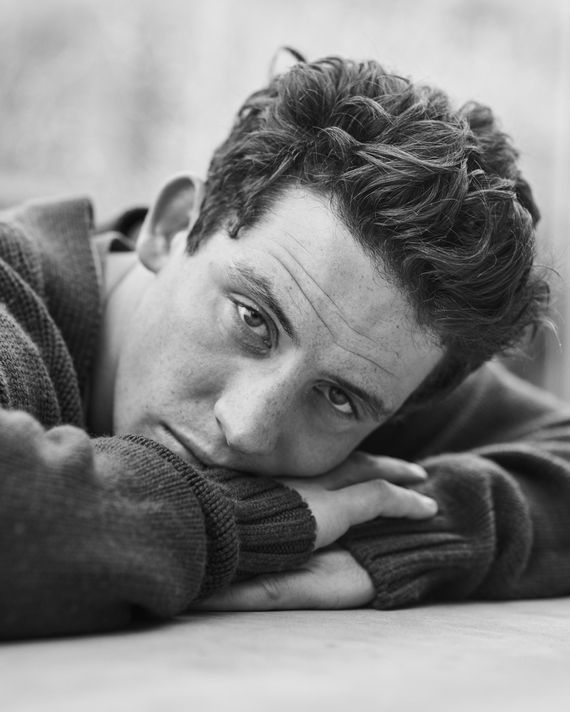 If you binged season four of The Crown on Netflix this weekend, you'll recall Prince Charles as having a sort of permanent scowl. It's not just the vague look of distaste that most of The Crown's characters have. His is a deep, ugly glower complete with flared nostrils and a ruckled forehead. It's so intimidating, you half expect his eyes to turn red, and when I saw that Josh O'Connor — who plays Charles on the show — had entered my video chat, I did feel just a little trepidatious. What would I do if he looked at me like that? Cry? Drop dead?
Prince Charles is a menace this season, growing from a quiet, sympathetic young royal into a self-centered, insecure nightmare of a person. There are various reasons for this — stress over being heir to the throne, heartbreak over his family's decision to excommunicate the love of his life, etc. But what's particularly reprehensible is the fury he directs at his wife, Diana. He meets her when she's just 16, 13 years his junior, and the bulk of the season follows the early breakdown of their famously bad marriage.
I'd gotten used to this man looking bloody murder at his wife, but O'Connor's real-life resting expression is a sort of twinkling amusement. Today, he's in a dark-blue sweater, his hair falling in shiny brown curly cues over his forehead. His eyes are green and surprisingly feline, and any relief that he's not scowling is quickly replaced with nerves over how strikingly handsome he is.
He's calling from the London apartment he shares with his girlfriend, and apologizes at the gentle swaying of his laptop, which is placed on a ceramics stand that occasionally swings to the left, revealing a cozy, carpeted sitting room. Pottery is his quarantine hobby, but his love of art goes much further back; O'Connor grew up in a family of artists — his brother is one, his grandmother a ceramicist, and his grandfather was the sculptor John Bunting. Growing up, he wanted to become a professional artist, too, but he didn't think he was good enough (plus, art wasn't cool at school, so he switched to rugby). But then, rugby wasn't that cool either. So he found acting, which he jokingly calls "a really good way of showing off, basically." His first big role was the scarecrow in The Wizard of Oz, and then he played a minor character in Bugsy Malone. He recalls this one fondly: "We were all in love with Tahliah," he says of the young woman who played Tallulah, Bugsy's flame, who now goes by the name FKA Twigs.
These days, he's reclaimed his artsy roots; trawling his Instagram you'll see lots of spare, gloomy landscape photos, pottery stills, and his original, Mattissean line drawings. (My colleague points out that the whole aesthetic is "very Loewe," the Jonathan Anderson–helmed brand for which O'Connor is a muse and model).
In fact, an "interest in the arts" (and big ears) is the only things O'Connor will admit to having in common with his character on The Crown. "I don't think I've ever raised my voice ever in real life," he says, when I explain my apprehension over meeting the man behind Charles's glower. O'Connor does agree that his character is "horrible" in this season, and shakes his head over his treatment of Diana, who is played this season by his "good mate" Emma Corrin. Still, he can understand the root of Charles's discontent, and explains it all in an empathetic, only slightly floundering monologue. "It all comes down to the fact that he's spent his whole life not being heard," O'Connor explains. "The one time he's supposed to be the center of attention, he marries a woman who's single-handedly the most popular woman in the whole world — in history. And it's too much for him." There's more, and his meandering explanation is almost charming enough to make me feel for Charles.
O'Connor isn't sympathizing with Charles, per se. Rather, he's trying to understand his behavior through the lens of "the fragility of masculinity," a subject that's fascinated him since boyhood. He remembers being so desperate to be popular that he forced himself to play sports, when all he really wanted to do was "take a little painting class." You actually see this fascination reflected in his work — he seems to thrive in roles where masculine tropes are flipped or complicated. Prince Charles is only the latest example, but all of O'Connor's men share a vulnerability and brokenness that seem to be the actor's speciality. In 2017, he played a tortured sheep farmer in the pastoral gay romance God's Own Country, and a year later he starred in Only You, where he played Jake, a naïve, mawkish young man, the wide-eyed partner to Laia Costa's much older and more mature Elena.
Next up, he's onto something more classic: a role in Romeo and Juliet, a made-for-television production by the U.K.'s National Theatre. He is, of course, playing Romeo. But if he could do anything, he says, he'd love to play a superhero, something classically macho, so he can put his own delicate, Josh O'Connor spin on it. "I think [superheroes] are so effeminate — the best ones are not masculine," he says, enthusiastically. He recently watched all of the Marvel movies for the first time, and points to Chris Hemsworth's Thor as the ideal: "He's a little bit overweight. And a bit louty. He's just awful! That's what a superhero should be — no one wants to see superhuman. People want to see your flaws, and that's what makes it funny and interesting."