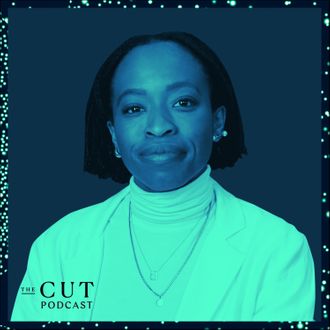 Photo-Illustration: by The Cut; Photos: Getty Images
For the Cut's In Her Shoes column, we talk to ambitious women about how they've come this far, where they're going next, and what they wear when getting it done. Now In Her Shoes will also live as a limited-run podcast series under The Cut banner. In each episode, deputy style editor Izzy Grinspan speaks with a hardworking, high-achieving woman about her path to success. This week, Izzy is joined by Erica Chidi, co-founder and CEO of Loom, a center that provides sexual and reproductive education, which will be re-launched as an entirely digital platform in the winter of 2021.
Together they discuss the importance of all-encompassing sexual health education for women, as well as the digital re-launch of Loom, for which she raised $3 million in venture capital. Here, Chidi talks about the origin of her company:
CHIDI: When my co-founder (Quinn Lundberg) and I came together around starting it. Our shared understanding was that most women are operating from a knowledge deficit about their bodies. And at the time where we really saw that knowledge deficit magnified was around pregnancy and postpartum. It was a very stagnant industry that hadn't had much innovation. It was still highly feminized, very parental in terms of how the information was being disseminated. It was very dogmatic and polarized, you either did this or that. There wasn't a lot of elasticity around it. So that's really where we dug…There is no one way or right way to do it. What women really need is this evidence-based cornucopia of information around how their bodies function and they through an introduction to that information can make the best decision for themselves. 
Chidi has gone through many evolutions throughout her career, going from a doula to the CEO of a women's healthcare company. Here she talks about how to know when it's time to move on.
CHIDI: I think knowing when to move on for me looks like frustration with no relief. I really consider myself to be a swiss-army knife. I'll whip out this thing and that thing to figure out if there's a way to reverse engineer to get to a solution that works. When that doesn't happen after a couple of tries, I am very comfortable leaving something and going to do the next thing. But for me there's a difference between exhaustion and frustration. When you're exhausted you're just like I need a break, I need a level set. I might need to call in some support or some tools. And when you do those things, there's a bridge and you can keep going. That high energy comes back, that clarity comes back. There's traction. That is definitely what I look for. For me frustration is that you hit exhaustion, you bring out the tools, you build the bridges, but you're just not getting traction. And for me that's when it's time to pivot. 
To hear more about Chidi's career and the future of Loom, listen below, and subscribe for free on Apple Podcasts or wherever you listen.