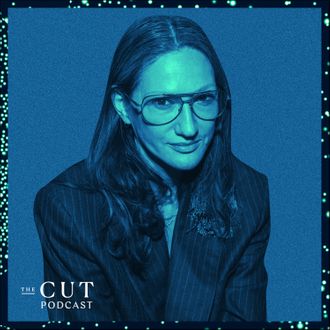 Photo-Illustration: by The Cut; Photos: Shutterstock, Getty Images
On this week's episode of In Her Shoes, host and deputy style editor Izzy Grinspan talks with former J. Crew creative director and president Jenna Lyons, "The Woman Who Dresses America." Since leaving J. Crew in 2017, Lyons has gone on to start her own company in the home, beauty, and fashion space called Lyons L.A.D. (for Life After Death) and will now host her own reality competition show, Stylish with Jenna Lyons, which will premiere on HBO Max December 3rd. As if she weren't busy enough, Lyons also recently launched her own line of false lashes, LoveSeen. Jenna is joined in the interview by L.A.D. stylist Sarah Clary and chief of staff Kyle DeFord. The group discusses their time at J. Crew, what to expect from their upcoming projects, and how to make the world more stylish.
On success at J. Crew, and departing:
IZZY: With your career transition, what were you most afraid of?




JENNA: A million things. I think that when you have any kind of success—and success is measured by what it is to you—but I think I felt like I'd really gotten to a place in my life that I never expected to and I was so incredibly grateful and blown away that any of the things that happened to me actually happened to me. And I wasn't young when I left J. Crew and I got really scared. Will I ever have any successes? Is anyone going to want me? Is it time for the young ones and I'm gonna be put out to pasture with the cowbell around my neck? You have imposter syndrome of Oh none of it was me. I didn't do anything and everyone is going to forget me in a couple years. So there was that for sure. Also, I was so connected to the brand itself. I remember being in an airport in London and this woman walked up to me and goes, "Oh my god. Are you Jenna Crew?" And I was like, "I'm actually not. I'm Jenna Lyons and I work at J. Crew and it's not my name." I realized that people were so connected to me being connected to the brand and I felt like my identity was really wrapped up in the company. And it was really hard to see, Is there a way to be myself? And what does that look like and what do I do? Lord knows I never expected to be a television show or makeup brand.
Here, Jenna talks about Stylish with Jenna Lyons. The eight-episode series will feature a group of young creatives competing to be the next recruit to Jenna's team, working alongside Sarah and Kyle.
JENNA: The best way I can describe it is we took on transformations, transformations that revolve around home ideas, around beauty ideas, and around fashion. We approached them with the most authenticity and tried to really solve problems. Then on top of that you're getting to see a real glimpse inside of what it's like around hanging out in our house, hanging out in our life and office and apartment. It's a very strange and intimate process, but it's also very real. 
To hear more from Jenna, listen below, and subscribe for free on Apple Podcasts or wherever you listen.