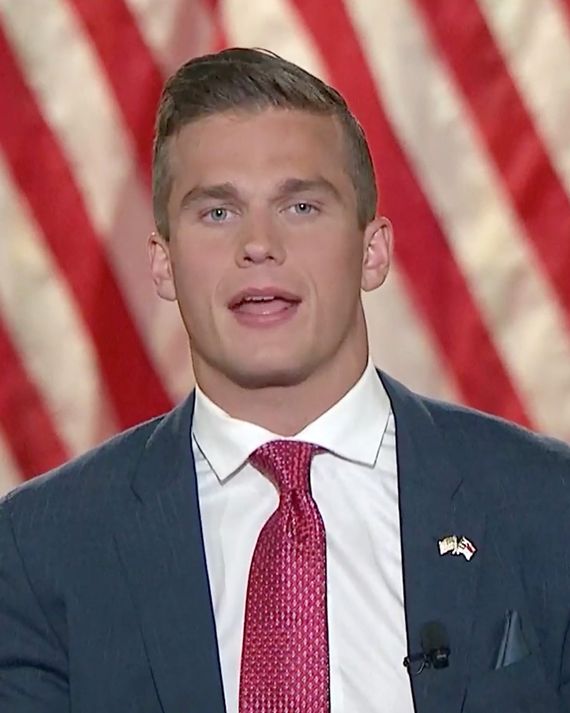 When Madison Cawthorn was elected to represent North Carolina in the House of Representatives last week, he made history. The 25-year-old Republican, a motivational speaker who campaigned on a message about overcoming adversity, became the youngest person elected to Congress in nearly 200 years. He marked the momentous occasion with a simple tweet, encapsulating both his congressional run and this moment in national politics: "Cry more, lib."
Despite his youth, inexperience, and a campaign plagued by scandal after scandal, Cawthorn trounced his Democratic opponent by 12 points. He's part of a young, insurgent generation of GOP politicos forged in the heat of MAGA and the slimy crucible of its culture wars. Like any number of college Young Republicans roiling their campuses nationwide with increasingly radicalized rhetoric, Cawthorn is a young man who's demonstrated racist views and been accused of misogynist behavior — and hasn't let either stop him in his quest for power. Add in a photogenic set of cheekbones and a marked tendency to pose with girth-y rifles, and you arrive at the message the GOP has imprinted on its rising stars: one of instinctual cruelty and little else. It's hard not to arrive at the conclusion that this is the future of the Republican Party, and the main of what it has to offer.
After winning his primary by running to the right of Trump's pick, Cawthorn became a Republican Party star overnight. He made sycophantic comments emphasizing his love for Trump and was invited to give a rousing speech at the RNC. He was also beset by a series of scandals that might have sunk a congressional campaign in pre-MAGA times. In August, Jezebel turned up social-media posts from 2017 in which Cawthorn had enthused about a visit to the Eagle's Nest — an estate used for Nazi meetings — referring to it as "the vacation home of the Fuhrer," adding that the destination had been on his "bucket list for awhile." Cawthorn, who uses a wheelchair after a near-fatal car crash left him paralyzed at 18, criticized "the disgusting members of the media who would try and affiliate a disabled man, like myself, with a movement that would have had me exterminated," and denied supporting Hitler. Soon after, he was accused of sexual misconduct by three women who claimed he forcibly kissed or touched them, and alumni of a private Christian college he briefly attended alleged in an open letter that he had "established a pattern of predatory behavior" toward women during his time there, driving female students to secluded places and making unwanted advances. (Cawthorn denied the allegations). And then, to top it all off, a website paid for by his campaign made a racist attack against a journalist, Tom Fiedler, who had covered the campaign of Cawthorn's opponent, Moe Davis. "Tom Fieldler [sic] who works with Moe Davis' advocates, is working to tear down Madison Cawthorn," the website, moetaxes.com, read. "He quit his academia job in Boston to work for non-white males, like Cory Booker, who aims to ruin white males running for office." (Fiedler is a former Boston University dean and had volunteered for Booker's presidential campaign.) Cawthorn later clarified, unconvincingly, that the sentence was the result of a "syntax error" that was "unclear and unfairly implied I was criticizing Cory Booker." Ten days later he won his election.
Even without Trump's prefab reality-TV persona or public profile, Cawthorn weathered allegations of overt racism and sexual predation seemingly without electoral damage, handily carrying the election. It was emblematic of a Republican Party whose base is engaged in total culture war, in which character accusations — particularly those related to racism and misogyny — roll off a slick front of perceived victimization. Enshrined, berobed Supreme Court Justice Brett Kavanaugh retains his victim status, despite the credibility of the allegations against him; President Trump himself is running down the clock of his presidency with a keening wail and a bellow for violence over election results. The well of white grievance seems boundlessly deep, a font to draw from for years to come.
This sense of victimhood emerges in just about every interview Cawthorn does. Asked to explain his Election Night tweet in a triumphal postelection interview on Monday, the congressman-elect cited his frustration with "cancel culture." "There's just been so much, you know, blatant lies about me, specifically when it comes to questions of Nazism and racism," he said. In the very same interview, he revealed a desire for total Christian dominance over the United States and insisted that it was impossible for him to separate church and state when it came to his governance. He claimed to have read the Quran in order to be a more effective proselytizer to Muslims, and lamented the stubbornness of religious Jews against conversion to Christianity. "They can be very difficult," he said.
Cawthorn's ascension puts an end to the optimistic but fundamentally untrue notion that the GOP's racism is a generational phenomenon, bound to die off as its elderly supporters do. He's part of a new, radicalized, far-right youth movement whose views veer toward white nationalism. While the majority of young voters skew left, those who remain in the GOP are by default more Trumpian, helped along by a political coming-of-age in the era of MAGA's crudity, violence, and overheated disputes on social media. A Democratic Party whose leadership is composed of complacent septuagenarians may be ill-equipped to deal with what is to come.
Young people active in the GOP have actively sought out a party bathed in the most naked expressions of racism on offer. Over the past five years, College Republican chapters have driven scandal after scandal after scandal over overt racism, from Washington State to North Carolina and all points in between. Racist and anti-Semitic chats proliferated, white-nationalist speakers were invited to campuses, and College Republicans marched at the Unite the Right rally in Charlottesville. Meanwhile, a group led by 22-year-old Holocaust-denying livestreamer Nicholas Fuentes has begun criticizing conservative campus groups like Charlie Kirk's Turning Point USA and the Young America Foundation for being too moderate — that is, unwilling to embrace explicit, genocidal racism and anti-Semitism. The movement, known as "Groypers," were out in force during Saturday's protests in D.C., during a day of demonstrations that devolved into street melees and stabbings after sunset. Saturday's rally — with militant MAGA troops, young and old, mingling on the streets, resolute in their desire to overturn a democratic election — was as compelling as any exit poll in its vision of our country's political future.
The up-and-coming figures in the GOP have been battle-tested in the clammy arms of Pepe the Frog and shaped by a half-decade of barbarity from the white nationalist in the White House. Young conservatives have grown up in an age saturated in Trump's worst traits, and absorbed them with glee. The appeal is one pinpointed for cruel and rageful young men, engorged with id; it is a racist message of loathing and bile, girded by a desire to generate pain. In sum, the idea is this: Cry more, lib. And yes, it's enough to make you weep.