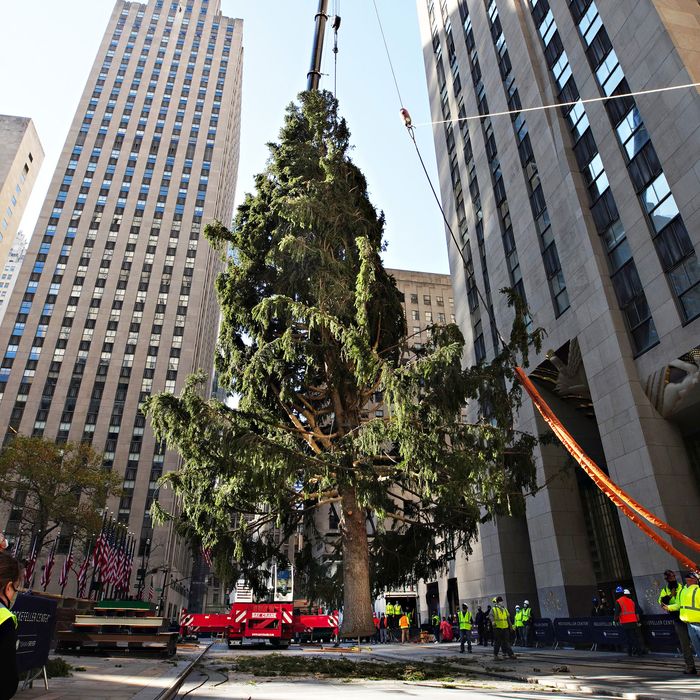 Before.
Photo: Cindy Ord/Getty Images
Listen, we would have loved her no matter what she looked like. We did not care that she was balding in spots, we did not mind that her boughs were settling into a gnarled shrug. We thought she was beautiful just the way she was. But now, having spent roughly a week-and-half glamorizing inside her scaffolding cocoon, the Rockefeller Center Christmas tree has emerged lush and triumphant. This according to NBC 4 New York managing editor Steven Bognar, who released fresh pics of the tree today. A real glow-up, as you can see:
Eye-witness reports attest to the makeover:
Which, yes, the tree was always going to get extra branches grafted onto her bod, to help fill in the sparse patches. This is said to be "normal" procedure, even when the tree shows up looking a littler, hm, fuller than 2020's specimen did. And then, she also needed some time to settle after being bound for her lengthy flatbed journey from Central New York — in short, she was never going to look her best at her unveiling on November 14. As Rockefeller Center chided critics on the tree's behalf: "Wow, you all must look great right after a two-day drive, huh?" Fair!
Anyway, workers gave her hair plugs, and that appears to have evened things out.
While it is arguably a little rude, this forcing the tree to conform to unrealistic beauty ideals, she emerged from glam looking every bit the luxurious cone her public expected. Eat your heart out, NYC.