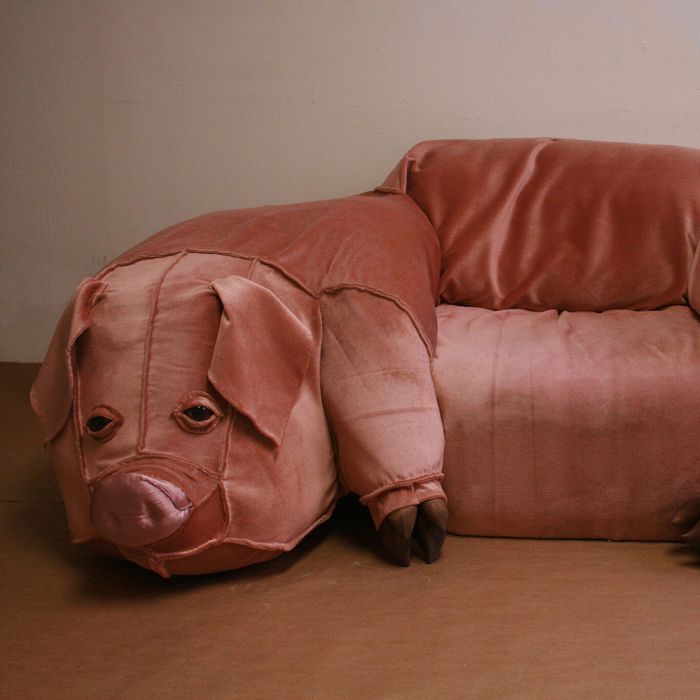 Photo: Pavia Burroughs via Craigslist
Into every life a little pig couch must fall. Never has that been more true than this week!
Advertisements for the above-pictured pig couch have been intermittently circulating the internet for about five years, and surfaced again on Tuesday with a New York City area Craigslist post for a "Unique Pig Couch." The ad reads, "Got this pig shaped couch a few years ago … Selling it for $250 even though my boyfriend and I bought it for over 11k and it's in pristine condition. Need someone to pick it up ASAP as my new boyfriend hates it and sadly this is non-negotiable for him."
The delightful listing of dubious authenticity quickly went viral, prompting many to wonder what the hell was going on here. On Wednesday, the New York Times jumped right on that, and found out that the couch was not only real but leads a complex double life in both its embodied and virtual forms.
Its IRL existence has been a bit of a fall from glory. The pig couch was designed by a 31-year-old fiber artist from Philadelphia named Pavia Burroughs. The objet d'art is named Hillhock (a portmanteau of "hillock" and "ham hock"), and was designed as part of Burrough's sculpture thesis in 2011, which included an entire living room set that completed the pastoral scene. There was a rug that resembled dirt, paper flowers, a lamp made to look like it was blossoming out of a root structure. Also, according to Burroughs, Hillhock is technically a chair.
After exhibiting the pigi chair, Burroughs tried to sell the it, but bafflingly few offers came in. Burroughs told the Times she ended up selling for about $500 to a businessman. That man turned out to be Martin Roesch, a cybersecurity executive whose tech start-up, Sourcefire, produced a threat-detecting software called Snort, which used a pig as its mascot. Hence, the pig couch went to live in Sourcefire's offices to play up the pig theme. Hillhock's strange and tragic odyssey ends in a conference room in Cisco's offices in Maryland after the company acquired Sourcefire in 2013. Roesch technically still owns the chair and is considering selling it.
Meanwhile, on the internet, pig chair is living her best life. Here she is a minor celebrity, beloved by many at cross-purposes. In 2016, ads for Hillhock began cropping up all over: There was one in Nashville, another in Boca Raton. In 2018, a woman named Abigail Rowe came across the chair in Craigslist's "free stuff" section. The listing, posted by someone who claimed to be a furniture designer named Andrew, said the item would go to the person who could best explain, in full detail, what the couch meant to them. Rowe replied with a poem about the pig couch.
Eventually, Andrew texted Rowe back explaining that he'd been set up. He claimed a woman he'd gone on an OkCupid date with, who was upset with him for not being vegan, had created the post using his phone number.
Frankly, those messages deserve to be in a museum. Just as poor Hillhock deserves to be freed from the Cisco conference room.