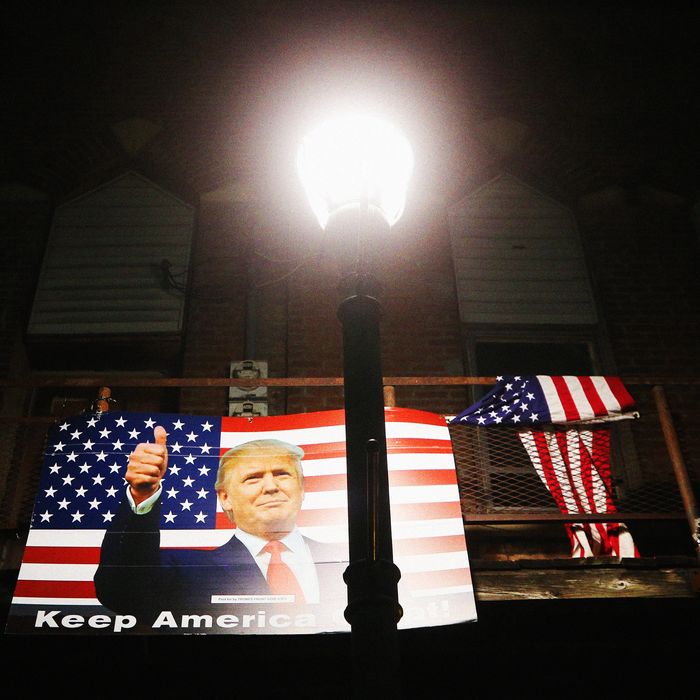 Photo: Mario Tama/Getty Images
I voted eight days ago. Most of the people I know who were planning to vote — which is most of the people I know — have already voted. On Instagram, most of the people I don't know have already voted, too. My ex-boyfriend's new girlfriend voted. Natalie Portman voted. Ciroc, the vodka company, hasn't voted, but it asked me if I have.
There's something comforting about this relentless chorus, or there should be. Never before has it felt like more people were better prepared to participate long before actual Election Day — and by all accounts, a historic turnout is what will be required to defeat Donald Trump. And people didn't just vote early; they are paying attention to down-ballot races, City Council contests, judicial elections. Friends in New York are poll workers; family members in California have seemingly used every waking minute to talk about Proposition 22, a measure that would permanently allow rideshare and delivery apps to avoid giving benefits to workers.
But still, in the midst of this all-encompassing urgency, all this talk about "what it means to vote this year," I feel stuck in limbo, immobilized by dread. I don't know if we're actually going to get anywhere tomorrow, prepared as we are. It seems likely that we won't know the presidential election results for days, maybe even weeks; there's a chance that Trump could lose the popular vote — again — and remain in office. It's the most important Election Day of our lives — we all get it, even Donald Trump gets it — but when will it actually end? We've been building up to this moment like a line in the sand, when it's really so much messier and far more foreboding. It looms ahead like a precipice, something we might fall over rather than move past.
The last few weeks were filled with remarkable images of people braving long lines at the polls, sometimes in pouring rain, in the midst of a pandemic. Presented in a certain light, these are moving testaments to the determination and will of American voters. But every time I saw another post about people getting sent pizzas while inching closer to their polling place, discomfort hovered behind the sweetness of these stories. It shouldn't take hours to early vote. And then there are those who can't, or won't, vote at all: Millions of people who are disenfranchised, like formerly incarcerated Floridians, for instance, who only just won the right to representation, and then had it effectively taken away by a new law mandating that they must pay back their court fees before voting. Or workers at a warehouse in Staten Island just a dozen miles from me who asked for a day off from their employer to go vote, but didn't get it. Or those who aren't voting because they have come to believe it won't make a difference, because it has never made a difference for them.
There's also the dread that comes from casting a ballot in the shadow of the recent Supreme Court confirmation of Amy Coney Barrett, pushed through by Republicans at the last minute. She poses an existential threat to our basic rights: the right to health care, to have an abortion, for gay couples to marry. Those who had doubts about Joe Biden were told, throughout his campaign, that a vote for him was a vote for a liberal Supreme Court justice, a vote against a nightmarish conservative majority. There's a bitter irony in the fact that this record early turnout occurred almost exactly as Barrett's nomination process concluded, as if we needed an extra reminder that we've never been more removed from the forces that actually shape our lives. Barrett is the third justice to be appointed by Trump, a president who received nearly 3 million fewer votes than his opponent. If the Republican Party contests the counting of ballots in numerous states, which seems to be their plan, and the decision travels up the courts, these justices will ultimately decide on the fate of the man who appointed them. The corruption is so blatant, so out in the open, it has turned into a kind of dare: "This is how it works now. What are you going to do about it?"
Elizabeth Hardwick wrote in the New York Review of Books in 1972 about another presidential election that felt, at the time, like the most important one ever: between George McGovern and Richard Nixon, whose candidacy Hardwick saw as a backlash to the civil-rights movement. "Most of the country is worn out," she said. "Sorely troubled in body and spirit, but more tired than troubled." I keep repeating that to myself — more tired than troubled — and trying to decide which one I am.
I'm certainly very tired. But I am also more troubled than I have ever been. We've been through a year of unprecedented, accelerated suffering and systemic breakdown, a summer of massive unrest over racial brutality, and on the brink of winter, our country is in free fall. It has been exhausting, in body and spirit — yet there is a small, persistent, hopeful whisper in my ear that comes from that collective struggle. Our fury runs deeper than fatigue. My ballot, when I voted, had two Black socialists on it, something that once might have seemed impossible. Bigger things are happening, regardless of tomorrow's results. That helps the dread, to imagine the day after. What is my plan, whatever happens? When we get up the next morning, where do we go?