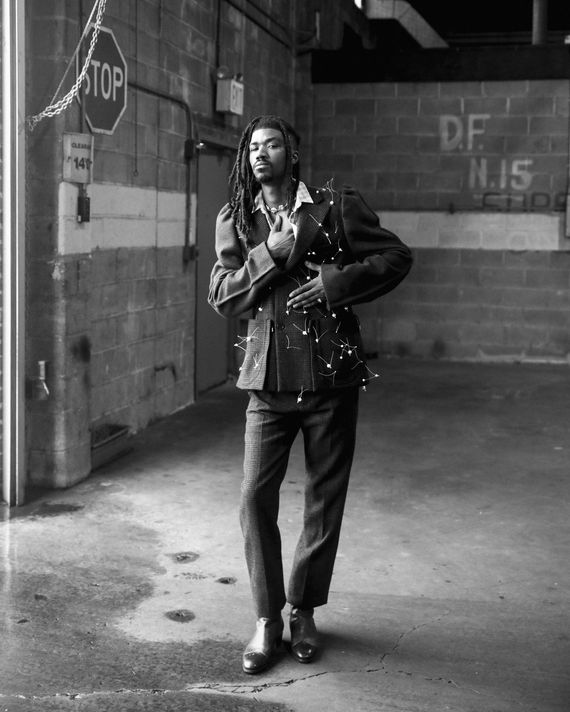 Devin B. Johnson is an artist whose work combines oil painting, sculpture, sound, collage, and other multimedia elements to show the Black body in layers. An L.A. native, he moved to New York City to attend an M.F.A. program at Pratt, graduating in 2019. "I completely fell in love with Brooklyn," he says. Inspired by how the city challenges the way he sees the world, Johnson decided to stay in NYC to pursue his art full time.
He's been featured in several exhibitions, including multiple at the gallery that represents him, Nicodim Gallery in Los Angeles. After being selected as one of the 16 artists for the inaugural year of Kehinde Wiley's Black Rock Senegal residency program, he spent four months over the summer exploring the local art community and culture in Dakar. The Cut spoke with him about being in Senegal during the pandemic, making music, and his studio snow pants.
What does cool mean to you? 
I look at Miles Davis and Marvin Gaye and say to myself, Man, those cats were just too cool! Those two embodied an all-around effortlessness that couldn't be ignored. They captured the masses not only with their unique sound but with their style. I mean, Miles birthed the "cool," didn't he?
What three creative people have had the most impact on you and why?
Three great thinkers come directly to mind. I was honored to study under Torkwase Dyson and Cullen Washington Jr. while at Pratt. Having their presence in the program was highly influential to me. I'm also very grateful for my studio mate and painter, Jake Mason-Macklin. We go to war every day in the studio! We ping-pong back and forth about ideas and concerns we may have about the works.
What three fictional characters do you relate to most?
Charlie Brown, Everybody Hates Chris, and SpongeBob [laughs].
What kind of animal would you be and why?
A dolphin or something that dwells in the ocean or the sky.
What superpower would you have and why?
Teleportation!
If you could master any skill (that isn't related to your current job), what would it be and why?
I want to play the drums or the bass guitar. I'm very interested in the manifestation of creation.
What are you doing for fun right now?
For fun? I make music for myself, mostly. I haven't gotten to a place to publish anything. I'm working my way up to it.
Has your dress changed during quarantine? If so, what are you wearing now? 
I'm always scouring Brooklyn thrift stores for the threads. I go to the studio every day, so typically I get paint on my clothes. I'm always rocking my studio snow pants for the winter or my Carhartt jeans — they have so much paint on them they feel like leather.
Are there any causes or organizations you are supporting?
While I was in Senegal, I was experiencing this discomfort of seeing the Black and brown community go through a time of social upheaval with untimely deaths. I teamed up with a local nonprofit organization in Los Angeles called Gender Justice LA and Nicodim Gallery to curate an online exhibition with a few artists. All proceeds contributed to Gender Justice LA. Together, we managed to raise over $20K!
What are your favorite local businesses to support? 
Please go pay a visit to Zenat & Rifat Begum at Playground Coffee Shop in Bed-Stuy! They held me down when I first moved to Bed-Stuy. I worked as a barista for a year there when I was studying.
What goals are you working toward at the moment?
Right now, I'm trying my hand at wheel-throwing ceramics and working on an exciting commission for a major Los Angeles institution.
What are you excited about right now? 
I'm excited for what the future brings. I'm taking it day by day.
What piece of advice has had the biggest impact on you and why?  
Do what you love, and if you do it well enough, you will get what you're chasing after. The love for what you do will be seen and felt.