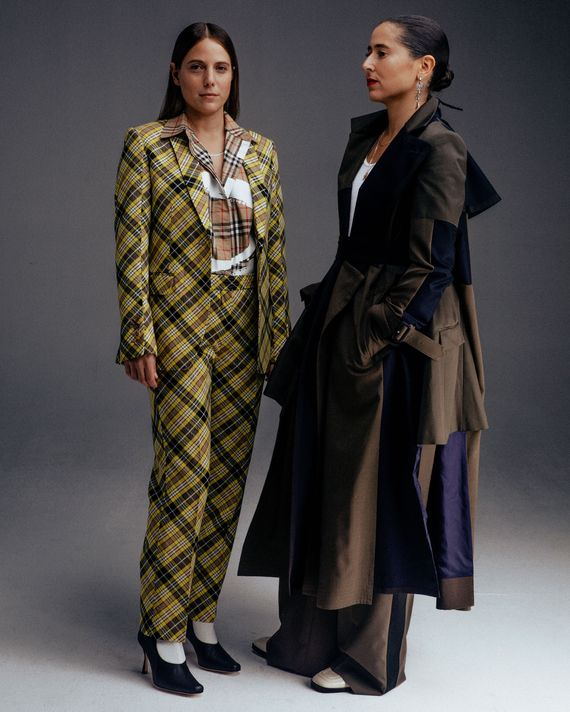 Left: Orian Barki wearing
Burberry
suit and top.
Manolo Blahnik
shoes. Right: Meriem Bennani wearing
Sacai
jacket and pants.
Balenciaga
earrings.
Bottega Veneta
shoes.
Photo: Lia Clay Miller
Back in March, Orian Barki, an Israeli-born filmmaker, and Meriem Bennani, a Morrocan-born artist, were quarantined in their Brooklyn apartment and looking for an outlet. Wanting to make something fun and cathartic, the duo tapped their friends to be voice actors and created 2 Lizards, a surprisingly funny, poignant series about the psychological effects of being quarantined.
The series follows two unnamed lizards and their friends, a diverse group of cartoon animals, as they live through the emotional roller coaster of this past spring in New York City. In eight episodes, it tells the stories of nurses, Black protesters, friends breaking social distancing guidelines for the first time, and even those who found an unexpected sort of peace in staying at home.
Below, Barki and Bennani talk to the Cut about revisiting their favorite films from high school, identifying with Spongebob, and riding mopeds as a form of self-care.
Where do you get inspiration for your work?  
Meriem: Everywhere and nowhere in particular. Movies, TV shows. I love hearing people talk about how they think about their work, whatever it might be. We both like to observe how people navigate situations — the subtleties in communication that make each person specific and can make a good scene. Orian really likes to have conversations! I get a lot of inspiration from YouTube.
What was the last thing that you saw that inspired you?  
Orian: Raised by Wolves, but I only liked it until the middle. I wasn't into the ending. The Watermelon Woman was so good. Also, I didn't know anything about it except that it was lesbian, so the ending twist really got me. And then I watched a bunch of the director's short films that were also really cool.
Meriem: Abre Los Ojos. The Girl Who Leapt Through Time. I feel like we've both been revisiting cult stuff from when we were in high school and our first years of college. They hit in such a deep way because we experienced them at such an emotionally intense age, but it has been cool to be able to form a second opinion. Oh, and discovering the work of Moroccan director Ahmed Bouanani has been so impactful. I've never seen anything like it.
What three creative people have had the most impact on you and why?
Meriem: There aren't three names that feel right. It's more about the timing of when you first discover something in relation to what you're thinking about then. But to give you some names that feel true this week, I would say that I'm a Paul Thomas Anderson fan. My friends Antonio Santini and Orian have a huge impact on my work because the three of us constantly talk about film and documentary, and these conversations feed all of our projects.
What fictional characters do you relate to most?
Meriem: Spongebob. Because he cares so much about his work, and he is enthusiastic in a way that can sometimes be annoying to other people. I think Orian has some Daria in her, but it's more in the voice than the personality.
What kind of animal would you be and why?  
Orian: I would be a pigeon because they can fly, but they don't do it all the time. They stay in the city, and they're chatty and cool and badass.
Meriem: I would love to be a dolphin because it would be so fun to surf big waves without fear, but realistically I am more of a dog.
What superpower would you have and why?  
Orian: I want to have a superpower that will tell me what happens after we die. I want to know if there's life after death and what happens to the soul, if that's a real thing.
Meriem: Teleportation. To be able to be in Morocco and NYC in one day, but more importantly to eat the best food. Imagine if instead of going to a sushi spot for lunch, you could just teleport to Japan.
If you could master any skill (that isn't related to your current job), what would it be and why?  
Orian: Dance. I wish I was an amazing dancer. It's so hot.
Meriem: I agree. Also I'd like to be a professional skater, like Tony Hawk video-game level.
Are there any causes or organizations you are supporting?  
Meriem: Our friend Tiffany Malakooti designed a 2 Lizards shirt that was made and sold by Everybody World to fundraise for an abolitionist organization called Survived and Punished. We didn't know about it before Tiffany told us about their work.
What goals are you working toward at the moment?  
Orian: Meriem and I are working on a new project, but it's in a very early stage so I can't say much about it. I want to get muscular arms.
Meriem: I'm also preparing for a show opening at the Francois Ghebaly gallery in L.A. in February.
What are you excited about right now?
Orian: I'm excited for the COVID vaccine.
Meriem: Same.
Do you have a self-care routine? If so, what does that look like?
Orian: I like to ride around on a moped and get drinks with friends.
Meriem: Working out (as of the past three months only, to be honest), cooking, and taking a lot of naps.
What is one item that has made your life better?
Orian: My phone :(
Meriem: My computer :(