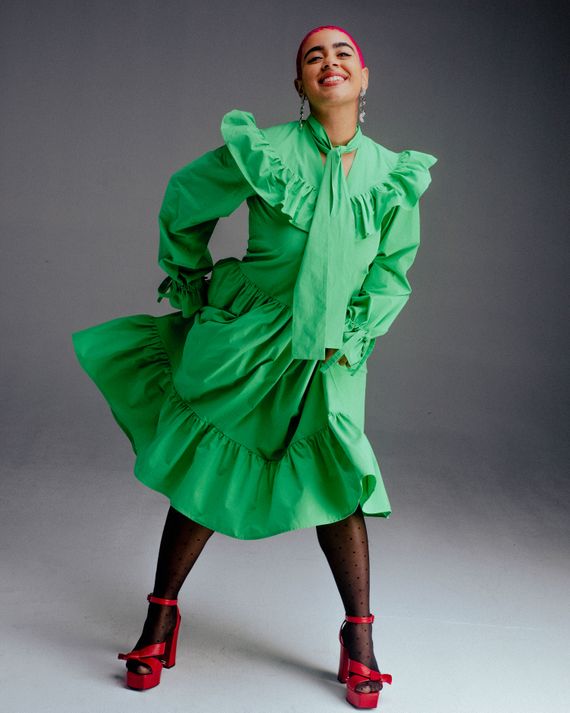 MSGM
dress,
Giuseppe Zanotti
shoes,
State Property
earrings, and
Falke
tights.
Photo: Lia Clay Miller
"I knew this was the type of work I wanted to do when I realized I had the power to help people feel beautiful and confident," says Jessica Sarai Garcia, a portrait photographer from Queens, New York. Garcia stumbled into photography while pursuing a career as stylist. She draws inspiration from her family and Dominican culture, focusing mostly on self-portraits and portraits of those close to her. Her work is warm and welcoming, creating an experience of intimacy for both her subjects and her audience.
Garcia's self-portrait series throughout the pandemic have been inspiring. The images will make you want to turn your apartment into a photo studio, using your duvet cover as a backdrop or turning your bathroom into a set. In her Instagram carousels, she shares behind-the-scenes clips of her process, which sometimes involves her mother as photo assistant or stand-in subject. The Cut spoke with her about loving yourself, relating to the crying girl from Mean Girls, and practicing being present.
What does cool mean to you? 
It means stepping into your own. Accepting all the parts of yourself, even the not so pretty parts, and owning them. Realizing that all your quirks are your own special superpower and actually using them.
What three creative people have had the most impact on you and why?
FKA Twigs, because her work was probably the first to make me shed a tear. My best friend, because they will literally push me to expand my ideas and won't let me half-ass a single thought. And [photographer and director] Renell Medrano, because her project Pampara made me feel at home. Seeing another Dominican woman thrive in my field and capture the culture really empowered me to keep telling stories through my own work.
What three fictional characters do you relate to most?
Anais from Amazing World of Gumball, Raven Baxter from That's So Raven, and the crying girl from Mean Girls played by Jill Morrison. 
What are the last three songs you've listened to?
"Mirrored Heart" by FKA Twigs, "In My Room" by Frank Ocean, and "Whole Lotta Choppas" by Sada Baby.
What kind of animal would you be and why?
I would be an elephant because they're the most emotional animals and they belong to a matriarchal society, just like me in my family.
What superpower would you have and why?
Teleportation! I'm impatient and I just want to get everywhere without the actual commute.
If you could master any skill (that isn't related to your current job), what would it be and why?
I would master woodworking. I love making everything myself and wood is just so beautiful.
What are you doing for fun right now?
I am making myself a rug by punch-needle embroidery.
Has how you dressed changed during quarantine? If so, what are you wearing now? 
My style has changed for the cozier. I realized my closet didn't match the cozy state of mind I'm in and I had to change that. I've never owned so many hoodies in my life and I love it.
Are there any causes or organizations you are supporting?
Yes, there's a lot! Thanks to social media, there's a lot of information on different organizations being spread. Some of the organizations I support and donate to are Black Lives Matter, the Okra Project, For the Gworls, HealHaus, Sad Girls Club, Adios Barbie, and Ethel's Club.
What are your favorite local businesses to support?
I love Shopberriez, Photodom, True To Us, and all of my artist friends who sell work.
What goals are you working toward at the moment?
I'm working toward being more present and listening to my body.
What are you excited about right now? 
I'm excited about bringing out all my colorful winter coats.
Do you have a self-care routine? If so, what does that look like? 
Lately, I've been taking a moment to breathe when I wake up, lighting a candle while I shower, and getting dressed all cute to go for a stroll to the bodega where I get my breakfast.
What piece of advice has had the biggest impact on you and why?   
Write down all of your accomplishments, big or small, as you go, so that you never forget how far you've come.
What is one item that has made your life better?
My rug mirror made by my friend @rugsbykailuaa.