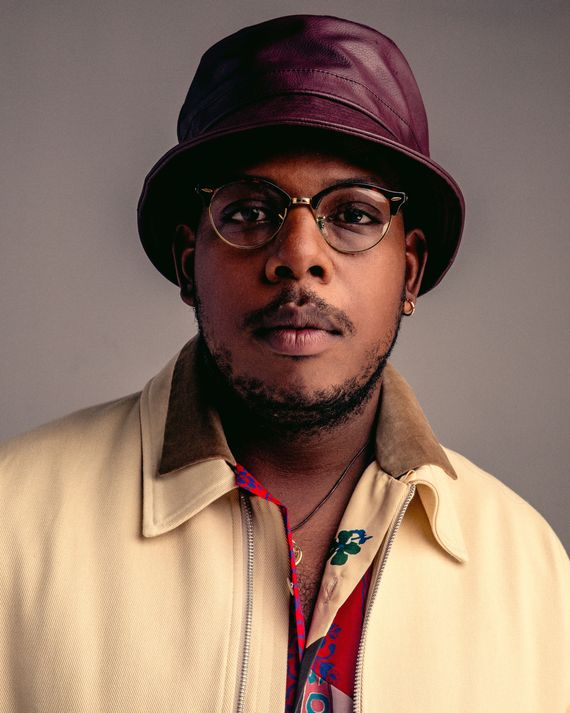 This summer, Aaron Wiggs turned a sidewalk in his Greenpoint neighborhood into a fundraising event for NYC cool kids. Suffering under the emotional weight of losing family to COVID-19 and losing Black brothers and sisters to police brutality, Wiggs wanted to focus his energy on something positive. So with two friends, Perry Goodman and Sachiko Clyde, he created one of the hottest community-driven events in Brooklyn: the Sidewalk Sale.
The buzz behind the bi-weekly event began back in June with a video promo introducing the world to Wiggs's alter ego, Uncle Leroy, a beer-drinking, Viking-helmet-wearing character spreading the word that Black lives matter. Wiggs works at Supreme, and initially he and his friends sold clothes from their own closets along with vintage pieces. But as the sale grew, they added more and more vendors, eventually forming partnerships with Toms Juice and Williamsburg Pizza. In the end, they raised a total of $266,546.67 over a span of three months. They donated the money to nonprofits and local businesses like Emergency Release Fund, Black Women's Blueprint, and Black Trans Femmes in the Arts.
"The most inspiring thing was seeing how much the community will show up for each other, especially during a pandemic," says Wiggs. Below, he talks to the Cut about moving into a new apartment, ending world hunger, and wearing Birkenstocks out of the house.
What does cool mean to you? 
B E I N G N A T U R A L!!! Being yourself, honoring and appreciating others, doing the right thing.
What kind of animal would you be and why?
A lobster because they can live up until 100 years, remain fertile throughout, and have blue blood like aristocrats. Have you seen the movie The Lobster? If not, you're not missing much.
What superpower would you have and why?
My superpower would be to end world hunger! No one should go without a meal. There is too much food that is wasted.
If you could master any skill (that isn't related to your current job), what would it be and why?
Well, I love to cook, but I'm not the greatest chef. Being a master chef wouldn't be a bad skill. You could always throw a nice dinner party and always feel confident cheffing up a nice meal for yourself.
What are you doing for fun nowadays?
I just moved into a new apartment. I'm finally living alone and I wanted to start fresh, so the only things I brought with me were clothing and my spices from my previous kitchen. Furnishing my place and making it a home has been extremely fun. Can never get mad at a bike ride as well — good way to clear the head.
Has the way you dress changed during quarantine? If so, what are you wearing now? 
For me, no. I am very blessed with a clothing situation thanks to my job. However, I have noticed since quarantine I have been running the Birkenstocks outside of the house a lot more.
Are there any causes or organizations you're supporting?
I love what my friend Zenat Begum has been doing in Bed-Stuy; she runs Playground Coffee Shop. From what I have seen, she has created a family within her space, and this family caters to the community on so many levels it's amazing. We have donated to her Playground Youth Fund.
What are your favorite local businesses to support?
Really anything that is Black owned, POC owned, female owned. Shopping small and keeping money circulating in small Black businesses is a good practice, especially in a time like this.
What goals are you working toward at the moment?
Taking a break from these sales until the weather turns up again. I'd like to do community cleanups. I've noticed the piles of trash bags in various projects throughout New York City. This can lead to rat infestations or other infestations. People don't deserve to live in such harsh conditions. So community cleanups have been on the mind.
Do you have a self-care routine? If so, what does that look like? 
BURN THAT INCENSE AND BREATHE! I am really into getting a mani-pedi and doing a face cleanse. I miss Great Jones Spa! I used to go there and hit the steam room and sauna — a nice wintertime hack. Taking a spin on the bike is always good for my mind, or simply just listening to some good music and laying low in the crib.