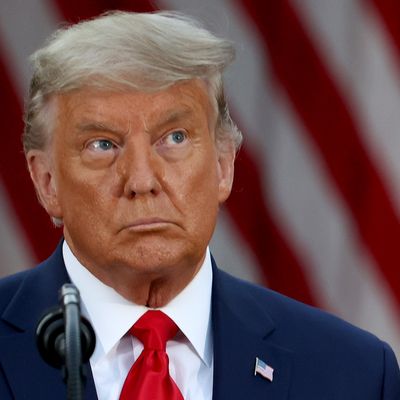 "I concede NOTHING!"
Photo: Tasos Katopodis/Getty Images
More than a week after major news networks declared Joe Biden the nation's president-elect — a week in which Biden continued to expand his electoral lead — Donald Trump still refuses to concede the election. Not surprising, given his previous intimations that he would only accept favorable-to-him results, and given his team's recent, relentless, and apparently baseless allegations of voter fraud. But whether or not Trump plans to admit his loss out loud, at a podium, in his official capacity as a single-term president, he at least seems to know the score. And now, possibly by accident, he has admitted as much to his tens of millions of Twitter followers.
On Sunday, the president made a telling slip in an angry morning tweet, sharing a clip from a Jesse Watters Fox News segment. "He won because the election was Rigged," Trump shouted, going on to reiterate debunked conspiracy theories about purported malfeasance with voting machines. That's all par for the course, though; it was the implicit acknowledgment of Biden's victory that grabbed attention, and now #TrumpConceded is trending.
Trump scrambled to correct course in a follow-up tweet, writing: "He only won in the eyes of the FAKE NEWS MEDIA. I concede NOTHING! We have a long way to go." But the string of lawsuits he hoped would derail Biden's win look increasingly flimsy. The New York Times reports that, on Friday, the Ohio law firm Porter Wright Morris & Arthur withdrew from a suit they had just filed in Pennsylvania; in Arizona, his campaign dropped an already-tenuous legal argument about Sharpies invalidating certain ballots, granting that the number of votes allegedly affected wouldn't have swung the state for Trump anyway. The president also suffered legal defeats in Michigan and in Pennsylvania when 16 federal prosecutors tasked with election monitoring reported to Attorney General William Barr that they could find no evidence to back Trump's voter-fraud claims. And meanwhile, the networks finally called both Georgia and Arizona for Biden, awarding him a total of 306 electoral votes to Trump's 232.
In short, things do not look good for the sitting president, and now even some in Trump's circle — per CNN: his wife, Melania; and his haunted doll, Jared Kushner — have encouraged him to just give it up already. Instead, Trump reportedly put Rudy Giuliani (of Four Seasons Total Landscaping fame) in charge of all election outcome-related lawsuits, to the chagrin of presidential advisers. Below, a look at how that's going:
In any case, it appears we are no closer to the smooth presidential transition that a national health emergency demands. But in terms of an actual, verbal concession, this may be the most we get.