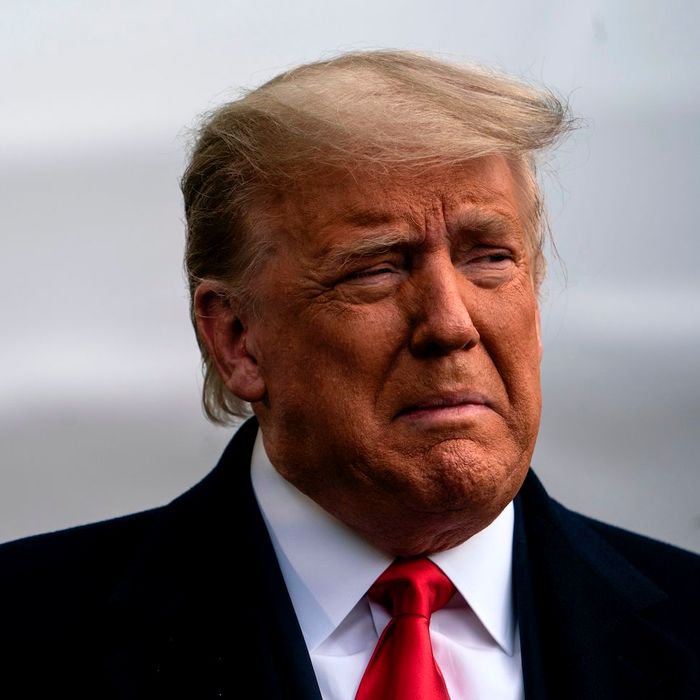 Sigh.
Photo: ANDREW CABALLERO-REYNOLDS/AFP via Getty Images
It appears another coronavirus outbreak is ballooning within the White House: First came Chief of Staff Mark Meadows, whose COVID diagnosis was announced on Friday, November 6. Ben Carson, secretary for Housing and Urban Development, was next up on Monday, followed by Trump campaign adviser David Bossie. According to the Associated Press, these cases trace back to Donald Trump's Election Night viewing party, an indoor event featuring "few masks and no social distancing." Meaning: It looks like the administration may have just held its second superspreader event in as many months. More than two weeks after the fact, the positive test results keep rolling in.
"Several hundred" people reportedly attended the party on November 3 in the White House East Room, where Meadows went maskless, of course. According to Intelligencer's Olivia Nuzzi, his contacts that night found out about their exposure not from the White House, but from a late-night Bloomberg report that broke the news on November 6. Apparently Meadows took pains to keep his test results secret, a move one of Nuzzi's sources correctly labeled "fucked up."
In fact, Meadows received his diagnosis on November 4, just after the party; the day before, he reportedly visited campaign headquarters, and spent time in the White House residence with Trump's adult children and their spouses. Now, infections are fanning out across his circle: According to Bloomberg, at least five other people subsequently tested positive, including top Meadows aide, Cassidy Hutchinson; Charlton Boyd, one of Jared Kushner's aides; and campaign aide Nick Trainer.
Bloomberg could not confirm whether or not Meadows showed symptoms, but Carson apparently did. HUD deputy chief of staff Coalter Baker told Politico that Carson visited Walter Reed Army Medical Center — where Trump was recently hospitalized during his own bout of COVID — and enjoyed "access to effective therapeutics which aid and markedly speed his recovery." Bossie, who actually tested positive on November 8 but didn't immediately make a public statement, did not return Politico's request for comment.
Apparently, though, Bossie isn't the only one to have quietly received test results and then failed to air them. The New York Times reported on November 11 that three more people inside the White House had been confirmed as COVID-positive. Political director Brian Jack was reportedly diagnosed the weekend before, having attended Trump's viewing party days earlier. According to NBC, Healy Baumgardner, who used to be a White House aide, attended the party at Rudy Giuliani's invitation and tested positive on November 11.
Speaking of Giuliani, his partner in the Four Seasons Total Landscaping fiasco — Trump adviser Corey Lewandowski — also tested positive on November 11, NBC reported. He told the network that he feels "great," and, according to the New York Times' Maggie Haberman, believes he contracted the virus while railing against baseless allegations of election fraud in Philadelphia. Still, Haberman notes that Lewandowski did indeed go to Trump's Election Night party.
Someone who was not at the party but has nonetheless tested positive as of November 12 is RNC chief of staff Richard Walters. NBC originally reported the news but did not say when Walters received his diagnosis.
That was not the last of it, however. On November 20, Bloomberg reported that Donald Trump, Jr. — the president's oldest son — had also tested positive, along with Giuliani's son, Andrew (a White House aide), and Hannah MacInnis, an aide to Mike Pence. MacInnis is said to have received her results "earlier this month," while sources "familiar with the matter" told Bloomberg that Don Jr.'s diagnosis was confirmed early last week — potentially putting him within 14 days of Meadows's infection and his dad's party. According to the president, his son is "doing very well."
In terms of viral spread, the event is looking increasingly like the one held in the Rose Garden in late September, which kicked off the last White House outbreak. A string of prominent Republicans, including the president and the First Lady, tested positive for the virus after attending an outdoor nomination ceremony for Amy Coney Barrett. Many members of the sizable crowd congratulate one another at close range and with gusto. Naturally, most opted not to cover their faces — not even those who went to the indoor reception. Dozens of people connected to the ceremony eventually tested positive, according to NPR; Trump developed a serious-seeming infection that required an aggressive experimental drug cocktail. As soon as he recovered, though, Trump got right back to his rallies, repeating his claim that the coronavirus is "disappearing."
In reality, the country is experiencing record spikes in its case count. The U.S. has surpassed 12 million infections, with more than 170,000 new cases reported on Sunday alone. Fortunately, President-elect Joe Biden has already announced his coronavirus task force — to be led by an actual doctor, rather than a vice-president. Ah, to have a president who actually respects science.
This article has been updated.