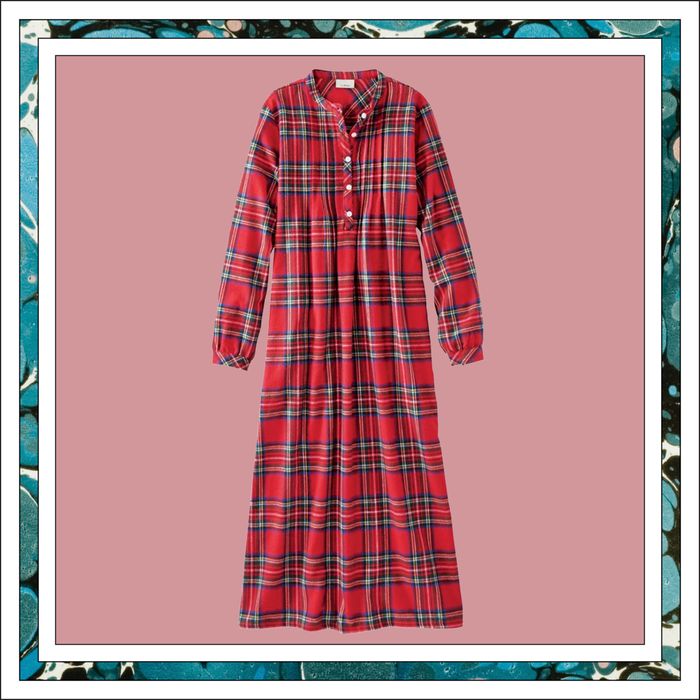 Photo-Illustration: by The Cut; Photos: Getty Images, LL Bean
Why are we so skeptical of the things right in front of us? "Turns Out It's Pretty Good" is a series that examines the path from resisting the well-known to wholeheartedly endorsing it.
Eleven months into the chaos of this year, I finally gave in to my most relentless and aggressive Instagram ad: a plea to purchase a floor-length flannel L.L. Bean nightgown. Here, I thought, was the opportunity to stop merely flirting with leisurewear like everyone else and finally cease wearing hard clothes altogether. And I have to admit, it's been glorious.
Despite the fact that that many of the usual avenues for showing off our sartorial savvy — the subway, work, restaurant-bathroom selfies — are currently unavailable, 2020 has actually been a banner year for fashion in my opinion. As a society, we finally agreed to let comfort dictate consumption, and magazines like Vogue were forced to issue edicts on how to style sweatpants and pajamas for the "office." But for people like me — a.k.a. housebound women who already eschew traditional waistbands — this year was a chance to take things a step further.
To be fair, I hardly needed a global pandemic to embrace comfort dressing as a lifestyle. Before the lockdowns began, I was already in a sweatsuit for most of the day. As a writer, mother, and all-around lazy person, going-out clothes stopped existing for me a long time ago. Well before influencers were posing in tie-dye cotton tracksuits, I had already amassed a carefully curated selection of day sweats and night sweats. But it took months of working (and doing everything else) from home for me to finally give in to the slothful elegance of the nightgown.
It makes sense that in a year that defies precedent, and which has fostered the kind of decision paralysis that prevents me from even deciding what kind of pizza to order, a piece of clothing that has comforted men and women for centuries would provide the sense of order and calm I most desire.
Before this particular piece of clothing elevated my nighttime wardrobe, I was more of a stiff-cotton-pjs person. I liked the practical nature of a menswear-inspired two-piece set. Just in case I need to flee the house or attend a business meeting in the middle of the night — I'm already wearing pants and a button-down shirt. But as the months wore on, and even clothes designed for the bed began to feel too formal, the siren song of the nightgown grew ever louder. I wanted something that mirrored the unravelling my soul was undergoing — and also came in a red and green Scottish check.
Not to be confused with the coquettish sexiness of the much-discussed "nap dress," a nightgown is less for posing shyly on a bed than it is for shuffling nervously down the hall, looking for the reading glasses that are already perched precipitously on your head. I don't even need reading glasses, but in a nightgown I feel like I do!
Unlike, say, silk pajamas or a slinky slip, nightgowns aren't really made for public consumption. They are garments that are completely and utterly for you. You don't dress up a nightgown to run errands or eat brunch, you wear a nightgown to lie on a fainting couch and complain of consumption. You waft from room to room, half-human, half-apparition, full of longing, pausing only to press your palm against the icy window in search of meaning in the bitter howls of the wind. Muttering quietly to yourself, Heathcliff, it's me, Amil. Please be quiet, the baby's sleeping!
In the universe of sleepwear-as-outerwear, nightgowns are less Hugh Hefner and more Howard Hughes. With a nightgown you can truly embrace the paranoia and claustrophobia of this particular moment, swallowed up by full-length flannel both physically and emotionally. Swaddled like a WASP-y baby in head-to-toe plaid, only the slightest sliver of ankle need be exposed to the harshness of the world. The rest of you is safely wrapped like a Victorian mummy in too much cotton, impervious to the cold and to human sexuality of any kind.
When both of my children recently decided to give up sleeping, the only thing that brought me anything resembling comfort was my nightgown. In its pillowy embrace, I found empathy and understanding. The nightgown knows I'm just doing my best, and it wants me to know that's good enough.
As I pace up and down the (very tiny) hall of my two-bedroom apartment, the nightgown also lets me cosplay as my favorite Nancy Meyer rom-com heroine. I am Diane Keaton in Something's Gotta Give, weeping and typing and typing and weeping. If I can't have the dream kitchen or sprawling beach mansion I desperately desire, at least I can have the dream leisurewear.
As the reality of another lockdown looms large, consider a nightgown as a kind of psychological act of hygge. Nothing pairs better with turmoil and tension than six feet of nubby flannel. And in case you're worried that once the winter wanes and the spring reemerges you'll have no more use for a wool sleeping dress, I assure you the nightgown also comes in many kinds of cottons and linens. Even once society returns to some form of normalcy (whatever that word means now), I'll continue to cling to my nightgown like a tender, sexless raft.
Every product is independently selected by our editors. Things you buy through our links may earn us a commission.
More Turns Out It's Pretty Good
See All