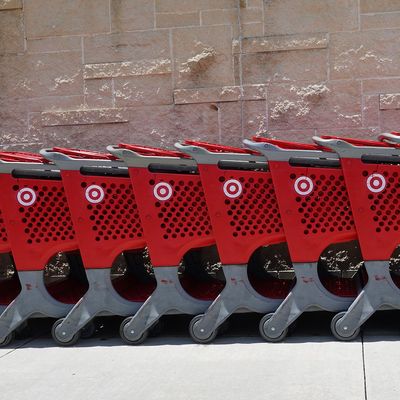 Target already has everything, but it's about to have a lot more in the beauty department. The retailer beloved by normals all the way to Beyoncé will soon house hundreds of mini Ulta Beauty stores within its bull's-eye doors. The convenient, one-stop shop-in-shop for beauty enthusiasts will be known as Ulta Beauty at Target.
"We couldn't be happier about bringing these two trusted brands together to redefine retail beauty experiences," says Brian Cornell, Target's chairman and CEO. "This matchup brings Ulta Beauty's coveted prestige beauty assortment, category expertise, and guest loyalty together with Target's high-growth beauty business and the ease and convenience of our industry-leading fulfillment services."
Just picture it: The Taraji P. Henson scalp wash, Pixi Retinol Tonic, and Black Girl Sunscreen you typically get from Target, and the Tracee Ellis Ross leave-in, Ariana Grande perfume, and Lancôme Juicy Tubes you grabbed one aisle over in Ulta Land — all happily hanging out together in a bright-red shopping cart as you blissfully pile a dozen random things you originally had no intention of buying on top. GLAMLab, Ulta's virtual try-on tool, will also be there so you don't have to touch testers, and team members will be trained in the Ulta Beauty consultant ways.
If physically wandering through Target is no longer a viable pastime for you, the collaboration will also be accessible from home via "an immersive online experience at Target.com," where you can enjoy free shipping on qualifying orders or use Target's contactless same-day fulfillment services. We'll have to wait for godforsaken 2020 to end before reveling in all the red, white, and orange glory, though: The first Ulta Beauty at Target locations will begin rolling out at 100 Target stores nationwide in the second half of 2021 with hundreds more locations opening in the coming years.