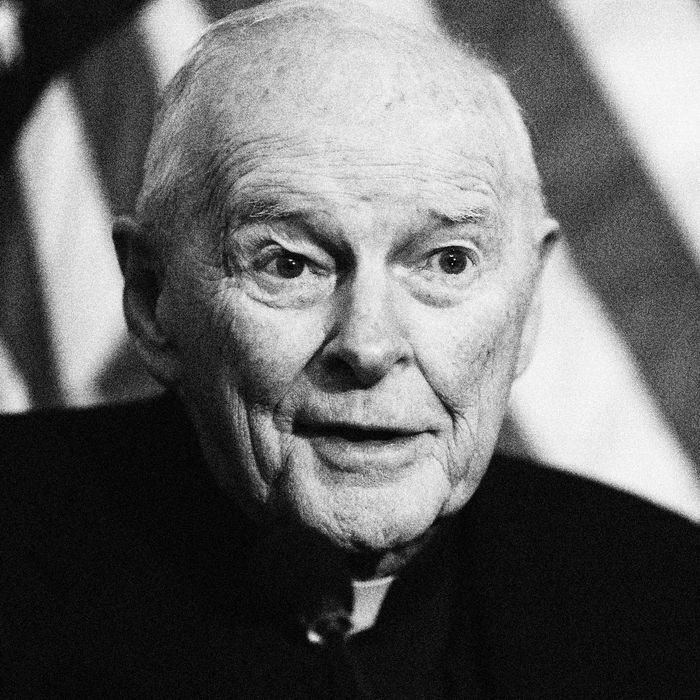 Cardinal Theodore McCarrick.
Photo: Chip Somodevilla/Getty Images
Allegations of sexual abuse by a senior cardinal were overlooked by two former popes, according to a damning new report released by the Vatican on Tuesday. The report — a 461-page summary of the church's two-year internal investigation into claims of sexual misconduct and abuse against Theodore McCarrick, 90, a former cardinal and archbishop — found that both Pope John Paul II and Benedict XVI were repeatedly made aware of the allegations, and yet the former promoted McCarrick, and the latter declined to investigate the claims.
For years, McCarrick was an influential figure in the Catholic Church; in 2000, John Paul II appointed him as the archbishop of Washington. According to the Vatican's report, this high-profile promotion came a year after John Paul II was explicitly warned about McCarrick's alleged abuse in a letter from the late New York Cardinal John O'Connor — which stated that the cardinal had committed pedophilia, among other claims.
McCarrick was defrocked by Pope Francis last year, after the Church found him guilty of sexually abusing minors and seminarians over the years. The New York Times reported that the move appeared to be the first time a cardinal had ever been defrocked for sexual abuse.
The church's investigation found that Pope John Paul II had been made aware of the allegations against McCarrick several times over the years. In his 1999 letter, Cardinal O'Connor told Pope John Paul II about seminarians who he said had entered psychiatric treatment following their encounters with McCarrick. Additionally, years earlier, a series of anonymous letters were sent to the National Conference of Catholic Bishops, the Apostolic Nuncio, and various cardinals in the United States, accusing McCarrick of pedophilia with his "nephews." And in 2019, a New Jersey man named James Grein filed a lawsuit in which he said that McCarrick sexually abused him for two decades, beginning in the late 1960s, when he was only 11, and that he personally told Pope John Paul II about the abuse in 1988, but that no action was taken.
"I was introduced as 'his special nephew' to presidents and heads of state, to the pope, bishops, cardinals and the rich and famous, and to other predators across the world as his 'special boy,'" Grein told the AP at the time. "The word special was a signal that I am groomed. How sad is that?"
As for Pope John Paul's successor, Pope Benedict, the report found that he was also aware of the allegations against McCarrick when he was elected in 2005. He chose to extend McCarrick's tenure in Washington nonetheless, before abruptly reversing course and requesting that McCarrick withdraw as archbishop in 2006. When cardinals presented their concerns to Benedict again, the Pope declined to investigate the matter further, and instead, "the decision was made to appeal to McCarrick's conscience and ecclesial spirit by indicating to him that he should maintain a lower profile and minimize travel for the good of the Church."
Various bishops are accused of assisting with the cover-up, too. Perhaps most notably, after the 1999 letter from Cardinal O'Connor, Pope John Paul II tasked four bishops with investigating the claims. Three of them reportedly provided him with "inaccurate and incomplete information … regarding McCarrick's sexual conduct with young adults." (In this initial probe, the bishops reported that McCarrick had shared a bed with young men, but said they were unsure as to whether sexual assault had transpired.) John Paul II chose to believe these findings, in addition to a handwritten denial from McCarrick.
Pope Francis, AP notes, is largely given a pass in the Vatican's report. Although some members of the Church have accused Pope Francis of refusing to properly sanction McCarrick, the report says the current Pope never received documentation about McCarrick until 2017, when a former alter boy came forward and claimed McCarrick had groped him in the 1970s. It was this claim that triggered the trial that would lead to McCarrick's defrocking.
"There are so many people suffering out there because of one man," Grein told the AP. "And he thinks that he's more important than the rest of us. He's destroyed me and he's destroyed thousands of other lives. … It's time that the Catholic Church comes clean with all of its destruction."