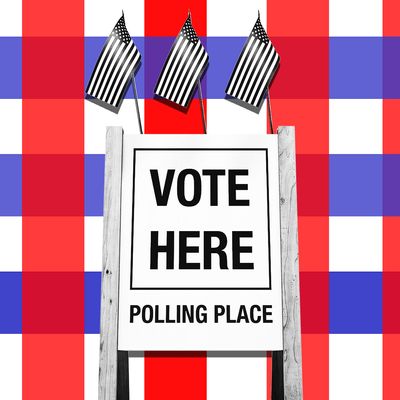 Photo-Illustration: by Preeti Kinha; Photos: Getty Images
Particularly this year, but to varying degrees over recent election cycles, the United States has weathered a shortage of poll workers: the people who greet you at your voting site on election day, check you in, and troubleshoot when technical difficulties arise. In short, poll workers are paid volunteers who ensure smooth voting operations for in-person ballot casters, although they may also help tabulate absentee ballots. We spoke to seven of them from different states, with different levels of experience, about what it means to work the polls.
Mike Fox, 64
Judge of elections who has worked the polls since the 1970s, Pennsylvania
Are there any recurring Election Day characters who always come to your polling place?
Some of my neighbors that live literally two houses away, I only see them on Election Day. We laugh, it's like, Where've you been? Why've you been locked up in your house? And then there's other people that we see all the time; there's people that, when you go to the store, they wave to you and talk to you and stuff. And then you have the other characters that come in and tell you the same jokes every single year, like, Hey, my son's away at college so I went to the lumber yard, I got a board and I went to the dean and I said, he's got his room, now I've got his board. Stuff like that, you hear it every single election. It's a classic dad joke. I'm a grandfather, so I can say that.
What keeps you coming back?
I'm a retired volunteer fireman. I used to give blood. I used to work for the recreation department, so it's a way to give back [to the community]. From the public standpoint, it's only two days a year, but you get to see everybody. And on a personal note, it kind of keeps me tied to my parents. I know they're looking down and smiling when we're doing this.
First and foremost, I believe in the process. You gotta take this stuff seriously. Every vote counts. When I'm on any social media, I don't sit there and talk about what party I belong to or comment on this guy versus that guy. That's not my place. My place is to run an election, to make sure that everything is done within the parameters of the law, so that's what I do.
Wendy Richards, 44
Worked one election — the 2020 presidential primary — in Detroit, Michigan
What was the rose and what was the thorn of your Election Day experience?
It's tiring! There's no question, it is a long day. It is much more intense than you realize when you're a voter. Lots of questions come up that you would not anticipate. You're very, very intent on making sure you're doing everything right, that the voter is having a positive experience. So even when you feel a little under pressure, you also have to make sure that the voter is feeling at ease and welcome.
If you are up for it, it really does pay dividends at the end. You feel really good about being a part of democracy and really helping people exercise this critical right. There were so many people who were voting for the first time, even in [my] little precinct. And really to be able to see how much it meant to them, to be able to see that these young people really took their power of the vote seriously. We would clap out every first-time voter in our precinct.
Tom Abate, 65
Has worked every election since the 2016 California primary, up until the March 2020 primary
What are your stand-out Election Day memories?
The thing that I remember most is you're not supposed to pay attention to election news on the day of the election. Right? You're not supposed to talk about it; you're not supposed to go on your phone and look at it. And I did that [in 2016]. I felt that I could wait to find out the results. If I'm not supposed to peek in that door, I don't peek in that door. It's kind of a personal point of pride and honor, so I honored it that day, but I honored it that day thinking, Oh yeah, she'll be the president, she'll be the first woman, and that'll be kind of cool.
I remember calling a friend of mine who I knew had been watching, and saying, Hey what's up? And listening to her say, It looks like Donald Trump is gonna win, and I couldn't believe it. But here it is, it turned out to be true. I guess that's the No. 1 shock that I felt, not having seen any of the run-up or the numbers or the Electoral College vote.
Natalia Espina, 40
Has worked one election, the spring primary in Milwaukee, Wisconsin
What made you want to be a poll worker?
I am originally from Chile — I'm a Chilean immigrant. My path to citizenship was actually rather long. It took me 32 years to get naturalized, in 2015, and my first election that I could be active in was in 2016. I've voted in every single election since then.
Something I enjoy doing is plugging into the electoral space and seeing how it all works. I always thought, Who are the people involved with the voting process? They're always there that day, and they're legitimately just ordinary citizens. It's just people who happen to know that you can be an electoral inspector or a poll worker. Anybody can get involved. That was really the big thing about it, just realizing that it's not some coveted thing. It's open to whoever is an eligible elector to take part in the process.
What wound up being your favorite thing about the job?
I had only moved to this neighborhood maybe about a month before. It felt like it was a collective neighborhood effort, that we were all there to help facilitate a smooth experience for the voters, no matter what your political ideology might be. That, to me, was the most gratifying piece of it. Getting connected to my neighborhood school was grounding.
This is not something that people are asked to do every day of their life. These are really special processes, I feel like, and it's worth the extra effort to get to know what the inside flow looks like.
Harold Goldner, 65
Elections judge, has worked 80 elections, Pennsylvania
80 elections! That's incredible!
Yeah, I'm sort of a junkie. I started out when I was a kid — I think I worked the polls when I was in high school, or maybe when I went to Penn. I was always a little politically active. My first job was with a fairly political law firm. One of my first official duties as a lawyer was to find jelly beans for Ronald Reagan, who was visiting Philadelphia.
What would you say are the biggest challenges of the job?
I think being a good customer-service and relations person. That's the hat I put on twice a year. I am a different person on Election Day. I'm a trial lawyer; I'm an advocate; I'm usually really hard on customer service when I call. [But at the polls] I have to put all that away and channel energy into being the kind of customer-support person I would want to deal with if I had a problem.
And I enjoy it: I see people I haven't seen in years. I see friends of mine. I see kids of friends of mine — my children's classmates are now growing up and having kids — and that's fun. I've always lived in the area. I can walk to the house my father grew up in, I can walk to the house my mother grew up in. I feel very much a part of the neighborhood, and I sort of have a sense of responsibility. I'm a bit of a control freak. I feel like, Well if I'm not running this election, nobody's gonna know how to do this right. So at least I know that twice a year, elections in this town are going to be run exactly the way they're supposed to be run. I feel like the mayor for a day.
Steve Sekiguchi, 58
16-year poll worker, California
What got you interested in poll working to begin with?
I used to go to a polling place in the neighborhood here, and standing in line, you find out about it, and you think, Okay that's interesting. It seemed like a nice way to do some civic duty that wasn't as odious as being a juror, you know? It turned out to be an enjoyable thing to do.
What are your banner Election Day memories?
This one guy has brought his mother in for probably three cycles. She fills out her ballot at home, because of the mail-in ballots here in California, and she comes with him every time anyway. He does his ballot in person and she hands us her ballot. I don't understand it for a minute, but I think it's kind of wonderful that that's their pattern. That's what they do. They share that part of the day, and they share that [experience of] being American citizens.
You get students all the time. Students are great. Students have no idea what they're doing whatsoever. Many of them, it's their first election, and some of them are super-excited. It's fun seeing that excitement, that enthusiasm, for this whole process. Because when you get to be my age, voting is something you've done a lot. They nourish my belief in our democracy, to be honest.
Laura Winslow, mid-50s
Poll worker since 1988 general election, in three different states: Virginia, Rhode Island, Pennsylvania
Do you have any memories where something went really wrong?
We have a very large retirement facility, and the Republican Party sent — I don't know what else to call them but "goons." Men over six feet tall, football players in high school, and if a person showed up carrying a cheat sheet from the Democratic party, they stood shoulder to shoulder and would not let them pass and were telling them they could not bring in campaign material. And if it was a person carrying a cheat sheet from the Republican party, all they did was turn it face-down in their walkers, and help them into the polling place, from the hallway into the actual election room. I called the cops. They clearly were intimidating the senior citizens who were Democrats.
The Trump-style voters, I have to say, are the angry ones. The purposefully come in screaming and yelling, looking to pick a fight, not seeming to acknowledge that my pride and joy of every election is the polling place itself — a neutral zone. You're not Democrat, Republican, Socialist, Green Party, liberal, or conservative; you're American, and you're doing your civic responsibility. You can argue and bicker and scream and yell outside, but as soon as you enter, it's like a library. It's supposed to be quiet and serene.
These interviews have been edited and condensed for clarity.