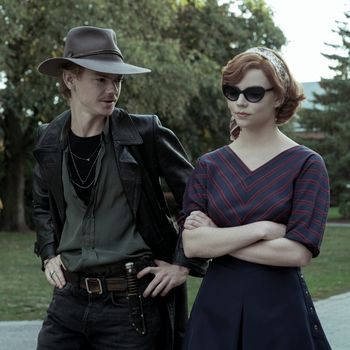 A study in contrasts.
Photo: KEN WORONER/NETFLIX
Weeks ago, my colleagues started whispering about a sexy chess show, a Netflix miniseries in which beautiful people channel their largely unaddressed horn into a game only slightly less boring than golf. They did not oversell. The Queen's Gambit pits foxy and chaotic genius Beth Harmon (played by Anya Taylor-Joy, whom you may also know as the main vvitch in The VVitch) against her own demons, a carousel of arrogant male inferiors, and, occasionally, the Soviets. I loved this program, but I still have one burning question: Why is Beth's fuck buddy dressed like that?
If you have not made it that far into the Gambit, apologies for ruining the plot, but Beth and Benny Watts, boy wonder of the chess world, do in fact bone. Benny barges onto the scene in episode three, when Beth encounters him at a Cincinnati tournament in 1963. We've been made to understand that Benny has been out there raking in European prize money with his fancy international title. He is worldly; we are intrigued. Before he appears onscreen, we do not know what to expect. Based on every chess bro we've met so far, possibly another shellacked pair of penny loafers in a knit polo. What we get instead is Love Actually's little drummer boy (Thomas Brodie-Sangster) in a leather trench coat and a cowboy hat with a wispy golden mustache and a chinbeard to match. Benny unbuttons his billowy work shirt almost to his navel in order to let his pile of delicate necklaces really shine. On his feet, he wears black Chelsea boots, scuffed to signal he has been around a time or two; on his belt, a holstered knife, for some reason.
The look could be described as chess pirate, which very accurately explains what it is but not why it is. Tell me what is happening here:
Benny belongs to New York City's counterculture. We intuit this from his basement brownstone apartment — with its floor cushions for a couch and its shower in the kitchen — and from his artsy eclectic friends. Is he part of some sort of loose throuple, one member of which is a hot French model who also takes Beth to bed? Unclear! Does his ensemble suggest that he might? Eh! Still, I think it is supposed to. I think we are meant to look at Benny and understand that he is free love, baby, different from his laced-up chess peers. And, certainly, he stands out — to a distracting degree.
This kaleidoscope of sartorial tropes carries an easily legible subtext: outlaw, maverick, bad boy. But then he starts talking, and we realize him to be a focused and gentle Aquarius (I'm guessing) whose responsible influence guides Beth back onto the rails. Benny would never use that blade in a fight, bless him, and his character is too straightforward to make any such posturing believable. Unfortunately for us, though, he stays confined to this one outfit for all five to six years of his role in Beth's story. In the comfort of his own home, he might take off his Matrix jacket and his Indiana Jones hat, but otherwise: chess pirate reigns.
Maybe the costumers simply decided that if Benny only got one look, they'd better go all in, make an indelible impression to eclipse this actor's rom-com roots once and for all. But if you ask me — and no one did — a matted sheepskin or a slouchy military jacket might maintain the mood more successfully. Or you know what? Keep it to the base layer, a trusty black turtleneck. Nothing like a hot little turt to sex things up. I'm sure Beth would agree.