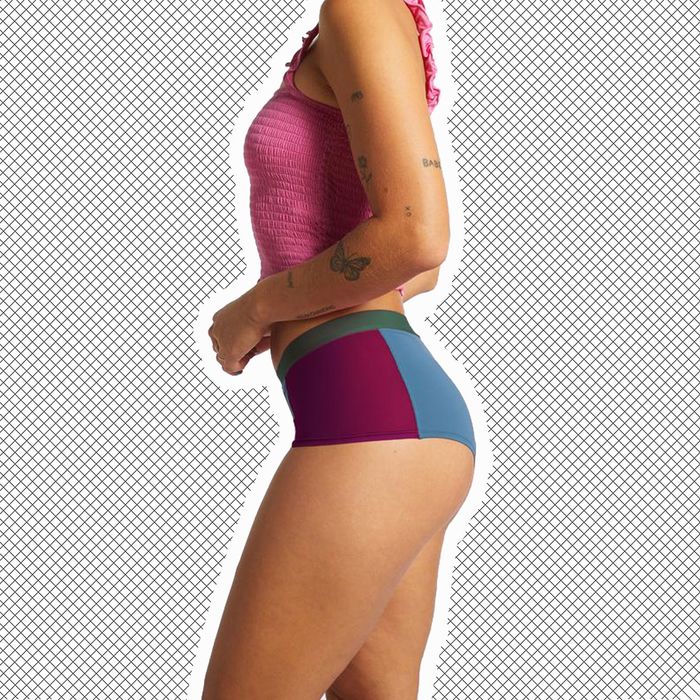 Parade underwear.
Photo: Parade
In recent weeks, I've become distantly acquainted with a growing number of butts previously unfamiliar to me. Butts belonging to fashion influencers, media confrères, and hot girls with elaborate thigh tattoos I happen to follow have populated my social-media feeds. Every day, it feels as if at least one new person I follow posts an artistically directed photo of their ass on main — and for that, I can thank Parade, the trendy NYC-based underwear brand that is sending apparently every Cool Femme a pair of its underwear to try, and subsequently post.
While Parade has been around for a little over a year now, the brand has seemingly exploded in popularity in recent weeks, with photos of people wearing the underwear proliferating across Twitter and Instagram. (This has sparked the occasional conspiracy theory: "I think Parade Underwear is a psyop to get girls to post ass," one person tweeted.)
So what exactly is up with this brand? Why has its influence become inescapable, and why have I not received a pair? Let us unpack.
What exactly is Parade?
Parade falls neatly into the market of inclusive, direct-to-consumer underwear brands that have sprouted up since the Victoria's Secret empire started to fall. But the brand, which was co-founded in October 2019 by 22-year-olds Cami Téllez and Jack DeFuria, has managed to distinguish itself. While their offerings are pretty standard — boy shorts, thongs, cheeky underwear, etc., in vibrant colors — they're decidedly hip, targeting those who donate to progressive causes and can recite their birth charts off the top of their heads. (Along with free underwear, they appear to send Tarot decks to their influencers of choice.) According to a manifesto posted on the Parade website, their "core fabric" is 85 percent recycled polyamide, their packaging is 100 percent compostable, and one percent of their revenue goes toward "Planned Parenthoods across the nation."
While the company targets Gen Z, Téllez wants Parade to become "the go-to underwear brand for all women," she told the Observer last year. And the company is certainly on a promising trajectory: Prior to Parade's launch last October, 70,000 people signed up for the company's wait list. In its first year, it received $8 million in funding.
How successfully has Parade captured the Zeitgeist?
Meditate on this detail: On the home page of Parade's website is a quiz you can take to discover your color aura, which features a question asking you to pick "your favorite cursed image." The options include a Ouija board with an actual turtle standing in as the planchette, a "sensual" turnip, manicured hot dogs with French-tip acrylics, and that unsettling photo of a dog with a human face that occasionally makes the rounds on the internet. (My aura was warm, meaning I "radiate all the vibrant colors of a glorious sunset," and that I should buy underwear in that palette.)
And Parade has been sending its underwear to people with large followings?
While it's not uncommon for brands these days to send their products to influencers as a marketing technique, Parade has been reaching out to more than just the big-name influencers, instilling hope in those of us with medium- or even modest-size followings that we might be next.
According to those selected by Parade, the company will DM people directly with offers to send them underwear. Writer Melina Brown says she was initially hesitant upon opening the message, but she decided to respond because it was "really well-worded and uplifting." Since then, she's gone back to buy Parade's underwear for her friends. "True to their claim, the materials are super-silky and sustainable," she told the Cut. "Mine have held up well in the washer, and the colors haven't faded."
Photographer and diviner Porsche Little called the underwear "the most comfortable I've ever put on." Colleen Baltovski, an artist who frequently poses in Parade products on Instagram, told the Cut: "My 60-year-old mom now wears Parade along with my closest friends."
But not all reviews are so glowing. One person on Twitter called the underwear the "worst, most uncomfy" pair they have ever seen, adding, "I did not know underwear could suck this bad." Another wrote, "The parade underwear looks like shit and isn't flattering."
Why hasn't Parade sent me underwear yet? I am on Twitter and Instagram!
Maybe it totally wants to, but just hasn't gotten around to it? In the meantime, if you are so inclined, you could always go ahead and buy the underwear yourself. It comes in sizes XS to 3XL, and typically retails between $9 and $13 per pair. Every two weeks, the company drops a new collection, the current being "Chromatherapy."
Alternatively, you can simply work through your feelings on social media, posting through the indignity: