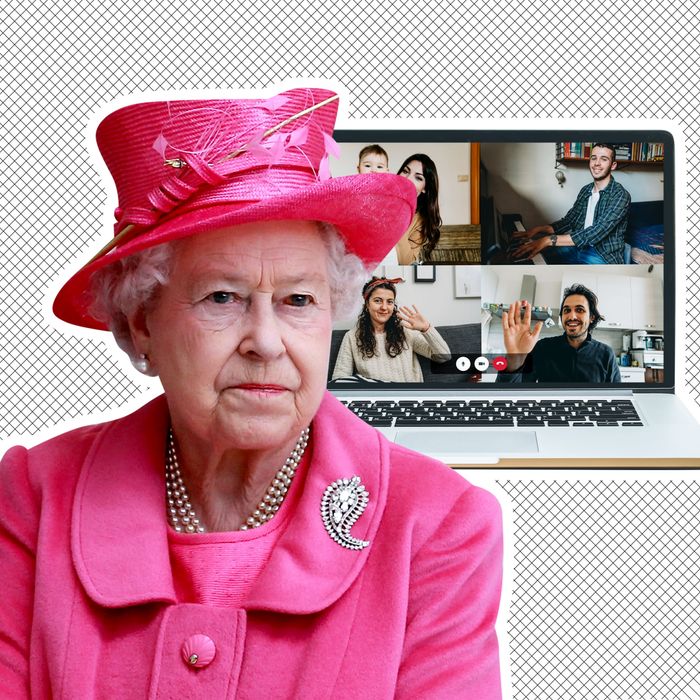 Photo-Illustration: by The Cut; Photos: Getty Images
There's an excruciating scene in the new season of The Crown, Netflix's fictionalized drama about the British royal family, in which a young Diana Spencer, freshly engaged to Prince Charles and giddy about her new royal life, rushes down for dinner in Buckingham Palace, only to immediately commit a series of royal etiquette gaffes. She interrupts Princess Margaret's dramatic retelling of an Imelda Marcos encounter in Manila; she greets the royal family out of order; she calls Charles, her fiancé, "sir" instead of "your Royal Highness"; she curtsies to someone who isn't a royal. It's nearly unbearable to watch. And unfortunately, because my cognitive function has been irreparably compromised by eight months in lockdown, one of my first thoughts while watching the scene was, "Hm. I wonder how all of this would work over Zoom."
Royal Zoom etiquette is, in fact, a thing, simply because the royals, like the rest of us, have been forced to take much of their work online. The Queen herself participated in a Zoom call earlier this month to honor Carer's Week in the U.K., and in July, she took part in a video chat with members of the U.K.'s Armed Forces. And Prince Charles, Princess Anne, Camilla Parker-Bowles, and Princes William and Harry have all made several Zoom appearances over the past months as well.
"You've got the Queen doing Zoom calls. I think that's amazing!" Grant Harrold tells me over Zoom a few days later. Harrold is a royal etiquette expert, and former royal butler who was a member of the Royal household of the Prince of Wales and the Duchess of Cornwall from 2004 to 2011.
In some ways, Zoom calls with royals follow similar guidelines to in-person meetings. You would still address them the same way, for example ("Your Majesty" for the Queen, "Your Royal Highness" for members of the royal family, etc.) You couldn't really bow or curtsy as you might in person, though, Harrold notes, as it would probably look bizarre over video chat. "If someone wanted they could still nod their head as a note of respect," Harrold said. "But this would be a personal choice and I am sure not expected."
Mostly, the royals have had to adapt and learn on the fly, just like the rest of us. Instead of the film crews and expensive video and recording equipment they might usually bring in to film an address to the nation, royal family members have made do with their iPads or computers. And instead of greeting people in formal halls or event spaces, they've called in from their private chambers. This, Harrold explains, offers a far more intimate view into the royals' worlds than one might otherwise get.
"When you see Prince Charles [on a video call], or the Duchess, and you see the room behind them, it's quite personal. It's a private home," Harrold says. "If it wasn't for lockdown, I don't think you'd have seen these rooms, because they stick to more public rooms when they have audiences with people."
A lot of Zoom etiquette is pretty straightforward, whether you're royal or not. "Make sure you're presentable with what you're wearing," advises Harrold. "Make sure you pick the room carefully. Make sure that you're comfortable with what's around you." For safety purposes, he adds, don't have anything in the background of your screen that might have your address on it.
As for The Crown, Netflix announced in July that its sixth and final season would be set in the early 2000s, meaning that while we might get to see fictional portrayals of William and Harry as teens, we probably won't get to enjoy any scenes of commoners fumbling on Zoom during digital audiences with the royals, or of someone teaching Imelda Staunton how to mute her video so people don't hear her corgis barking in the background. And, if you do happen to participate in a royal Zoom, and proceed to commit a series of terrible gaffes a la young Diana, well … at least now you can click out of the video chat and pretend your internet died or something.