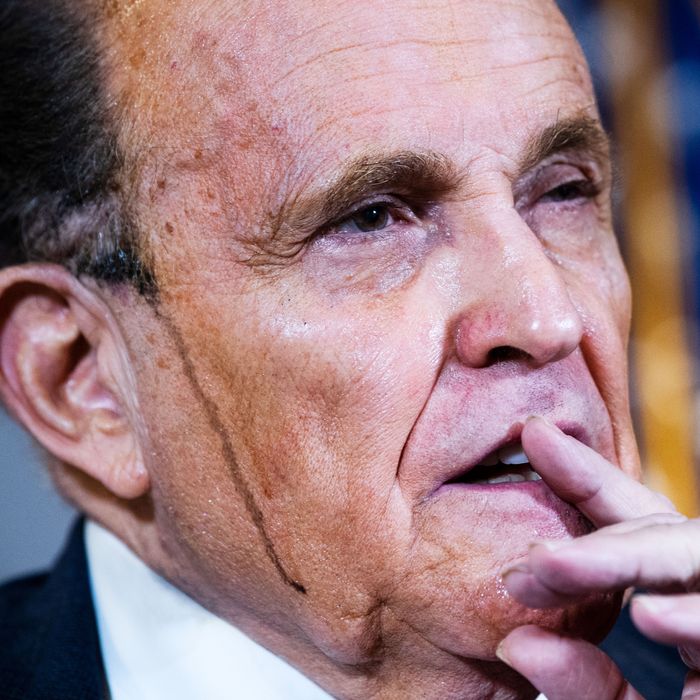 He inked.
Photo: Tom Williams/CQ-Roll Call, Inc via Getty Images
Hello, and welcome: It is time, once again, to check in on Rudy Giuliani, attorney to soon-to-be-former President Donald Trump, just to see how he is doing. From the outside, I would guess: not great. He has been airing unsubstantiated conspiracies to the press. He has been submitting baseless legal bids left and right. He has, on one occasion, appeared to leak ink from his temples. Even for a man whose professional past has been peppered with repeated media butt-dials and probable crimes and several instances of screaming through interviews, the past couple of weeks have been conspicuously calamitous. On the eve of his boss's ouster from office, Giuliani appears to be melting down in real time, and I do mean literally.
Let's play back the tape, shall we?
First came the Borat incident.
In late October, rumors began circulating that Giuliani had made a damning, unwitting cameo in Sacha Baron Cohen's Borat Subsequent Moviefilm. Apparently, Giuliani agreed to appear in the Borat sequel believing it to be an interview with a right-wing media outfit. In fact, it was a sting: Posing as a young journalist, actress Maria Bakalova — playing Borat's 15-year-old daughter in the film — spoke with Giuliani in a hotel room. The 76-year-old told her she "looks pretty good in front of the camera," and when she offered him a drink in the bedroom, he proceeded to sit down on the bed, untuck his shirt, and stick his hand down his pants.
Cohen rushed in right on cue, but it was still clear what Giuliani was doing — or was about to do. Still, the lawyer subsequently claimed that he "was tucking in [his] shirt after taking off the recording equipment," and "at no time before, during, or after the interview was [he] ever inappropriate." Bakalova certainly seemed to think Giuliani was touching himself, and as Cohen pointed out: "If the president's lawyer found what he did there appropriate behavior, then heaven knows what he's done with other female journalists in hotel rooms."
Then, the Four Seasons Total Landscaping snafu …
But we did not even have time to recover from the apparent masturbation clip before Giuliani launched his next offense. Fortunately it turned out to be a gift that keeps on giving: the great Four Seasons Total Landscaping snafu. As you will doubtless recall — because you can't stop thinking about it either — Giuliani and Trump campaign advisor Corey Lewandowski convened a press conference on the morning of November 7. The plan was to air some flimsy allegations of purported voter fraud in Pennsylvania — except, somewhere along the way, a misunderstanding occurred. Rather than booking the event at the Four Seasons hotel in Philadelphia, as the president first announced on Twitter, somebody locked in a similarly named landscaping business (conveniently located between a sex shop and a crematorium) as the venue. The Trump team forged ahead nonetheless, Giuliani launching into his tirade just as the networks called the election for Joe Biden, prompting many of the journalists present to start packing up their equipment. Embarrassing!
Improbably, the campaign insisted to the New York Times that "the mistake was not in the booking, but in a garbled game of telephone," suggesting that the Four Seasons Total Landscaping parking lot was a deliberate decision. Inside the White House, however, officials were reportedly "rolling their eyes" at this latest "Rudy special."
Which turned out to be the launching pad for an unhinged legal gambit.
Trump's loss only solidified as the outstanding states reported their ballot totals in the days after November 7. Nevertheless, Giuliani plowed on, spinning out election-fraud conspiracy theories in various federal courts. According to CNN, at least 30 of the Trump campaign's lawsuits have been withdrawn or lost, largely because they lack supporting evidence. In that respect, Giuliani has reportedly fallen down on the job: In a Pennsylvania court hearing last week, Trump's attorney forgot both the meaning of the word "opacity" and the basics of his profession. Giuliani's reception in court hasn't been warm, with one district judge (Matthew Brann, a Republican) comparing the attorney's pack of "speculative accusations" to "Frankenstein's monster."
That appears to have triggered a literal meltdown.
In an effort to bolster his voter-fraud claims with shouting, I guess, Giuliani called another press conference on November 19. Still lacking evidence to shore up his assertion that Biden "stole" the election, the attorney gestured toward a "centralized" scheme and reenacted a scene from My Cousin Vinny. In the process, he got himself so worked up that he began to leak, a strange inky liquid streaming unacknowledged down the sides of his sweaty face. Please:
Nobody knows what the ooze was, although some colorists who spoke with the Times clarified that "hair dye doesn't drip like that," and maybe it was mascara? An enduring mystery of our time!
And now, the threat of disbarment.
The entire post-election production has become so extreme, so outrageous, that one New Jersey representative is seeking to have Giuliani disbarred. The Washington Post reports that Representative Bill Pascrell Jr. filed complaints against Giuliani and 22 other Trump attorneys in five states — Arizona, Michigan, Nevada, Pennsylvania, and New York — asking that their law licenses be revoked over the "frivolous" lawsuits they've filed and their alleged "dishonesty, fraud, deceit, or misrepresentation." That's not to say that Giuliani will actually be disbarred — per the Post, that outcome is unlikely, but as this past month has repeatedly proved, stranger things have happened.