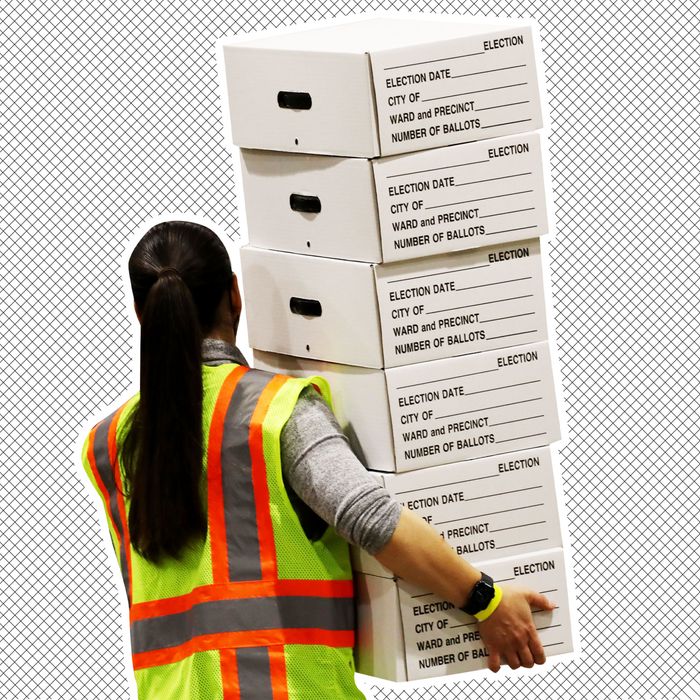 We're now in day three of the 2020 presidential election, and votes are still being counted. They largely reflect the pattern we expected to see: Absentee and mail-in votes are being counted later than in-person votes, as states work through backlogs of huge amounts of ballots, and they are statistically breaking in Joe Biden's favor. That means Biden has taken the lead in some states where Donald Trump was ahead on Election Day: Biden is now ahead in Georgia, which would be the first time a Democrat won the state since 1992; Arizona; Nevada; and Pennsylvania, which theoretically wins him the nomination. Meanwhile, the Trump campaign has been pursuing a chaotic legal strategy in multiple states.
According to the New York Times, Biden has 253 electoral votes to Trump's 214. Trump's path to 270 votes, the amount needed to win the election, is considerably narrower than Biden's; multiple combinations of state wins could get Biden the necessary 270, while Trump has more votes to make up.
Below, here's where things stand right now:
Pennsylvania
With 20 electoral votes, Pennsylvania is the biggest remaining prize. Biden already has 253 electoral votes — if he wins there, he theoretically wins the election.
Who is ahead? Biden pulled ahead overnight on Thursday, and is currently ahead by over 13,000 votes according to the New York Times.
How many votes are left? More than 100,000 ballots remain, and given that most of them are mail-in, the Biden campaign is confident they will largely break in their favor. This includes 29,000 mail-in ballots in Allegheny County that a court had ordered to be "segregated" and double-checked. They will be counted at 5pm EST today, but an official call for the state is unlikely tonight.
Georgia
Georgia has 16 electoral votes, and Trump needed to hold on to his narrow lead there to keep his path to 270 viable.
Who is ahead? Biden eked ahead by a razor-thin margin of 1,561 votes as of Friday. If it is called for Biden, it would be the first time the state has voted for a Democrat since 1992.
How many votes are left? 538 reports that there are about 8,200 regular absentee ballots, up to 8,900 overseas ballots and at least 5,500 provisional ballots left to count (plus 2,000 rejected absentee ballots that could be "cured" by their voters). The Secretary of State has confirmed that the margin is small enough for the state to head to a recount.
Arizona
Arizona has 11 electoral votes, and they were somewhat controversially called early for Biden on Election Night by Fox News. Other networks did not call it officially because many votes were still being counted.
Who is ahead? Joe Biden up by about 43,779 votes votes as Friday afternoon.
How many votes are left? Around 220,000 votes are left to count, and most of those are from Maricopa County, which will give an update at 9pm. After that, more networks may project the state for Biden.
Nevada
Nevada's six electoral votes are still up for grabs. If Biden wins Arizona and Nevada, he would get to 270.
Who is ahead? Biden expanded his lead to 20,137 votes.
How many votes are left? There are still around 150,000 left to be counted, the majority of which are from Clark County, which includes Las Vegas, a Democratic stronghold. There will be an update at 7pm and the count will finish this weekend.
North Carolina
North Carolina has 15 electoral votes, and though the count is almost finished, it is still too close to call. We won't get an update until November 12, however, the last day officials can receive ballots, so we may get a national winner first, depending on other states.
Who is in the lead? Trump leads by nearly 77,000 votes.
How many votes are left? Over 116,000 mail ballots are left to count as well as potentially thousands of provisional ballots. Again, we won't have an update until at least November 12, when counties will review the absentee ballots again.
What about the Trump campaign's lawsuits?
The Trump campaign filed lawsuits in four states to stop vote counting. In Michigan and Pennsylvania, it sued to stop the count until it could get observer access to election sites (although observers from both parties were already at sites in these states). In Georgia, the campaign filed a lawsuit calling on officials to make sure counties "separate any and all late-arriving ballots from all legally cast ballots to ensure a free, fair election in which only legal, valid ballots count." In Nevada, the campaign sued to make sure only "legal" votes are counted, claiming, without evidence, that at least 10,000 people voted in the state despite no longer living there.
Judges have already ruled against Trump in Michigan and Georgia. In Pennsylvania, a judge gave the campaign a minor victory when he ruled that Republican observers must have access to watch Philadelphia election officials count ballots from six feet away, which created a pause in counting for a short time. Two other lawsuits in different counties remain pending.
The campaign has also demanded a recount in Wisconsin, where the AP and other outlets called the state's ten electoral votes for Biden on Wednesday. The Trump campaign claimed, without evidence, that it had heard "reports of irregularities in several Wisconsin counties," but a top election official said there had been nothing irregular about the count. "It's insulting for our local election officials to say that yesterday's election was anything but an incredible success," she said. The campaign won't officially be able to file its recount petition until Wisconsin's results are finalized, which must occur by December 1.
In addition to this legal blitz, Trump has been tweeting unfounded, out-o-context pleas to "STOP THE COUNT!" and calling for "all voting to stop." These directives are confusing; no one is still voting, and, in states like Arizona, counting votes has actually helped his own campaign. His followers seem to be coordinating around this message in person, staging protests in Detroit and Philadelphia where they have also been chanting "Stop the count." The strategy seems to be to create doubt over whether the votes being counted are valid, which they are; on Thursday morning, Trump tweeted, "ANY VOTE THAT CAME IN AFTER ELECTION DAY WILL NOT BE COUNTED!" Of course, in many states, votes can be counted after Election Day by laws that have been upheld by the courts.
This post has been updated.