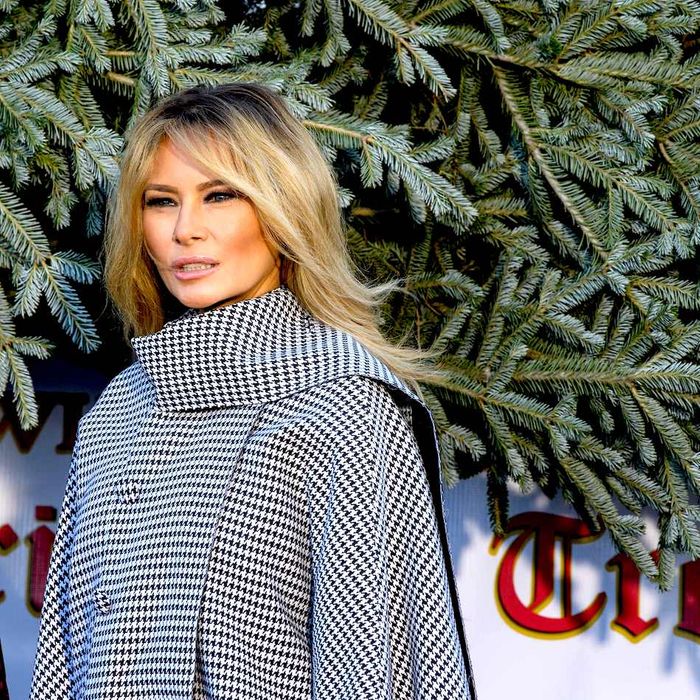 What is she thinking?
Photo: NICHOLAS KAMM/AFP via Getty Images
The White House Christmas tree arrived Monday, and with it, a prickling sense of … dread …? Melania Trump, who met the fir in the driveway, hates "Christmas stuff," and yet every year, she is tasked with smiling beside the tree's limp body and decking the halls and scattering weird, ominous branches everywhere. So maybe you would expect that, this being her last year on the job, the First Lady would simply cite pandemic protocol and phone it in on a festive blowout. But instead, the White House has reportedly planned a slate of holiday parties, to start as early as next week. The timing does not bode well, nor does the administration's recent track record with large indoor gatherings. A harbinger of Christmas doom, if you ask me.
Consider: The CDC suspects that, after Thanksgiving, the country may see significant spikes in its already-surging coronavirus caseload, if people insist on celebrating in their traditional groups. The first of the White House receptions will reportedly take place on November 30, four days after Thanksgiving, and well within the virus's 14-day incubation period. Unfortunate, then, that an invitation to a December 1 fête "makes no mention of mandatory face masks or social-distancing requirements," according to USA Today.
Stephanie Grisham, a spokesperson for Melania, told NBC that the hosts would provide the "safest environment possible" for attendees, meaning smaller-than-usual guest lists, masks "required and available," hand sanitizer on the house, and an encouragement toward social distancing. Grisham added:
Guests will enjoy food individually plated by chefs at plexiglass-protected food stations. All passed beverages will be covered. Attending the parties will be a very personal choice. It is a longstanding tradition for people to visit and enjoy the cheer and iconic decor of the annual White House Christmas celebrations.
But if people are eating and drinking, they can't be keeping their mouths covered while they mingle. The Trump administration knows this, having already hosted two apparent superspreader events at the White House: While this holiday-party schedule does not feel responsible, it also fails to surprise. If Trump has effectively demonstrated one thing these past eight months, it is a willingness to flout scientific recommendations. And then, winning the alleged War on Christmas has been part of Trump's platform from the earliest days — even though he, too, allegedly hates the holiday. So maybe this year's lavish celebrations are more about proving a point than anything else. A little Christmas revenge, as a parting gift?