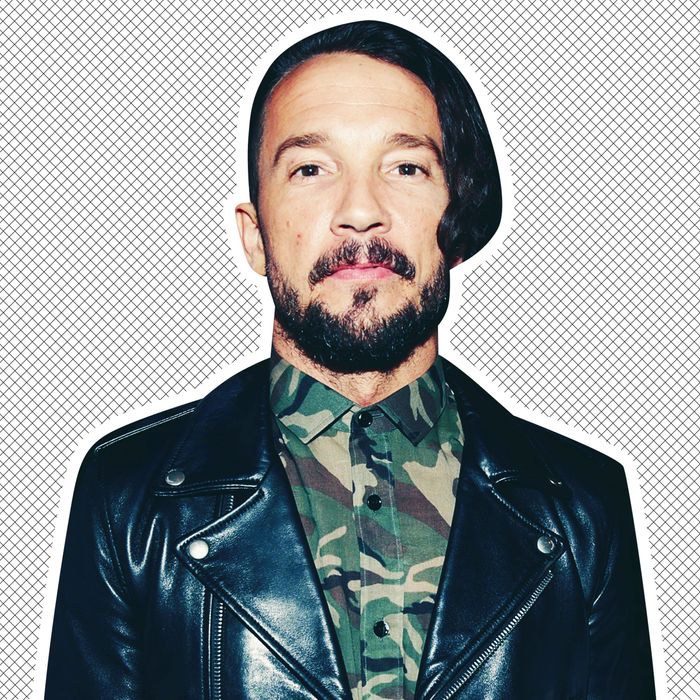 Abs pastor Carl Lentz.
Photo: Getty Images
Finally, after interminable hours of waiting and wondering and speculating and pacing, an answer to the question keeping the nation on tenterhooks: What ambiguous "moral failings" led to the firing of "rock-star pastor" Carl Lentz from Hillsong Pentecostal megachurch last week? Was it a "soft" stance on abortion and LGBTQ+ issues, or his acceptance of the Black Lives Matter movement, as some have suggested on our favorite celebrity gossip platform Deux Moi? A rumored penchant for partying, hard? An embarrassment of abs (see below)?
All good guesses, but no! According to Lentz himself, the problem was that he was "unfaithful in [his] marriage," per a statement posted to Instagram on November 5. Yet that admission tells us very little about the scenario that spurred his ouster, and unsurprisingly, tabloids have rushed to fill in the gaps. Here's what we know about the Hillsong situation so far.
Lentz is arguably most famous for his ties to Justin Bieber and other Evangelical celebs.
A flashy, label-loving minister, Lentz has been described by GQ as a "hypepriest." Until last week, he presided over Hillsong East Coast, the New York City headquarters of an Australian megachurch that has proved wildly lucrative for its top lieutenants. According to the Sydney Morning Herald, Hillsong pulled in "tax-free revenues of nearly $80 million in Australia" in 2014, and "more than $100 million internationally." As you may have deduced from those figures, the church does not count personal enrichment as a sin, nor does Lentz. That may help explain his popularity among the young, Christian elite.
For a time, Lentz enjoyed a close personal relationship with Justin Bieber, who once moved into Lentz's home for an informal detox. Lentz reportedly baptized Bieber in NBA player Tyson Chandler's bathtub in 2014, and counseled him through a brief 2017 reconciliation with Selena Gomez. (Another member of Lentz's flock, along with Kendall and Kylie Jenner.) The pair reportedly fell out around the time Bieber proposed to Hailey Bieber (then Baldwin), another Hillsong adherent who is currently Justin's primary partner in partying and in prayer. But for a while there, Biebs and Lentz were like this:
Hillsong fired Lentz for ambiguous "moral failings."
On November 4, Brian Houston, Hillsong's global senior pastor and founder, issued a tight-lipped yet ominous announcement. Lentz's termination, he said, came down to "ongoing discussions in relation to leadership issues and breaches of trust, plus a recent revelation of moral failures." He did not expand on what those failures might be, but the next day, Lentz made a long statement by way of Instagram. In it, he apologized "for breaking the trust of many people who we have loved serving," without specifically apologizing to Laura, his wife of 17 years.
"When you accept the calling of being a pastor, you must live in such a way that it honors the mandate," Lentz captioned a photo of him and his family in formalwear. "That it honors the church, and that it honors God. When that does not happen, a change needs to be made and has been made in this case to ensure that standard is upheld."
Noting that leading Hillsong East Coast has "been the most amazing, impacting and special chapter of our lives," Lentz continued: "Over the years I did not do an adequate job of protecting my own spirit, refilling my own soul and reaching out for the readily available help that is available. When you lead out of an empty place, you make choices that have real and painful consequences. I was unfaithful in my marriage, the most important relationship in my life and held accountable for that. This failure is on me, and me alone and I take full responsibility for my actions."
Now, it seems Hillsong may also have fired Lentz's wife.
Despite that responsibility-taking, however, Laura may have been punished for her husband's actions. Laura was also a pastor at Hillsong, but according to the Sun, Houston fired her along with her husband. The reason, one tabloid source allegedly explained, is that, "If a married couple both work at the church and one of them is terminated, they both will be fired immediately."
"She, of course, seemed devastated as this was just the cherry on top of this whole ordeal for her," the source added. Laura's page has also been deleted from Hillsong's website.
Lentz's alleged girlfriend has been speaking to the tabloids.
Neither of the Lentzes have made any kind of statement since Carl last posted, but of course, rumors have continued to roll in. On Sunday, the UK Sun reported that Lentz had carried on a months-long affair with a New York City-based designer, who believed him to be a "sports agent."
Ranin, who declined to share her last name with the Sun, said Lentz approached her in Brooklyn's Domino Park in May. Although he would only give her his first name in the beginning, Ranin told the tabloid that she eventually discovered his identity by searching his phone number online — after he told her he was already married. Lentz, she continued, promised he "had absolutely never strayed outside of his marriage before," but "God told him to tell me that I need to know my worth and there's something special about me."
"He loves me and I love him. It was a love relationship that wasn't planned. It wasn't just a fling or just a sexual relationship," Ranin reportedly told the tabloid, adding that the pair were seeing each other up until Lentz publicly confirmed his firing. "I wasn't there for just sex, we both found comfort and a deep, special connection with each other."
Ranin reiterated her story to the New York Post, saying the pair frequently fought over Lentz's marriage and that he called her his "Middle Eastern unicorn woman." The affair came to an end, Ranin contends, when Lentz's wife found out — somebody from Hillsong reportedly saw their texts on his iCloud.
Lentz did not return the Post's request for comment, but Ranin noted her suspicion that the ex-pastor had other partners. "I'm waiting to see if anyone else will speak up," she said.
Have the Biebers commented?
Neither Justin nor Hailey have said anything about the scandal publicly, although the Sun seems to think Lentz was staying at Justin's New York City apartment last week. The tabloid published photos of Carl and Laura having an "uncomfortably serious conversation" outside Bieber's building on the morning of November 5. Whether or not the Biebers actually harbored Lentz last week, both of them had unfollowed the couple by Wednesday morning, Vanity Fair reports. Looks like we will simply have to connect the dots on our own.
This article has been updated.