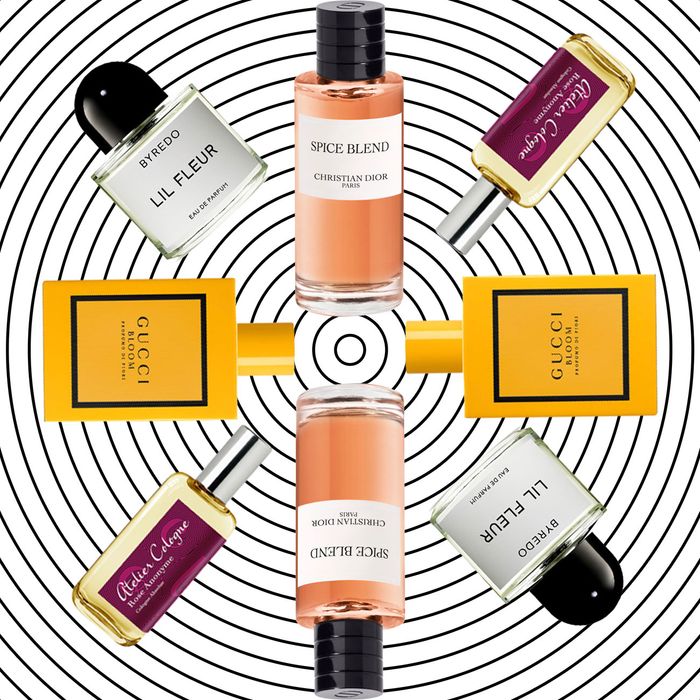 In 2020, I stopped wearing most of my makeup and gave up on hard pants. But I never stopped putting on perfume. Matching my fragrance to my work-from-home outfit has helped me feel motivated each morning. For me, scent has been a lifeline, the thing that's kept me feeling at least vaguely human.
Read on for my list of the best fragrances to buy for anyone who feels the way I do about perfume — or just needs a nice, indulgent holiday gift. From the one that will make you smell like a teenage Virginia Woolf to the one that will make you smell like the year 1969, here are my favorites.
The Scent That Deserves a Room of Its Own
The Byredo site says this fragrance (one of their latest) is inspired by the "heady, surging world of youthful emotions." When I first tried it earlier in the year, it struck me as smelling like teenage Virginia Woolf. I know, I know, but hear me out: The crisp rose scent feels Victorian to me, while the center notes of amber and white-saffron warmth remind me of Woolf's passion.
The Androgynous Fragrance That Comes With a Playlist
I've been digging St. Rose's fragrances (and their impressive sustainability project) all year. Their latest release, Vigilante, is everything I want in a perfume. It's slightly smoky, not too sweet, and utterly unique. The mix of sandalwood with a bit of rose and jasmine notes is really well balanced; it's a great feminine-meets-masculine scent. The brand creates a playlist for each scent, and Vigilante's includes songs from Christine and the Queens and Rhye — so you know it's incredibly sensual as well.
The Eccentric Scent Sampler
I came across the January Scent Project in the middle of one of my favorite Before Times activities — getting happy-hour oysters and then going to Brooklyn's Twisted Lily to browse fragrances I can't afford. Selperniku might be one of the strangest and most beautiful scents I've ever encountered. It's a heady mix of chamomile, sandalwood, milk, and butter. (Yes, butter. The butter notes are exquisite, and I promise you won't smell like a walking pastry.) I bought the whole January Scent sample set and was pleased to find that I loved all of the other fragrances, too, from the coffee-and-lilac Vaporocindro to the rose-and-roasted-seashells Smolderose, which is what I imagine Kate Winslet's lesbian paleontologist smells like in Ammonite.
The One With the Beautiful Bottles
I learned about Montale at a live rose-themed event for Rachel Syme and Helena Fitzgerald's terrific perfume newsletter The Dry Down. I have to give them all the credit for showing me that you can wear rose scents without smelling like a grandmother. Montale's Roses Musk, a combination of rose with notes of amber and jasmine, is now one of my staple scents — I like how it's flowery without being too sweet, and musky without being too heavy. Montale has a truly impressive line that covers just about anything you could ever want to smell like, plus they have the most stunning metallic bottles.
The One for Artists and Lovers
As one of the three people who watched I Love Dick on Amazon (which is INCREDIBLE), this scent always makes me think of Kathryn Hahn as Chris Kraus, wandering around Marfa, Texas, in a pair of neon Birkenstocks. The earthy fragrance — which melds the dry sweetness of orange blossom and tuberose with agave — is exactly what I imagine a Texas town full of artists would smell like. It's truly one of the best perfumes I've ever worn, and it's completely out of my budget, so for now, I'm just hoarding samplers.
The One to Wear With a Plaid Coat and a French Braid
Escentric Molecules is a fascinating fragrance brand. Molecule 01, their cult classic, literally smells like nothing. When you put it on, you can't smell it on yourself — it's an aroma chemical that works with your own body chemistry to create a wholly personal scent. This discovery set has ten vials of the brand's wildly different aroma chemicals, which bend and twist to the smell of whomever is wearing them. I have a bottle of Molecule 05, which contains only Cashmerant, a compound known for woodsy and musky tones. On me, it smells like Christmas, or like the scent equivalent of Taylor Swift's 2020 album double punch of folklore and evermore — a solo rented cabin in the woods to nurse your broken heart.
The One That Smells Like Late August
I'm going to be brutally honest with you, this smelled terrible on me. I was super-upset because anything that's associated with both Harry Styles and Jodie Turner-Smith is something I'm dying to wear. It was just a little too sweet and just didn't vibe with my pheromones. But putting it on a friend was another story — she smelled like a warm cup of jasmine tea and late summer. Basically, I want everyone to wear this so I can live vicariously through your scent.
The One That Smells Like Early October
The minute I put this on, I fell in love with myself. It was a spicy, sweet scent that brings to mind hayrides and apple picking and running around New York right as the leaves are changing colors. It smelled like what I'd want my cuffing-season love interest to smell like. (The Amber Nuit is also delightful, and in this same family—in fact, I would highly recommend the whole sample set).
The Sample Set for Anyone Who Wishes It Was Still the '60s
Just listen to the way the brand describes this hazy incense scent: "evocative of the 1980s glam rock era in LA, and the music scene and lifestyle of the US West Coast during the 1960s and 1970s." Doesn't that sound amazing? It made me feel like I was wearing crochet and smoking a clove cigarette while watching the Rolling Stones — which is my dream vibe always. Their sample box lets you try everything from the bitter orange of Capri to the warm rhubarb of the perfectly named Female Christ.
The One for Heartbreakers
What about just smelling sexy? The sexiest scene in film history might just be in Martin Scorsese's 1993 adaptation of The Age of Innocence, when Daniel Day-Lewis's Newland Archer buries his face into the glove of Michelle Pfeiffer's Countess Olenska. Convince me otherwise, but there's no way that the gloved hand of the Countess doesn't smell like Rose Anonyme — smoky rose dappled with patchouli. Wear this one sparingly unless you're ready to break the heart of every person who breathes your scent.
If you buy something through our links, New York may earn an affiliate commission.