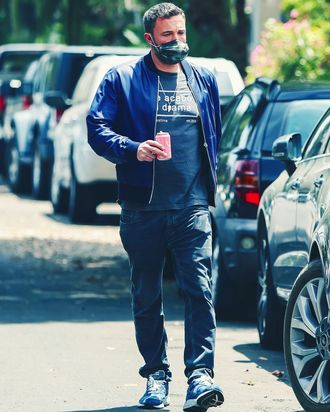 Photo: BG004/Bauer-Griffin/GC Images
Like the rest of the world sheltering at home, I completely lost any sense of time this year. Days, weeks, and months all congealed into the same amorphous blob, a kind of perpetual Tuesday. Creating any sense of markers or milestones in this haze required a massive amount of creativity and hope, things many of us severely lacked since March. In fact, the only true sense of forward progression I've felt all year has come in a very particular, peculiar form.
What started as a regular annoyance of gawking at paparazzi photos of Ben Affleck and Ana de Armas became a compulsive habit that created a begrudging but necessary consistency. Yes, for me, the year can best — and perhaps ONLY — be summed up by my ever-evolving relationship with photos of those two.
Here's where it all began, with early March trips to Cuba and Costa Rica that served as the first hint that they were dating.
At the time I was able to treat it as a passing bit of gossip about a troubled star and his young paramour. What a fool I was. Nothing has ever been the same since. Were we ever so innocent? So young?
On March 19, the same day this photo of Ben Affleck and Ana de Armas dog-walking in Los Angeles came out, the United States had documented more than 14,200 cases of coronavirus. Shutdowns were looming. I was messaging my boss asking to work from home that week because I was nervous about going into the office and getting on the subway while pregnant. It felt a little over the top at the time, but I thought, oh you know, better safe than sorry — besides, this will all blow over soon. People were nervous and scared and then, there were these two. I remember seeing this photo on Twitter and thinking, look at these smug idiots.
When I first saw this I just thought, look at these narcissists, probably looking at photos of themselves — but now I just see the solipsistic nature of existence reflected back at me from my own mental prison. Who's watching who?
This was also the point in the year where photos of Ben smoking through his mask sent the internet into a collective meltdown. Is he real or is he merely an avatar of our rage? Only time would tell.
"Why am I still looking at photos of Ben Affleck?" I started texting my friends. Ben seemed to have a new haircut, and I was newly postpartum and spending my free time hiding in the shower crying while I squeezed breastmilk out of my engorged chest, wondering if I should get a back tattoo.
Remember the summer? Outdoor dining and hanging out created the illusion of normalcy. The streets were full of laughter once again. And no one was laughing louder than Ben and Ana. What could these two possibly be saying to each other that was so funny? What secrets do they whisper to each other at night? Their peals of beautiful laughter ring out through these photos haunting my waking moments, piercing my heart straight through with longing.
"Stars, they're just like us!" I start screaming to my children who are on their seventh straight watch of The Grinch. When they don't answer me back, I save this photo of Ben and Ana with their dogs as my phone screensaver, erasing my own family photo from that coveted spot. Stockholm syndrome? No. I'm Affleck-ted.
The vaccine is on the horizon. There is hope once again. A light at the end of the tunnel, glimmering as bright and promising as a polished diamond perched precipitously at the tip of a gold band. As Ana flashes her delicate fingers in the sunlight, I catch a glimpse of my own future. A tear falls down my flushed cheek. "I'm happy for them," I whisper to my no one in particular.