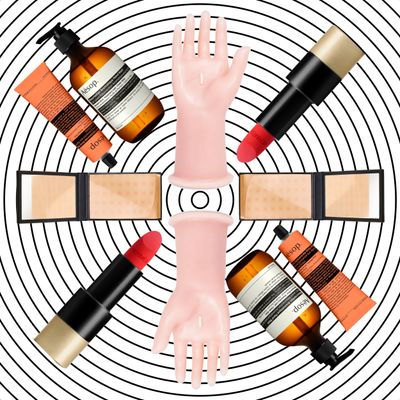 Photo-Illustration: Courtesy of the Retailers
Everyone has that one friend who is fluent in face acids, knows about Sephora sales before everyone else, and still hasn't recovered from the Purito sunscreen scandal. Whether you're shopping for that person or you are that person, read on for our picks for the best beauty gifts of 2020, from holographic eye masks to the lip balm loved by BTS to a nail polish named after Michelle Obama.
These hydrating, holographic eye masks are the perfect last-minute stocking stuffer. Give them now, and watch them pop up in selfies long after the holidays have gone.
Photo: Courtesy of Glossier
A gift that anyone from teens to adults will love.
The vanilla–ylang-ylang scent is soft, but lingers. And there's no scrubbing to do afterward — these bath salts don't leave a ring in the tub.
Something to get the Le Labo fan when you can't afford Santal.
This multi-use oil leaves hair looking as shiny as a '90s lip gloss (and scented like one, too.) Plus it'll look good on anyone's shelf.
Sop up oil from your face the Chanel way.
If your lips are feeling dry, flaky, chapped, and cracked underneath your mask, soothe them with this convenient scrubbing and softening duo designed by Pope Rihanna.
A glittery polish as gleeful as its name.
Monogrammed French lip balm for the snobbiest person you know.
Dr. Jart+'s five ceramides protect skin and prevent water loss — something we could all use during the driest of seasons. This kit contains products covering everything from the face down to the feet.
Photo: hey dewy
For the friend who wants to take an obsession with dewy skin to the next level.
This hand candle is a little creepy but definitely cool.
The best, most luxurious hair-ties, all wrapped up and ready to go.
This trio of hair tools (which includes the life-changing shower brush) will equip you with everything you need to style curly, coily, or textured hair.
Little ways to make showering an experience, rather than a chore.
Once fans discovered that BTS' Jungkook likes these lip tints, they bought up pretty much all of them. There's always danger that these will go out of stock again, but they are still available for now (and on sale).
A super-pigmented gold eyeshadow for above-the-mask flair.
Two of 2020's biggest stars, handwash and hand cream, team up in this very special ensemble.
This skin-care set is perfect for anyone who's looking for a luxurious new routine.
For the person who needs a little help not constantly thinking about their to-do list.
Do yoga your own way with this beginner set from Sky Ting. It includes a cute hat, a yoga strap (because as Sky Ting co-founder Krissy Jones says, "Modifications are chic,"), a month of virtual classes, and an invigorating-smelling lotion to ground yourself after class (don't slip and slide on the yoga mat).
A beauty thing that's a thing of beauty.
A soy candle that also comes with seed paper and a soil pod so you can turn it into an herb planter once it's all burnt up.
A nail polish set free of many common toxic chemicals, with two shades named for Diana Ross and Michelle Obama.
For the person so into routines, that they'll love a haircare one too.
A gift card for a salon visit may still be out of the picture, but this kit packed with essential nail-grooming tools gets at-home nails pretty darn close to perfect.
For the friend who has almost everything.
This kit contains a cult-favorite lash-enhancing and brow-enhancing serum to encourage growth.
The rare body cream that doesn't smell floral or soapy but deliciously woodsy and incense-y.
A set of miniature lipsticks in Swan Lake–inspired packaging.
For the person who started a business during the pandemic and doesn't have time to waste on a lengthy skin-care routine.
For your friend who says scented candles are only good if you want watch your money literally go up in smoke — but who still likes ambience.
For the person who doesn't need to Google the difference between Carrara and Calacatta.
For the Kardashian superfan.
24 tiny little Dior surprises. Since it's already December 6, go ahead and open a whole bunch of them right now.
Every product is independently selected by our editors. Things you buy through our links may earn us a commission.