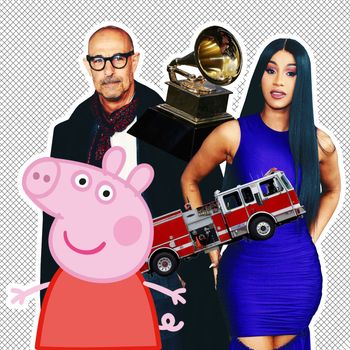 Photo-Illustration: Getty Images, Astley Baker Davies Ltd./Entertainment One
It would be difficult, I suppose, to avoid antagonizing people when you're a young, porcine megacelebrity who may or may not be seven feet tall. But such is the life of Peppa Pig, the animated star of the British children's television show Peppa Pig. It seems the gargantuan 4-year-old hog-girl can hardly go a few weeks without some public figure complaining about her, fairly or not. There were the firefighters, the Recording Academy, the actor, the rapper…
Some of the criticisms have been deserved: In 2017, for example, Peppa was forced to reckon with her naïve, potentially dangerous views on spiders. Others, though, seem more like sour grapes. Parents complain about Peppa's songs being too catchy, her show being too enrapturing to the under-5 crowd. What is a young, working pig meant to do with that feedback? Get worse at her job?
Peppa's latest critic is Cardi B, who warned Peppa last week to "COUNT YOUR FUCKIN DAYS." What did the singing swine do to upset Cardi so? Who are Peppa's other nemeses? What does "Expert Daddy Pig" have to say about all of this? Below, we break down some of Peppa's most public feuds.
Peppa Pig v. the Commonwealth of Australia
In 2017, an episode of Peppa Pig called "Mister Skinny Legs" was pulled off the air in Australia because it argued that spiders were not scary and showed Peppa picking up a spider and tucking it into bed. Given that Australia is home to some of the most deadly spider species on the planet, the Australian Broadcasting Corporation deemed the episode "inappropriate for Australian audiences" and banned it from ever being broadcast in the future.
Oi, Peppa.
Peppa Pig v. the London Fire Brigade
In 2019, Peppa's problematic past came back to haunt her when a clip resurfaced of her laughing at the idea of her mother being a "fireman." "Mummy Pig's dressed as a fireman," the narrator says in the clip. "Mummy!" Peppa scoffs. Peppa was called sexist, and her dismissal frustrated the London Fire Brigade, which responded on Twitter: "Come on @peppapig, we've not been firemen for 30 years. You have a huge influence on kids & using out of date stereotypical gender specific wording prevents young girls from becoming firefighters."
Peppa did not respond publicly, but seemed to be more cautious about her use of words going forward.
Peppa Pig v. the Recording Academy
Despite releasing one of the 2019's most catchy, conceptually interesting albums, My First Album, Peppa Pig was not nominated for a single Grammy by the Recording Academy. Hm. Perhaps the Academy didn't get a chance to listen to the whole thing, or maybe they didn't appreciate all the layers to songs like "Expert Daddy Pig," which is a stark portrait of Peppa's father's blustering incompetence and a searing portrayal of toxic masculinity in the home, or "Bing Bong Zoo," a psychedelic meditation on the concept of self.
Peppa, for her part, did not take the rejection well.
Peppa Pig v. Stanley Tucci
Perhaps one of the hardest pills Peppa had to swallow was the criticism she received from one of the world's most beloved actors and erotic mixologists, Stanley Tucci. In a lockdown diary for The Atlantic published in May, Tucci walked readers through his ridiculously charming daily routine. He bounces on a trampoline, shares four separate recipes, and then there's this painful aside about Peppa's show, which his children adore:
(There is no question that my wife and I, along with many parents, wish the creators of that irritating animated swine a slow death, but they are so rich, they have probably purchased immortality. And yet at the same time, said pig allows us respite for half an hour or so every day. May God bless those creators.)
Damn. Imagine being called an "irritating animated swine" by Stanley Tucci when you're still smarting from your Grammy snub, and also you're only 4 years old. Poor Peppa.
Peppa Pig v. Cardi B
Tucci was not the last celebrity who would choose violence when it came to Peppa. Two days after Christmas, rapper Cardi B bemoaned the negative impact Peppa has had on her daughter's footwear. You see, inspired by one of Peppa Pig's episodes (she doesn't say which one, but perhaps it was "Muddy Puddle," the episode where Peppa and her friend play in a muddy puddle), Cardi's daughter, Kulture, has been stomping her feet in puddles and ruining her shoes. "That shit gets me so tight !" Cardi wrote. "FuCkin up her uggs……Deum you peppa pig …COUNT YOUR FUCKIN DAYS!"
Peppa did not respond to Cardi's threat, instead sharing clips of her own cheerful family Christmas, her shoes noticeably dry. Maybe a brag?
That's it for now, but we will update this post if/when more of Peppa's feuds emerge.