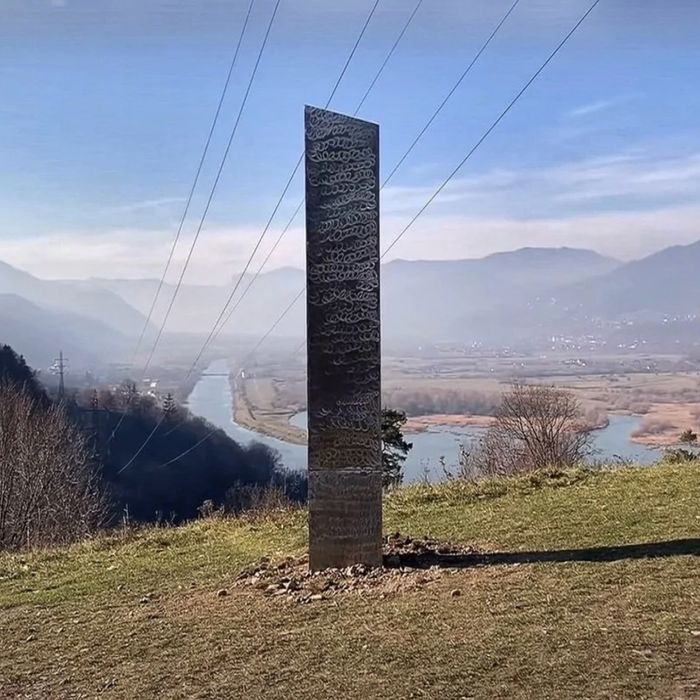 Photo: Ziar Piatra Neamt/Facebook
The story of the mysterious Utah monolith, suspected by some of being situated by extraterrestrial life-forms, continues to develop — with a healthy amount of human intervention, it would seem.
The U.S. Bureau of Land Management says an object resembling the enigmatic silver column that was seen in a remote area of the Utah desert last week — and which just as suddenly disappeared over the weekend — was spotted in the eastern Romanian city of Piatra Neamt. The structure differs slightly in that if appears to be inscribed with looping shapes. Video footage of the structure was shared with news outlets and on social media.
The initial monolith was discovered on November 18 during a helicopter survey of local sheep conducted by the Utah Department of Public Safety and Division of Wildlife Resources. The structure was reportedly about 12 feet tall and incredibly nondescript, prompting comparisons to an alien base, since we wouldn't know what one looks like. It also kind of looks like part of a big, fancy elevator? Someone should look into that?
The New York Times reported over the weekend that the structures resemble the work of minimalist artist John McCracken, who passed away in 2011. David Zwirner Gallery, which exhibited McCracken's work for many years, asserted to the Times that the monoliths are McCracken pieces. As of Tuesday no credible source has claimed responsibility for the stunt.