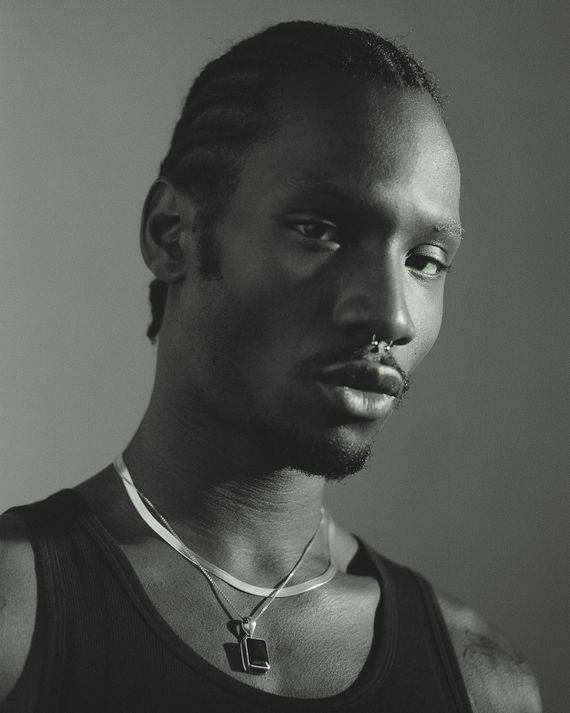 A name is not a destiny, until you meet Adonis. His is the face that launched a thousand billboards. If you've spent any time looking at fashion over the past decade, you will have seen him: the perfect symmetry of his face, the planar exactness of his cheekbones. (That couldn't have been different if his parents had gone with their other choice, and named him Prince — right?) This year alone, those cheekbones have graced Zegna ads, Beyoncé's Ivy Park Adidas campaign, WSJ Magazine, and W. It's a streak he has kept up, more or less unabated since the day he booked an H&M campaign and realized that it was probably time to stop working the till at his local H&M in Montréal. In 2013, he quit and headed for New York to model full time. "I was like, Well, I really can't be working at the store my face is in," he says now with a laugh. "That's a little much."
Adonis — last name Bosso — had tried a bit of modeling in Canada without great success, encouraged by a girlfriend who modeled as a teenager. But once he got to New York, newly accessorized with a silver ring dangling below his nostrils (hence his nom-de-Gram, @SeptumPapi) he quickly took off. The living wasn't easy — he remembered his New York "model apartment," bunking with three or four fellow models in a one bedroom apartment with a cigarette-burned couch and no spoons, eating cereal out of a pan — but the rewards were exciting for a young man who'd not long before worked in retail: He flew around the world, walking fashion shows in London, Milan, and Paris, booking jobs for Dolce & Gabbana, Levi's, Armani, Kenneth Cole.
But high-fashion life can be lonely. Modeling, for all its glamour, amounts to being internationally summon-able at just about any time, making it difficult to keep relationships going. Models are legion and essentially replaceable — for male models in particular, fame is rare and durable fame is rarer. All the more so for Black models, who are not only structurally under-represented, but subjected to the kind of implicit tokenism that keeps the number of Black models at the agencies who send them out for jobs to just a handful of faces on their hundreds-strong boards. As a Black man in Canada, Bosso, who was born in Côte d'Ivoire, but left with his family around his third birthday, first for Sweden, then eventually for Montréal, had experienced racial slights and profiling as a teenager; he was relieved to go back to Abidjan during the summers, where he could be "just a kid … not a Black kid."
In fashion, such slights could be punishingly overt. On the catwalks, especially in Europe, "diversity" was little valued in the years when Bosso was more regularly making the rounds. He was "fighting for that one percent, for that one spot, to be that one by guy in the show," he says. He bonded with fellow Black models in what he called a "brotherhood," and celebrated their successes as much as his own. "Every time a black model got a show or got a job, you felt like, Oh, I could get it next," he says. "It kind of opened the door for you." But the doors didn't open that often. He remembered standing in line for a casting in Milan for two hours in the rain, only to be told, once he finally got inside, that "we're not looking for Black models." "I saw my friends, the other Black models, that had been there before me, just sitting there," Bosso says. "We were all in shock. This is the reality. Back then, this happened a lot."
What helped was writing. A model's life is not that different from a living mannequin's, and fashion has a well-defended interest in projecting its own fantasies, and the sales pitches that gird them, onto the men and women it hires. "I was just a hanger," Bosso says. "Fashion and media always portray Black men in a certain way, in a certain light. Nobody ever asked." When he began making enough to stop doing the low-paying runway circuit, he began to turn the poems and journals he had written on the road into songs. He'd sang in a band in high school, but never got far with it. Now, encouraged by a friend with connections in the music world, he began taking it more seriously, teaching himself guitar via YouTube. He spent fashion week listening to Theophilus London; now, thanks to that same friend, a fellow African in L.A. with connections in music and fashion, he found himself in the studio with him, recording a first single. Today, modeling still pays the bills, but he finally has that voice: Adonis is a neo-soul crooner, in the vein of Maxwell or D'Angelo. His first public performance, back in 2018, bridged the two worlds: He sang, alongside Dev Hynes, Kelela, Kelsey Lu, and Ian Isiah at Telfar's fashion show–cum-concert.
He has plenty of material to work with. Bosso's recent songs are sad-boy anthems of heartbreak and resilience, written over the course of his relationship and breakup with the model Slick Woods. In 2015, Bosso and Woods had met on the set of a Yeezy shoot in Page, Arizona, and started a relationship with her that spanned years, coasts, and likelihood. (Before Bosso, Woods told Elle, she'd primarily dated women.) Woods, a favorite of Rihanna's and a regular face of her Fenty collection, rose to fame as a charismatic bad girl — "She's always been bad," Bosso says, and laughs — though one with a difficult history behind the bravado. (She has been public about her struggles with drug addiction and periods of homelessness.) It was only after they split, in 2018, that Woods realized she was pregnant with their son, Saphir. She went into labor while modeling in the Fenty show during New York Fashion Week in September 2018, news TMZ announced. Bosso, who wasn't at the show, raced to the hospital to meet her there, getting directions on the way from Erykah Badu, Woods' doula.
Dating Woods, he says, helped to open his eyes and his horizons; he is ready to come forward as sexually fluid himself. "Being with someone that was so open with herself got me more comfortable to just be where I am, without necessarily having to feel like I need to answer to anyone," he says. He doesn't put a precise label on what that means. "I don't necessarily believe in labels," he says. "I feel like I could fall in love with anyone, regardless of their sex, or their orientation, or anything. I feel like love is energy."
Coming out can be challenging personally and professionally, and as someone who proudly identifies as Ivorian and African, there are additional cultural challenges as well. Bosso is aware that the open attitudes of much of the West are not universal. Côte d'Ivoire, at least relative to the region, is fairly liberal on LGBTI issues; but what that means is that homosexuality is not criminalized in the country, though gay sex has been prosecuted, however rarely, under public indecency laws. (A 2019 State Department report on the country noted that human rights organizations reported discrimination and acts of violence perpetrated against the LGBTI community.) "There are still people back home that are looking up to me, it's still new to them," he says. "But I'm not afraid."
His current priorities are work and fatherhood. Bosso and Saphir have spent the pandemic staying with his family in Toronto, Saphir tended to by his doting grandparents while Bosso does local shoots and conducts interviews during his son's naptime; Woods is in L.A., working on acting. (She earned rave reviews for her starring role in festival entrant Goldie last year.) The two are happy co-parenting, and they appeared together, in Saturday-morning-cartoon superhero form, in the video he made for his latest single, "No More." (Its lyrics are a bit bleaker than its visuals: "I don't wanna fight no more / I just gotta figure out / if I even want to stay / if we choose to work it out / tell me it won't feel the same.") But Bosso says he is happily single for the moment. "I've kind of been taking my time to go back to dating," he says. But he's learned that embracing fluidity is no defense against the same pressures to settle down that descend on one and all. "Even my mom has been telling me, It's been two years — come on." His EP, in any case, he hopes will be out in time for Valentine's Day.