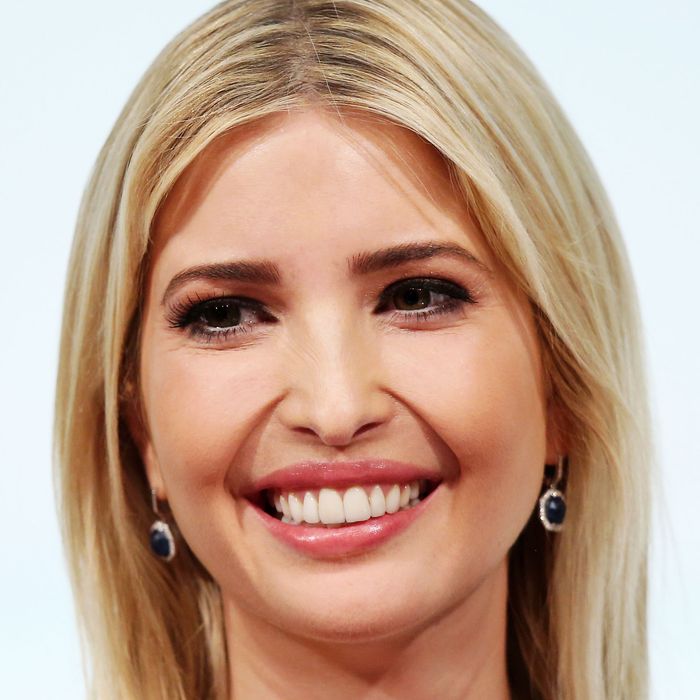 Don't think you'll stop seeing this face anytime soon.
Photo: Sean Gallup/Getty Images
It's a question that has long plagued humankind: What will become of Ivanka Trump after her father is finally pushed out of the White House? While it's still unclear where she and her husband, Jared Kushner, may settle down — perhaps they'll try slithering back to New York City, bracing for hostility anywhere below 59th Street — Ivanka's professional ambitions are much less murky. At least to those who know her well.
The Washington Post spoke to a dozen of Ivanka's friends and acquaintances, former and current, who don't foresee her voluntarily leaving the national stage anytime soon. Rather, they expect she'll leverage her platform to launch her own bid for political office or, at the very least, become an influential figure in Republican politics. This isn't exactly revelatory; Ivanka has long been rumored to have political ambitions of her own. But since she called herself "the proud daughter of the people's president" at the 2020 Republican National Convention, and then publicly clarified her stance on abortion for the first time — she's "unapologetically" "pro-life" — many of those interviewed cite those declarations as evidence that she is already "laying the groundwork," as someone who runs in Javanka's NYC circle put it.
While the Post notes that Ivanka could potentially challenge Representative Carolyn Maloney in New York's 12th Congressional District, people close to the Trump campaign and the White House have shut down that suggestion. Marissa Velez Kraxberger, the former creative director of Ivanka's now-defunct namesake label, imagines Ivanka would want to be "the [first] female president" — a desire she privately expressed to Jared around the start of her father's term, according to Michael Wolff's book Fire and Fury, though one she has denied to the public. If Ivanka does in fact harbor that desire, an internal power struggle would likely ensue between her and Donald Trump Jr., who has emerged as a more likely successor to the family dynasty. That is, if the president himself doesn't follow through with his expressed desire to run again in 2024.
But not all are convinced that Ivanka is plotting a run. "There's too much potential dirt that she doesn't want released," Michael Cohen, the president's former personal attorney, told the Post. "It's easy to say, 'I'm doing this, I'm doing that,' but it's different to put your entire life out there for the media to excoriate you." While Ivanka is not a focus in the two New York State fraud investigations her father is facing, she has become entangled, compelling some to reconsider whether she should run for office. "That's the type of thing swaying people," said the person who runs in Javanka's circle. "People have been wondering, 'Do you really think they can go to jail?' Suddenly, there's a criminal taint. It's so much more than the Met Gala, and there's so much more at stake."
Oh no, not the Met Gala.