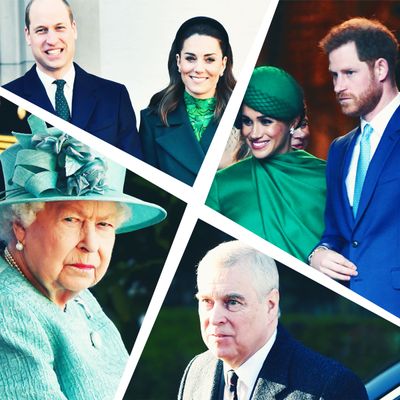 For all their reserve, the constant churn of drama coming from the royal household makes Real Housewives look tranquil. And to say that things at Buckingham Palace were extra bananas in 2020 might be an understatement. From the fallout of Prince Andrew's scandal to Meghan and Harry's big announcement, the royal family has had a year to remember. Here's what happened:
Meghan & Harry step down as senior royals…
In January (!!!) Meghan and Harry made the shocking announcement that they would be stepping back as "senior" members of the British royal family, become financially independent, and split their time between the U.K. and North America.
… and the Queen got pissed.
After their announcement, the Queen's office issued what is, by her tight-lipped standards, a very pissed off response to the news. Rather than an overwrought statement designed to hide her feelings, Buckingham Palace released two, very terse sentences on palace letterhead. She later made the very petty request that the couple rebrand as normies (drop the word "royal" from their brand.)
Everyone skipped Prince Andrew's birthday party.
No one wanted to hang out with the Queen's son, who she allegedly fired from the royal family over his scandalous connection to the late Jeffery Epstein. (One of the women who accused Jeffery Epstein says she was made to have sex with Prince Andrew when she was 17, an allegation he denies.) Andrew officially got the boot following a disastrous BBC interview in which he described his relationship with Epstein as "useful" if ultimately "unbecoming."
Kate Middleton got trendy bangs…
She debuted a new set of "curtain bangs" in Ireland.
…and then was rude as hell to Meghan…
Meghan Markle was snubbed by members of the royal family at her last official event in March, with Kate fully ignoring her all while wearing a dumb little hat.
…while remaining unruffled in the face of cheating rumors.
The rumor that Prince William was having an affair with Rose Hanbury a.k.a. the Marchioness of Cholmondeley (pronounced CHUMLEY) resurfaced this summer after an insider report in the Daily Beast. Hanbury — who lives near the Cambridges' country home — allegedly began seeing William in 2019. To make matters worse, Hanbury and her husband are the unofficial leaders of a rich society people club called the "Turnip Toffs." Hideous!
Harry and Meghan started their new life by suing everyone.
As Harry and Meghan began their new life in the U.S., they immediately kicked off several legal battles against various tabloids over invasions of privacy, including one that ran drone photos of their son Archie taken while he was in their private L.A. residence.
The royals talked a lot of shit.
In August, Finding Freedom, the definitive book about Meghan and Harry was released, and with it a number of revelations about the couple's time at Buckingham Palace. Its most surprising reveals included the true nature of Meghan and Kate's relationship (standoffish, but not cruel) as well as the snobbish and racist way Meghan was received by some members of the royal family.
Princess Beatrice canceled her wedding … a bunch of times.
Princess Beatrice had to cancel her Buckingham Palace blowout wedding over coronavirus concerns. The poor woman had already changed her wedding plans twice due to her father, Prince Andrew, and his ties to Epstein. But, she finally — and secretly — got married over the summer.
Prince Charles got COVID-19.
But he's fine now.
Season four of The Crown added some historical context.
It introduced Diana, and reminded us all that the royal family has a long, long history of being this messy.