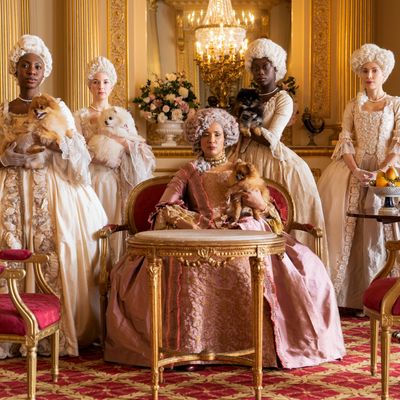 Photo: LIAM DANIEL/NETFLIX
The bodices may rip on Netflix's Bridgerton, but the hairstyles never move. The show is a delightful confection of horniness, empire-waist dresses, tea sets, cutlery-licking, and follicular achievements. Thanks to the constrictions of society, the women of Bridgerton never let their hair down (except when they're sleeping). As a result, the show is a display of big hairdos. Let's gape at some of the best ones, shall we? Scroll on for wigs, waves, curls, bejeweled tiaras, and gravity-defying architecture.
There are nine examples of immaculate grooming in this photo.
A feather in Daphne's hair and a deep curtsy for meeting the queen.
Lady Danbury's advice is as spot-on as her updos.
Marina Thompson is as refreshing as her simple hairstyles.
Titian-like curls for the redheaded Featherington girls.
The Queen's hair is so big because she's hiding a secret about the king.
Cressida Cowper's hair is so big because she's hiding an important secret of Daphne's.
Lady Featherington's hair is so big because she's hiring Marina Thompson's secret.
The swoop of white hair on Lady Danbury is an elegant touch.
The Queen's squad assembled with the assistance of hair spray.
The judgment is apparent in these updos.
I have some doubts about Daphne Bridgerton's baby bangs, but no doubts that she belongs with Simon.
A "simple" tiara offset by bouncy, natural curls.
A meeting of minds over hair that won't touch the back of their neck.
Needlepoint, waves, and waiting for callers.
Florals are groundbreaking to the Featheringtons.
Elsa would covet this whole look.
Eloise isn't too busy unmasking Lady Whistledown to DIY a headband.
Baby bangs run in the Bridgerton family.