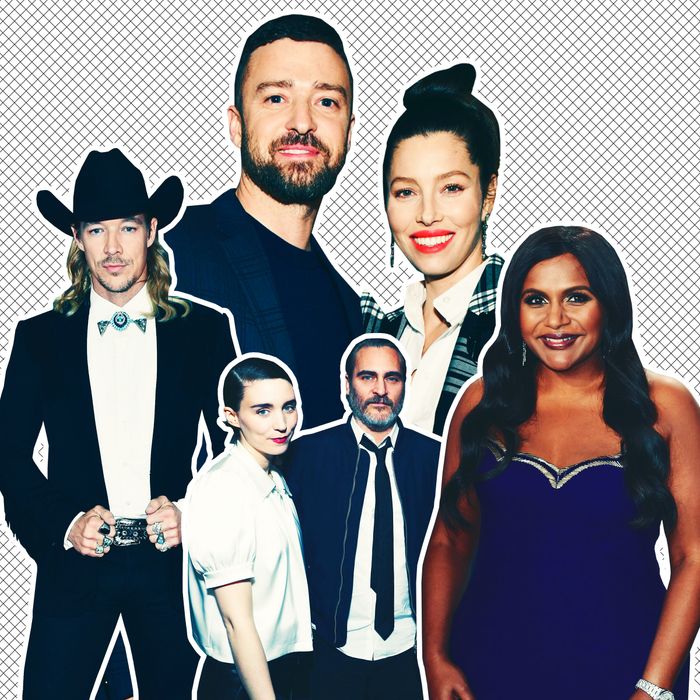 Photo-Illustration: The Cut, Photos: Getty Images
There were so many celebrity babies this year. Remember Elon Musk and Grimes's baby, X Æ A-12 (later renamed X Æ A-Xii for legal reasons)? That news cycle feels like it happened three years ago, but in fact, little baby Grusk has only been on the planet since May. There have been Harry Potter babies, elf babies, Olympic babies, and many, many, many, many more. Sometimes, we knew the babies were coming — we got pregnancy pics, and magazine covers, and photos of tiny socks. Other times, though, news of the babies dropped without hype or warning, their existence revealed in a casual aside in a Zoom interview, or reported on in tabloids and then confirmed by their parents' former bandmates.
With so much going on, it's understandable if you missed some of these new baby drops. So you can greet each of them by name should you meet them in the future, here are some of the celebrity progeny who joined us in 2020. Congratulations to all involved, and welcome to Earth, babies — it's not always great, but at least it's better than that hell planet where it rains lava all the time.
Mindy Kaling
During an interview with Stephen Colbert in October, Kaling shared that she had secretly given birth to a baby boy named Spencer a month earlier.
"Nobody even knew you were pregnant!" said Colbert.
Kaling said that she had originally planned to reveal her pregnancy at the Met Gala, but that was obviously canceled due to COVID, and then, with the pandemic, "it felt strange to go out of my way to shine a light on some giant health information" when there was "so much heartbreak in the world." Keeping the news under wraps was easy, she said, since all her meetings were on Zoom.
The arrival of Kaling's first child, Katherine, who was born in 2017, was almost a secret, until Kaling's A Wrinkle in Time co-star Oprah Winfrey accidentally let the news slip to People. It's unclear if Winfrey knew about Kaling's latest pregnancy beforehand. If she did, she managed to keep the news a surprise this time.
Jessica Biel and Justin Timberlake
Back in July, the Daily Mail reported that Trolls World Tour star Justin Timberlake and his wife, actress Jessica Biel, had secretly welcomed a second baby boy. (The couple's first son, Silas, is 5.) They reportedly kept Biel's pregnancy "top secret," and though neither of them has posted about their new baby yet, his existence was confirmed in September by Timberlake's former 'N Sync bandmate Lance Bass, who said that "the baby is cute, of course, it's Justin and Jessica," and that the members of 'N Sync knew about the pregnancy "before anyone else did." (On a personal note: When the time comes, I also plan to tell 'N Sync about my pregnancy before I tell anyone else, but that's still a few years down the road.)
When asked about the baby's name, Bass said, "That's a good question, but there's no way. [Justin] would kill me!"
Rooney Mara and Joaquin Phoenix
Earlier this year, actors, environmental activists, and karate practitioners Rooney Mara and Joaquin Phoenix welcomed their first child together, a baby boy named River, after Phoenix's late brother, who died in 1993.
Tabloids reported on Mara's rumored pregnancy back in May, but the couple did not confirm the news. The baby's arrival was not publicly announced until September, when Victor Kossakovsky, the director of Gunda, a black-and-white documentary about farm animals that Phoenix helped executive produce, explained the actor's absence to a crowd at the Zurich Film Festival by saying, "He just got a baby, by the way, his name was … a beautiful son called River, so he cannot promote now."
Billie Lourd and Austen Rydell
After successfully managing to keep her pregnancy under wraps from the public, Booksmart actress Billie Lourd announced the birth of her first child with fiancé Austen Rydell in September. The baby boy was named Kingston Fisher Lourd Rydell. His middle name is a tribute to Lourd's late mother, Carrie Fisher, who died in 2016.
The baby's arrival was a surprise to many, including, clearly, Jamie Lee Curtis, who commented, "WAIT WHAT????"
Kristen Wiig and Avi Rothman
In June, SNL alum Kristen Wiig and her fiancé, Avi Rothman, were spotted out in Los Angeles walking with their two new babies strapped to their chests. The children were born in January, with the help of a surrogate. In August, Wiig opened up to InStyle about the challenges of undergoing IVF, and how, though she kept the process mostly secret from the public, "I wish I had talked about it more and asked for more help."
"As private as I am and as sacred as this all is, what helped me was reading about other women who went through it and talking to those who have gone through IVF and fertility stuff," she said. "It can be the most isolating experience. But I'm trying to find that space where I can keep my privacy and also be there for someone else who may be going through it."
And also Diplo
In May, DJ and record producer Diplo announced that he "had an entire-ass baby" with model Jevon King. King, a former Miss Universe contestant, gave birth to their son, Pace, in March, but kept quiet about who the father was. Then, on Mother's Day, Diplo shared a post on Instagram with pictures of his mother; his ex, Kathryn Lockhart, and their two sons; and King cradling Pace in her arms. "Thanks for giving me life and helping me create it — the three strongest mothers in the world," Diplo wrote. "I'm still a work in progress but u have given three perfect beautiful boys."