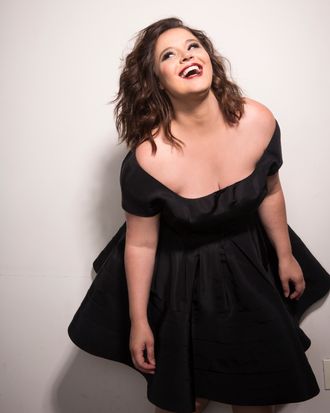 If you watched FX's You're the Worst, you're already familiar with the many talents of Kether Donohue, who played Lindsay Jillian, one of the most memorably messy characters in recent TV history. There's no shortage of funny people making bad choices on television, but Donohue's vulnerability made her stand out. Her performance kept her character grounded, even when she was trying to convince her snively husband that he had a cuckolding fetish or when she was stealing her co-workers' lunches, and let her showcase her talents for comedy, drama, and karaoke (never forget her stirring rendition of Kate Bush's "This Woman's Work.")
So where does one go after that? Now Donohue is back on television screens in the CBS sitcom B Positive, about a man who needs a kidney donor and a woman from his past, Gina, who offers to help him. Donohue plays Gabby, Gina's best friend, a party girl who is a source of comic relief. The Cut talked to Donohue about her love of traditional sitcoms, clown class, and her new favorite pastime.
You are used to doing comedy with You're the Worst, and even musical comedy like Royalties, but B Positive is a pretty traditional sitcom. 
I was the kid that would stay up late and watch Nick at Nite. I loved Three's Company, I Love Lucy, and Happy Days. For me, the joy of this job is I've really always wanted to be on a multi-cam [sitcom] specifically. When You're the Worst was over and my agent was asking, "Hey, what do you want to try to do next?," I did say to management — I was like, "It would really be really cool to be on a multi-cam."
We don't have the live studio audience right now because of COVID, but when the audience is here, it is a combination of [theater and television]. I love the spontaneity of the writing. What's most fun for me is when you're taping and the live studio audience is there — you'll do a take, and the writers huddle up, and then they do rewrites on the spot, and then they give you a line. I also like improv — so anything that's spontaneous and keeps you on your toes. When I took acting conservatory in New York, my favorite class was clown class.
Clown class?
I saw more people cry in clown class … In this clown class, there was a teacher that said, "Everybody here has to get up and make everyone unanimously laugh, and if you don't, we will be here all night." There was one woman that got up. She was making people chuckle, but then everyone's just getting mad at her because she desperately was just trying to make people laugh. So she took a broom that was on the wall and started running around like a witch, thinking it would make people laugh. It didn't. Then, she props up the broom against the wall, and the broom falls and goes up her nose as she's crying. And everyone laughed.
There'll be rehearsals where you don't get laughs and you're like, Oh no. I think the lesson was she only got a laugh because that was her only authentic moment. I just love the world of comedy because I have a lot of respect for it.
Hasn't it been over a year now since You're the Worst ended? Have you thought about the show since it ended? 
The cast is still very close, and Stephen [Falk, the creator] and we keep in touch. When you're on a show for five years, it really feels like graduating high school. It's mixed feelings of nostalgia. And of course you miss it, but at the same token, everyone has to move on with their lives. I know what a gift it is when you're working with the people you're working with. What we had on You're the Worst was a beautiful experience, and it should be cherished.
You've done a lot of voicework and musicals with Grease Live! Are there things that you're excited to do that you haven't gotten the chance to yet?
I [used to be] shy to call myself a singer because I went to school with so many people that actually trained in singing and studied it. But I've gone on to sing in quite a few [projects] now, and it happened organically. I think it would be cool to explore singing and songwriting. I really do enjoy that.
I wrote and directed a short film in college that meant a lot to me about my dad, who struggled with PTSD, being a Vietnam vet. I think it would be cool to explore my directing side. There's so many things that I want to do and try and explore, even if it's not perfect. I feel like in our culture, we're so obsessed with perfection. I think we have this ideology that we're all just defined by one position and one job.
Totally. I feel like, right now, with the pandemic, that's both being reinforced and taken apart. 
We could all do so much, and it doesn't mean that you have to make a living in each thing. I've taken up pottery — I have a secret life as a potter. Before I got this pilot, I told my agent, "Stop pitching me. I'm moving to Big Sur to become a potter." I swear to you, the next day, he said, "Please don't move to Big Sur because I got a call last night that Chuck Lorre — he wants to read you first." I love pottery for mental-health purposes. I love pottery because no matter how bad it gets, you can always make something even more beautiful out of it.
There is something so therapeutic and healing just about the principles of pottery. Honestly, when I read the sides for the show, I was like, Oh, wow, this is a show about second chances. I connect to that theme of a second chance, when you have experienced that and then you come out the other side, and you see the world with fresh eyes.