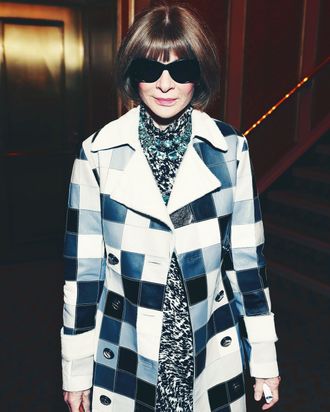 Photo: Bennett Raglin/Getty Images for Lincoln Center
On Tuesday, Condé Nast announced a global restructuring that will consolidate power across its international titles. Let's start from the top: Anna Wintour is now the chief content officer of Condé Nast — as in, the officer of all Condé Nast content worldwide. She will also serve as the global editorial director of Vogue, in addition to, of course, still holding her title as the editor-in-chief of the American edition. What does this mean? It means that Anna Wintour somehow just got even more powerful.
Last year, Wintour was appointed global content adviser of Condé Nast, but now she's moving yet another rung up the ladder. She's no longer just advising; she's fully in charge — the one chief content officer to rule them all.
But it's not just Wintour who got promoted. Edward Enninful, editor-in-chief of British Vogue, was named European editorial director of the brand, meaning he will oversee Vogue editions in France, Germany, Spain, and Italy as well. Same for Simone Marchetti at Vanity Fair (minus Germany), while Radhika Jones will continue to oversee the magazine's American and British editions. American editors-in-chief Amy Astley of Architectural Digest and Will Welch of GQ, plus Divia Thani of Condé Nast Traveler India, were also appointed global editorial directors of their respective brands. In their new roles, they will "set the overall content strategy, vision, and tone across their title's markets and platforms," according to a press release from the publisher.
In a world where all digital content is global, these moves make a lot of sense. It will hopefully allow Condé Nast to streamline its operations across Middle Earth — I mean Europe — and maybe save some money along the way. It also allows Wintour to come out on top of yet another tumultuous year, perhaps her worst yet in terms of bad press. But we already knew she was immortal.