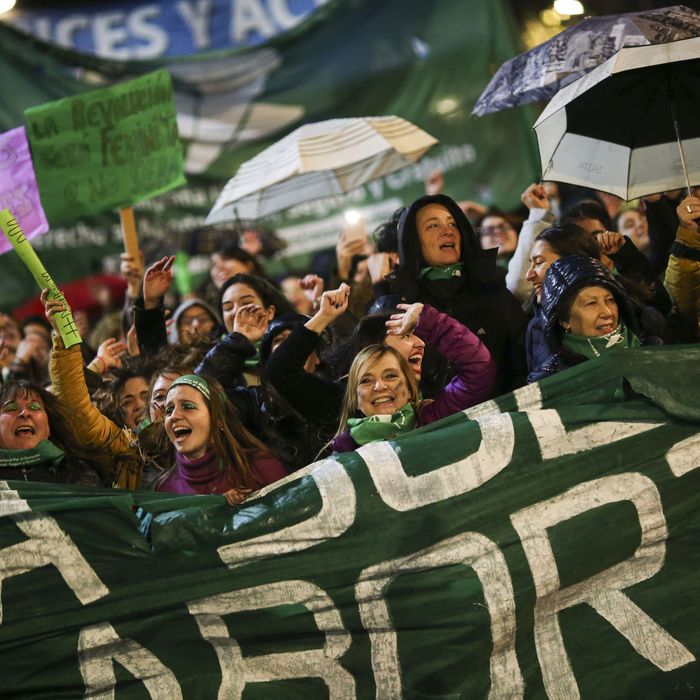 Protesters with Ni Una Menos, an anti-femicide movement.
Photo: David Fernandez/EPA-EFE/Shutterstock
Following years of mobilization and demonstrations from the country's robust feminist movement, abortion will soon be legal in Argentina. Earlier this month, the country's lower house approved a groundbreaking bill — which legalizes the procedure during the first 14 weeks of pregnancy — and early Wednesday morning, the Senate did the same.
"It's one of those things that you anticipate for so long that when it finally happens you can't believe it and don't know what to do with yourself," supporter María Blanco told the New York Times. "I couldn't stop crying."
Under current law, abortion is legal in Argentina in cases of rape or potential lethal threat to the mother's body, but only technically. As Salil Shetty, the secretary general of Amnesty International, told the Times in 2018, women who can undergo the procedure legally often struggle to find doctors willing to perform abortions. In actuality, Shetty said, "what we see is a near total ban on abortions," which has deleterious effects. In countries where abortion is banned, the Guttmacher Institute notes that women are more likely to seek out back-alley procedures, which often cause life-threatening complications. By one estimate from Argentina's National Ministry of Health, approximately 500,000 illegal abortions are performed in the country. In August 2018, less than a week after the Argentine Senate rejected an earlier version of Wednesday's bill, a 24-year-old woman died after attempting to induce a miscarriage at home.
"This has been a struggle for many years, many women died," Vilma Ibarra, the author of the law, told reporters through tears following the vote. "Never again will there be a woman killed in a clandestine abortion."
It is difficult to overstate the historic nature of this bill. Argentina has long been swayed by the Catholic Church; it is also the birthplace of Pope Francis, who has vocalized his opposition to the bill. But this victory will be felt throughout the region, which has long been hostile toward abortion rights. Only three countries in Latin America — Cuba, Guyana, and Uruguay — allow elective abortions; Argentina will become the fourth. Tamara Taraciuk Broner, the Americas deputy director for Human Rights Watch, told the Times that she believes this will "inspire change in Latin America." Juan Pappier, also of the Human Rights Watch, echoed this prediction to Reuters. "Although there will certainly be resistance, I think it's fair to predict that, as it occurred when Argentina legalized same-sex marriage in 2010, this new law could have a domino effect in the region."
Now the bill heads to the desk of Argentine president Alberto Fernández, whose campaign platform included abortion rights and gender equality, and who has promised to sign the bill into law.