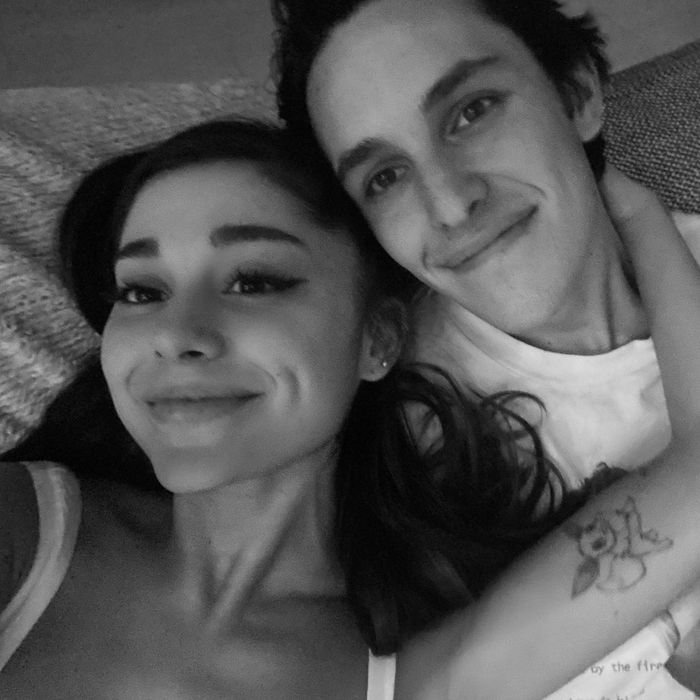 Ariana Grande and Dalton Gomez.
Photo: @arianagrande/Instagram
What a long way Ariana Grande and her real-estate boyfriend have come! Way back in February, TMZ spotted Grande enjoying a classic bar make-out sesh with a mere "rando," who was presumed to be a man by the name of Dalton Gomez, and now this man is set to become Mr. Grande. On Sunday, Grande shared an endearing series of photos of her cuddling with Gomez alongside the caption "forever n then some" — and then, sandwiched between the couple photos were two of a massive diamond-and-pearl engagement ring.
What a nice, albeit unexpected, development! Since the couple started officially dating in early March, they've kept an extremely low profile, likely a product of Grande's past experiences with highly public romances. "Ariana doesn't want to do another public relationship so she is trying to keep this one quiet," a source told People in March, "but she seems very happy with Dalton." Indeed! In May, they confirmed their relationship when they appeared together in the "Stuck With U" music video, and now, they're engaged.
While neither Gomez nor Grande has spoken explicitly about the engagement, a source told People that "they couldn't be happier" — and neither could Grande's family, who wasted no time conveying their elation to the public. "I am so excited to welcome Dalton Gomez into our family!" Joan Grande, Ariana's mother, tweeted soon after the announcement. "Ariana, I love you and Dalton so much!!!! Here's to happily ever after! YAY! xoxoxo." Grande's brother also took to Twitter, writing, "I am so happy for my sister and so excited to (officially) welcome Dalton into the family! YAY! This is just the beginning of a long-lasting life filled with laughter & love." Meanwhile, Grande's fans closely inspected her ring, which some believe bears a pearl from her grandfather's tie pin.
What a great time to be a non-famous man interested in celebrity women — a very hot pairing in 2020!