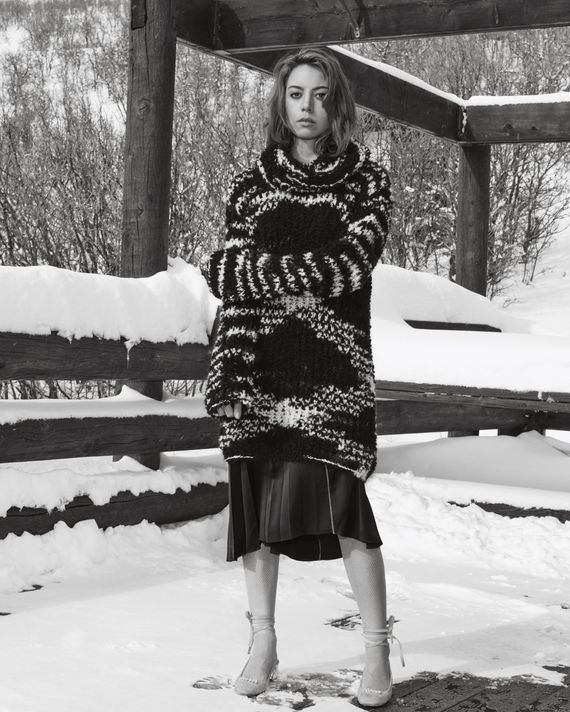 Photo: Sharif Hamza /Trunk Archive
The stakes were high for Happiest Season, Clea Duvall's lesbian rom-com that came to Hulu last month. Starring Kristen Stewart, Mackenzie Davis, and other celebs du jour, it was — and is — the prestige-y gay Christmas movie in a holiday season like no other.
Critics may forever be torn over whether Happiest Season is good or bad. What they do seem to agree on is Aubrey Plaza, who plays a doctor named Riley. Riley is warm and relaxed, a self-assured foil to Harper (Mackenzie Davis), who hasn't come out to her parents and so introduces her girlfriend, Kristen Stewart's Abby, as a roommate brought home for the holidays.
While Riley's role is minor, she was a surprise audience favorite; she pops up when Abby is at her most uncomfortable, flirting with an easy sort of confidence. While they don't end up together, their will-they-won't-they dynamic has spawned a small but loud fandom. Riley-Abby stans have flooded the internet with think pieces, ship names, and the smuttiest kind of fan fiction.
"Are you kidding? Of course I wanted that," Plaza says of Rabby. She's somewhere sunny outside of L.A., wearing a straw hat, a lick of eyeliner, and looking pretty much the same age as April Ludgate, the apathetic college intern she played on Parks and Recreation. The long-running sitcom made Plaza famous, but it also made her synonymous with the deadpan, dead-eyed character she played for years. It's an affect that's threaded into nearly all of her other roles, whether she's playing a femme fatale or a horny nun.
Expecting that same shtick from Riley, I was pleasantly surprised when it never came — instead of the being cold and weird one, she was the character that the audience cheered for, the one they wanted to win over the leading lady. "She's a doctor. She's got her shit together. That might have something to do with people's reactions," Plaza muses, "and she's the most mentally stable character I've probably ever played. I'm not playing a total psychopath, so that's new."
Likewise, Plaza herself is neither apathetic nor a total psychopath. In conversation she's wry and witty. She smiles when you say something funny enough, makes stilted jokes, and calls you "dude." Riley, she says, was an easy role to get into, and after a long pause goes so far as to claim that she might be the character who she's most like in real life. "[Riley] felt very much like me, but me in a lesbian rom-com Christmas movie with Kristen Stewart."
Harder to get into was the erstwhile actress and movie director that Plaza plays in Black Bear, her other recent film. Written and directed by Lawrence Michael Levine, Black Bear is a lot of things: a psychological thriller, a deconstruction of indie movies, and very stressful to watch. But ultimately, like Happiest Season, it's yet another film that upends our expectations of what an "Aubrey Plaza character" looks like.
Black Bear follows Allison, played by Plaza, on a creative retreat hosted by a couple, Gabe (Christopher Abbot) and Blaire (Sarah Gadon). Plaza begins in a too-familiar place: She's sardonic and dispassionate, a spiky character whom neither the audience nor her onscreen companions seem to understand. "You're so hard to read," says Blaire at one point. "I get that a lot," Allison responds.
But just when you think she's going to do The Aubrey Plaza Thing for the entire movie, part two comes, jumping several years into the future. The trio is still at the cabin, but Allison and Gabe are now married; the latter, styled as a douchebag auteur, is directing a film about how they all met. It stars Allison, who has transformed from the character we thought we knew into a spiteful, glowering diva we can hardly recognize.
Black Bear takes several more unexpected twists and turns, fooling you thrice over, but the biggest sleight is Plaza herself, who you're tricked into thinking is doing nothing special and then becomes devastating and extraordinary. She calls the role "a gift." Allison, she explains, is like a deconstruction of the persona she's known for — rather, "that people have projected on to me for so long."
"I've always kind of had the balancing act of not taking it so personally, but also kind of feeling like I have to prove myself. That I have to prove I'm not April Ludgate." Not only does Black Bear shatter that façade, it subverts it, and then allows Plaza to go far, far beyond it. The movie seems like the final building block in a transformation that began with 2012's Safety Not Guaranteed, was teased with 2017's Ingrid Goes West, and for which we were all primed for by Happiest Season. The change was slow, but it seems calculated, and has only made Plaza more captivating as a performer.
Also captivated by Plaza is another famous Aubrey: Aubrey Drake Graham, otherwise known as Drake. Before we go I have to ask her, is she familiar with the rapper's tweets about her? There are two: one from 2010 where he professes his love for her, "but things might get weird cause we have the same name," and the other from several years later, in 2013. In it, he admits to spending an inordinate amount of time watching her interviews.
Plaza is a bit cagey when I bring them up, but admits she has met him. "One time, but my memories of that night are a little blurry. It was an accidental meeting. He was staying at the same resort that I was in another country. We had one epic night. I believe the Future was there as well. I never saw him again, though, after that."
Could it be true? I simply can't tell. With Plaza, you never really can. I imagine she prefers it that way.