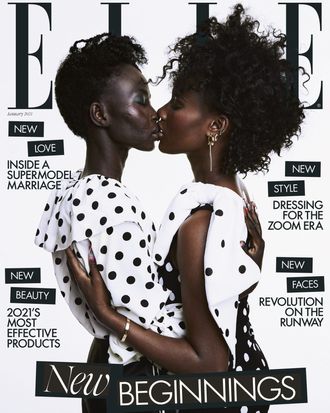 Elle UK's January 2021 cover.
Photo: Elle
On Monday, Elle UK released its first cover of 2021, and she's a beaut: The "New Beginnings" issue features supermodel Aweng Ade-Chuol — whom you may recognize from the Vetements runway, or Rihanna's 2018 Savage x Fenty show, or Beyoncé's Black Is King — and her wife, Alexus (Lexy), kissing in polka dots. The accompanying photos, shot by Meinke Klein, are lovely: Aweng and Alexus embracing in big-printed ruffles, or mashing their beautiful cheekbones together. But their first year of marriage has been challenging, the couple told Elle, pandemic isolation and public criticism of their relationship taking a heavy toll on Aweng's mental health.
Aweng, now 22, emigrated to Australia with her mother and siblings from a Kenyan refugee camp, after her family fled South Sudan's civil war. She started modeling at age 18, after being scouted in a Sydney McDonald's, and married Alexus last December. Over the summer, Vogue published images from the wedding, the couple laughing and smiling while sitting for tattoos after a city hall ceremony in New York. But in South Sudan, which still criminalizes sex between gay men, news of the wedding sparked hostile criticism.
"We got married and the whole world, literally the whole of my community, were wishing that I passed, in a way," Aweng told Elle, continuing:
Subconsciously I felt I was maybe drained by the fact we'd got married. It's still a discussion now, like, "How dare she marry a woman?" You can't control what people say, and there were tabloids and newspapers back in Sudan … It was a whole thing. For me, it was like, with the political climate that's going on, you really think that my marriage is the most significant thing in your life right now? It was saddening, because it was the happiest day of my life, and they couldn't let me enjoy it.
Coupled with the backlash came the pandemic, the onset of which threw her into a crisis, Aweng said, and left her "completely shut off" for two months. In April, she was admitted to the ICU after attempting suicide, and now attends therapy twice a week.
"I've always been outspoken, and mental health has always been something that I've spoken on,' Aweng told Elle. 'But I guess I didn't experience the other side of it until this year, when lockdown impacted my life directly, actually [put my] life at risk. When that happened, it was a reality check. Before, it was like, mental health is important, but now, it is the most important thing. Where you're at mentally is the most important foundation."
Read the full story on Elle UK.