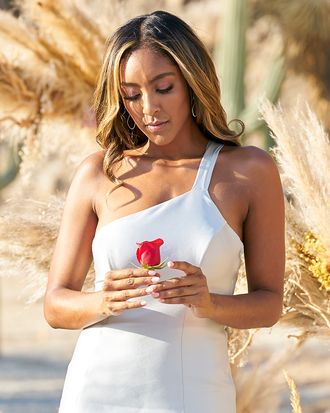 That's a wrap, folks. After weeks of living, laughing, and loving around the immaculately groomed grounds of the La Quinta Resort & Club, Tayshia Adams got engaged to Zac Clark, a very nice, if slightly sweaty, New Yorker who did erotic body-painting with her and taught her how to hail a cab like someone in an old-timey movie. In the epic quest for Tayshia's affection, Zac beat out the other two men in the final three: Ben, who was eliminated after hometowns but then reappeared after Fantasy Suites week to declare his love for Tayshia, and Ivan, who was eliminated for … religious reasons?
The whole Ivan elimination was really confusing. He and Tayshia had a strong connection throughout the season. They spent what seemed like a lovely night in an Airstream together during Fantasy Suites. And then, when it came time to choose her final two guys for the rose ceremony, Tayshia took him aside to talk. She had some concerns, she said. "I wish I could say there had been a lot of red flags prior to this, and there haven't been. It's just … At the end of the day, religion is part of my morals and beliefs." Ivan said he understood but that he had been in a number of relationships before, and religion had never been an issue. I said, out loud to the TV, "Wait. What?"
They talked obliquely about their values not lining up, and then Ivan left in an SUV. The show didn't elaborate any further on what the religious issue was, and I spent the rest of the episode half watching, wondering what had been said in that Airstream that so changed Tayshia's mind. Did Ivan want her to convert to a different religion? Had he drawn a pentagram on the floor of the RV and demanded they summon unholy demons from hell who would haunt the grounds of the La Quinta Resort & Club forevermore? Apparently it was nothing that exciting. This morning, former Bachelor contestant Caila Quinn shared a screenshot on her Instagram Stories of her DMs with Ivan, in which she asks what the issue was with religion. "She only wants to date a Christian, and I'm not religious," he said, adding, "I'm open to and have dated any religion."
So Ivan was out for not being a Christian. Which left Ben and Zac. The two of them met Tayshia's family, and while her family seemed to like them both, her dad later came to see her alone to express some worries: Tayshia had been hurt before in her previous divorce, and he didn't want to see her hurt again. This was a sweet, fatherly concern but also added a bit of unnecessary pressure to the proceedings, I thought. Obviously, no one wants to end up in a relationship that will break their heart, but if Tayshia gets engaged to a guy she met under extremely bizarre circumstances on national TV and then it turns out not to be the right fit, that's fine! It's not the end of the world. Everyone was talking about her decision like it was final and unchangeable, but you're allowed to change your mind about how you feel about people. Peter, the terrible Bachelor from last season, is now dating a contestant he eliminated like halfway through his season. I know the stakes need to be raised to give the show drama, but give the girl a break!
In any case, Tayshia doesn't seem to have changed her mind about Zac yet. After she eliminated Ben, Zac met with Neil Lane and proposed to her in the desert of Palm Springs. The two rode off into the blazing midday sun in the same fake cardboard taxi Zac had used for his hometown date. Asked about their relationship on Good Morning America this morning, Tayshia said, "We're just going with the flow at the moment. We're just going to date each other. How about that?"
Congrats to the happy couple, and congrats to all of us for making it through this bonkers season.