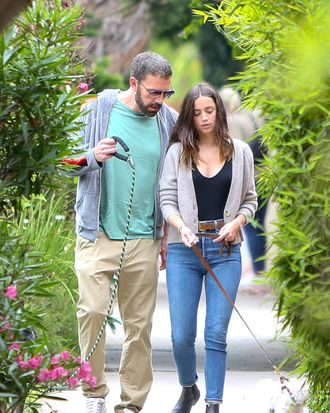 Ben Affleck and Ana de Armas.
Photo: BG004 /GC Images
Breaking news: Ben Affleck and Ana de Armas have finally taken things to the next level. Yes that's right, after like eight long months of nuzzling for the paps and experimenting with couples' jewelry and endless dog walks and extra-public PDA, these two crazy kids have reportedly moved in together. One of Affleck's buddies told People that "their relationship continues to be strong," which, great for them. For me, though, this alleged development carries with it a disorienting sense of déjà vu. It is eerily similar to the sensation I felt upon learning that Gwen Stefani and that guy just got engaged, implying that they somehow haven't been married for years already. Similarly, I ask you: What have de Armas and Affleck been doing for the entire quarantine period, if not living together?
Well, according to People, Armas has been "frequently visiting Affleck at his home in the last few months while adhering to social-distancing guidelines." So I suppose we must conclude that the home haircuts, the daily strolls through the same neighborhood, and the group hangs with the kids all fell under the "visiting" rubric. But now, according to "Page Six," Armas has joined Affleck in his $20 million, 13,453-square-foot Pacific Palisades mansion, putting her own Venice home on the market. Huh!
I can't say I'm not confused, but congrats to the happy couple nonetheless. I am sure the cohabitation will go as swimmingly as it has this whole year.