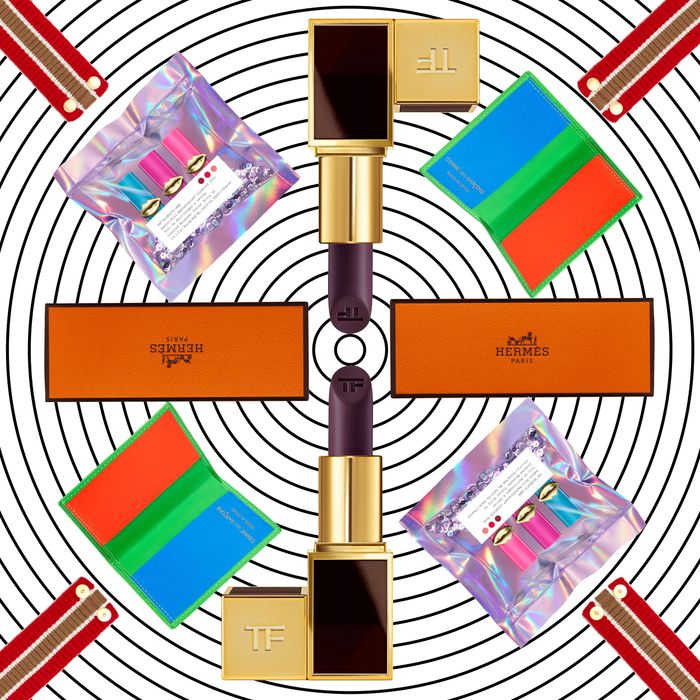 Photo: Courtesy of the Retailers
What do you get the person in your life who has a taste for the finer things? Don't let their love of fancy brand names intimidate you — we've rounded up 22 little luxuries that are sure to make them very happy. From Dior to Tiffany & Co. to Prada, if you look carefully, you'll find highly giftable items that don't cost a ton. Got only $20 to spend? Go for the Tom Ford mini-lipstick or the Chanel cotton pads. If your budget is closer to $100, the Hermès lip balm or the Gucci tights are surefire hits. Read on to see all of our favorite gift ideas from luxury brands.
For the Person Who Speaks Fluent Birkin
A solid pick even if they don't have the bag yet. Plus, it comes in the brand's signature orange box.
For the Person Who Never Carries Cash
Just enough room for a credit card, an ID, and a train pass.
For the Person Who Loves Anything Chanel
They'll love swiping their toner on with some Chanel cotton pads.
For the Person with "J'Adore Dior" eBay Searches
A soap from the brand's super-luxe fragrance line.
For the Person Excited by a Little Blue Box
A Tiffany key ring is something they'll use every day.
For the Person Who Loves a Funny Gift
It's a sex tape but not that kind of sex tape.
For the Person YouTubing Old McQueen Runway Shows
A mini-lipstick set from the makeup artist who created all the looks.
For the Caviar Enthusiast
A little La Prairie caviar on a "beer" budget.
For Someone Cool
What's cooler than a gold Marc Jacobs name chain in the New York Magazine font?
For the Person Who Wants to Drink Luxuriously
Get them a bottle of the world's first luxury tequila.
For the Person Aspiring to Keep a Skin-Care Spreadsheet
And who wants to try Augustinus Bader really bad.
For the Aspiring Influencer
These logo tights paired with combat boots are made for the 'gram.
For the Person Who's Over Diptyque
As David Sedaris told the 2018 Oberlin College graduating class, "You have to be really careful about scented candles. There's really only two kinds worth having … Diptyque or Trudon."
For the Person Who Has a Fancy Candle Collection
Naturally their lighter should be just as fancy.
For Someone Who's Perpetually Cold
Turn any top into a turtleneck by wrapping this wool strip around your neck.
For the Person Who Appreciates Interior Design
Hand towels don't have to be dull.
For the Person Who Needs to Drink More Water
Sure, there are cheaper ways to stay hydrated, but this Prada water bottle makes it that much more enticing.
For the Person Who Loves Dainty Jewelry
Have them store it in this elegant, lush velvet-lined box that will look lovely sitting out on the dresser.
For the Person Who Wants Justice for Diana
For the Vampy Lipstick Lover
For the French-Design Nerd
A French cat brush for their Scottish fold.
For the Person Who's Extremely Organized
They can jot down their to-do list in this leather-covered notebook.
For the Purist
One single, perfect makeup sponge from the godfather of expressionist makeup.
For the Person Who Got a Christmas Tree in November
A fragrant and beautiful hangable wax ornament.