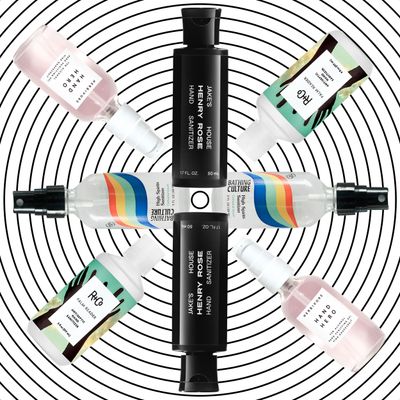 Photo: Courtesy of the Retailers
This was the year we all gave our hands new, germ-killing skin-care routines. After a disturbing period where Purell was being resold on eBay at exorbitant prices, beauty brands started pumping out their own hand sanitizers with skin-care-inspired formulas and perfume-inspired scents. The once-clinical product got a sleek makeover, and now it's the perfect stocking stuffer: under $20, useful to the masses, topical, pretty enough to leave unwrapped, and small enough to physically stuff into a literal stocking.
Below, we've rounded up a dozen hand sanitizers that meet the CDC-recommended 60 percent alcohol content, yet have a distinct vibe to suit the potpourri of people on your list.
For the Person With Really Good Shelfies
Anyone with a vanity or meticulously curated medicine cabinet will appreciate this gel sanitizer from photogenic, all-natural brand Herbivore Botanicals. It has a reassuring 75 percent alcohol content that's balanced out with soothing aloe vera and moisturizing hyaluronic acid. Effectiveness aside, either scent (pink grapefruit or lavender) will look right at home next to their Emerald Face Oil, jade roller, and pretty perfume bottles.
For the Person Who Could Use a Pick-me-up
EiR is known for luxurious, therapeutic formulas, and its olive-oil-infused hand and surface sanitizer is no exception. The sanitizer is 65.7 percent alcohol (locally sourced, artisanal, 190-proof grain alcohol, to be precise), backed up by essential oils with antiviral and antimicrobial properties, including calendula and eucalyptus. There's also sweet orange oil, which gives this spritz its energizing, mood-lifting citrus scent. It's the one thing a lot of people think friendship smells like, so this is a good one to reserve for your metaphorical top eight.
For the Person Who Kind of Hates Hand Cream
The masterminds behind the products that make Timothée's hair look so touchable made this hand sanitizer that leaves hands equally supple and smooth. Though it has more than the CDC-recommended 60 percent alcohol content, its trifecta of vitamin E, glycerin, and aloe vera juice lands it on the more moisturizing side of most hand sanitizers, meaning you don't need a hefty serving of hand cream after each use.
For the Person Who Loves Brazilian Bum Bum Cream
For the Person Who Collects Fancy Candles
Discerning noses will appreciate this concoction from Michelle Pfeiffer's clean fragrance line. The 70 percent alcohol formula is made with aloe and vegetable glycerin and comes in the brand's best-selling Jake's House fragrance, which blends a sort of watery freshness with neroli and soft musk. In other words, hands are left smelling like an upscale hotel bathroom that's lit with fancy candles, rather than vodka or a nostril-clearing Lysol wipe.
For the Harry Styles Fan
This hand sanitizer is perpetually on summer vacation. It's cheery, lightweight, and down for wherever. If it could wear jorts, it would. Just one spritz of this superfine, watermelon-scented mist will bring back memories of Jolly Ranchers, extended periods of sunlight, and a happier time, when Harry's summertime polycule anthem was on loop in your head.
For the K-Beauty Practitioner
Tonymoly has an extensive chok chok skin-care collection for dewy faces, and now your hands can get in on the action. This gel formulation won't leave them as slippery as a dolphin or anything, but they'll feel deeply hydrated when soaking up this blend of soothing aloe water and calming witch hazel. The cute tubes are perfect for stashing in multiple places, like tiny purses, fanny packs, pockets, and car glove compartments.
For the Plant Parent
This completely plant-based and sustainably sourced sanitizer from Instagram's favorite bathing brand is like a mini nature escape in a bottle. It's made of 72 percent organic, non-GMO corn-based alcohol and organic vegetable glycerin, and it comes in an ecofriendly, refillable glass bottle. Inhale the brand's signature redwood-inspired scent, and exhale with total peace of mind.
For the Person Who Likes to Smell Clean
Fans of that fresh, tingly, clean feeling that oral-care products deliver with such ease will enjoy this skin-friendly sanitizer. It's prescribed by Dr. Woo, tattoo artist to the stars, who has made an effective, 70 percent alcohol sanitizer that comes in a convenient yet sleek spray bottle. The crisp, refreshing peppermint scent reminds you it got the cleaning job done.
For the Person Who Likes to Keep It Fragrance-Free
This silky-smooth formula from clean beauty brand Biossance is packed with vegan glycerin and the brand's star ingredient: shark-saving, sugarcane-derived, hydrating squalane. The end result is a 70 percent alcohol formula that has an extra-luxurious texture no one will mind applying multiple times a day, and zero fragrance to keep sensitive, dry hands from being further irritated than they probably already are at this point in the year. Can you believe?
For the Person Who Isn't Living With an Evergreen Tree This Year, But Would Like To
This multitasking spray is designed to zap germs on anything you don't have time to thoroughly wash at the moment, be it your hands, your phone, or your face mask. The 65 percent alcohol based formula with nourishing green tea, aloe vera, and safflower-seed oil now comes in a limited-edition Crisp Pine scent for holidays, meaning you and all your personal belongings and nearby surfaces can celebrate in the festivities, too.
For the Person Who Likes Options
The holiday season is for gifting sampler packs, and this year, that includes hand sanitizers. This trio comes with a grapefruit, eucalyptus, and unscented option, so hands can bathe in whatever best suits their mood that given hour, day, or week. Once your giftee settles on a favorite, there are eight-ounce refills ready and waiting to top off the travel-size aluminum bottles.