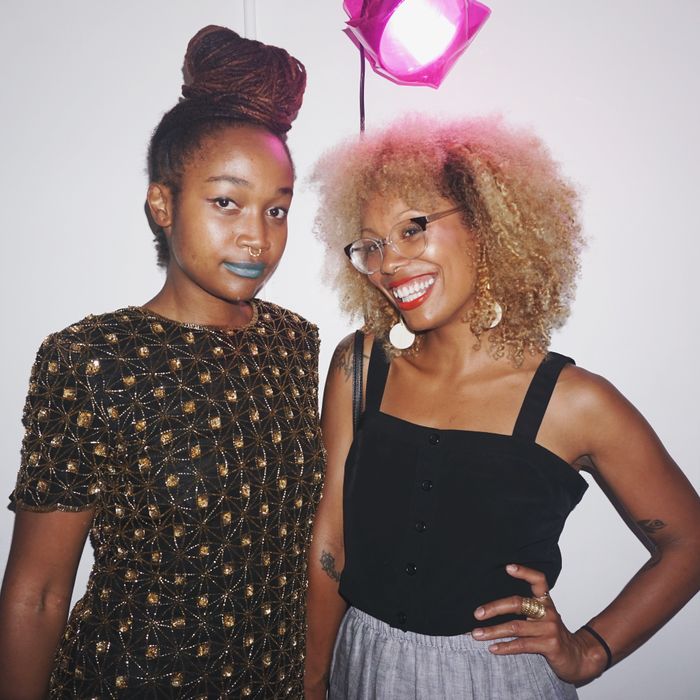 Kimberly Drew and Jenna Wortham in Brooklyn at the Black Contemporary Art Tumblr anniversary party, May 2016.
Photo: Texas Isaiah
I learned of Ntozake Shange's passing in the anonymous way too many of us get our news these days. A friend posted "RIP Ntozake Shange" on her Facebook timeline with a single yellow tear. I froze, hoping at first that this was one of the Internet's many timewarp fictions, a mean but ineffectual trick of some faceless troll disconnected from Black feminist communities, marshaling our love for Black artists as clickbait. We have seen it before. How many times has social media tried to bury our living greats? I was sure Ntozake was alive, until I reached out to her family, who confirmed the news, saying "Damn, the Internet is fast."
Even then, the loss struck me wordless. I could not make sense of it in language. What words do we have to express our gratitude for those who make us possible, not only as writers and artists, but as Black women, as queer people, as humans? What do we call the thread that links the artist to those who need her, a thread whose full weight is often revealed only in loss? We know that naming is value. And yet, there are no names for those threads, and there is not enough effort on the parts of our institutions, our schools, or media, our culture to care to name the Black women writers who make our lives livable. Ntozake was well known, especially for her groundbreaking choreopoem, for colored girls who have considered suicide/ when the rainbow is enuf, a meditation on love, sex, violence, and the beauty and pain of Blackgirl life that garnered both praise and virulent sexist critique when it was orig- inally produced, as much as we celebrate it now. But Ntozake's value extends far beyond that one work, to the dozens of plays, essays, novels, and poems she wrote, and the mil- lions of Blackgirls who found vision for their lives in her work, myself included. Academia reserves terms like "canonical" and "literary master" for White men—perhaps for the best, as these terms' colonial logic misses the mark of Black feminist creative practice. but if Ntozake Shange, with all her future vision, is not a foundational voice in English literature, I don't know who is.
Ntozake was not my mother, or my auntie, or my good good girlfriend. But her voice was a deep and necessary presence for me. And I know I am not alone. This is why we write, and why we read Black women writers. They know us in ways mothers and aunties often can't. They guide us through trauma and heartbreak and the latticeworks of power that want to crush us, structures the "canon" refuses to notice. They lead us to each other, and to love. Even if we do not know them, they know us, and they help us know ourselves. Their voices sustain us and make our futures possible. What language is there for that?
I had the great gift of meeting Ntozake and talking with her often over the years about writing, art, and life. Sometimes she would call to share news of a new publication or invite me to an event. Sometimes she called to share new poems she'd just written and I would listen to her voice: its warm, generous tremble, myself breath-taken with disbelief. At the end of each of those conversations, she would share love and I felt it; the strange, sometimes awkward, unnamable love of two Black women writers who saw each other and valued what they saw enough to say it. Once she called to tell me she had named me as her mentee in a promotional interview for the publication of Wild Beauty, the last book she would write. She said it full-voiced and happy, as though she knew full well what this would mean to me: language to approximate this exchange, a mutual investment in staying con- nected over space and time.
As a fiction writer, playwright, and scholar of Black feminist poetics, this connection is always with me, and I know I am not the only one. I teach her work every semester, because she is part of our canon, but more important, because my students need her lessons on healing, fighting, listening, survival. I keep extra copies of for colored girls in my office, ready to hand to Black women students and Black queer students struggling with the violences of racism, sexism, heterosexism, classism, transphobia, and more, who land in my office nearly crumpled with wordless pain, needing recognition they cannot name. Every year they come, usually more than once, and I give them a copy, telling them to keep it, to write in it, to touch the pages: It is theirs. I had just given a copy away the day before Ntozake's passing. The student I gave it to was a Black girl from Brooklyn in her first year at an elite women's college, who was struggling with depression and isolation, grasping for language to describe what she was feeling. When I handed it to her, she looked at the title, the cover's image of a Black girl swirled in color, and pressed it hard between her palms, nodding.
This is part of what Shange teaches us: that full expression of our inner worlds needs the language of the body. In my scholarship, I write about what I call Shange's "choreopo- etic thought," a theoretical mode in which body and voice come together through language and movement to express Black feminist possibility. I have spent long months and years writing about this idea, and yet it was not until her passing that I understood what it really meant to me. In the wake of her passing, the language of thanks and sympa- thy was not enough to express the gratitude that scratched at me from the inside, leaving tracks of inarticulable loss. The words needed body. I know I was not alone in that either.
I was fortunate to help coordinate the family memorial service, which we held not long after her passing, in a warm wood-girded church in Washington, D.C. The altar was crusted with tropical flowers and the people were decked out, at the family's request, in reds, blues, pur- ples, yellows, browns, oranges, and greens. I later learned that Ntozake had made this re- quest herself: When we come to celebrate her, we are coming in full-bodied color.
The service and the planning were a flurry of movement. We gathered others to be of service, making sure there were words and reflection, but also that there was music: salsa and soul, Prince and Héctor Lavoe, steady basslines to back up remembrances from her family and sistafriends and the pantheon of literary and theater greats who came to celebrate her. We checked microphones and hustled chairs to the altar when the church reached capacity. We steamed tablecloths and improvised ushering schemas and made mis- takes. We made sure there was space for spirit and room for our bodies. Maybe most import- ant, we made sure there would be dance.
I now know this collective act of doing was the only way to say our thanks. In Black Feminist theory, we believe in the present tense. Our lions have not walked; they walk. Our she-roes have not lived. They live.
The essay "Ntozake Been Said That" by Mecca Jamilah Sullivan appears in the book BLACK FUTURES, edited by Kimberly Drew and Jenna Wortham. Copyright © 2020 by Kimberly Drew and Jenna Wortham. Reprinted by permission of One World, an imprint of Random House, a division of Penguin Random House LLC.
Kimberly Drew and Jenna Wortham's Black Futures asks the question, What does it mean to be alive and Black right now? The book answers by gathering work from over 100 Black creatives, who explore the issue through poetry, essays, recipes, photos, memes, and many other formats. The Cut's senior editor Kerensa Cadenas spoke with Drew and Wortham about what it was like to collaborate on this project together and how being Black and queer influenced the production of this book.
How did you guys come up with the concept for the book? And what was the inspiration to make it something bigger than just essays — to include poetry and visual art? 
Jenna Wortham: When we initially started talking about the project, we would just share images; we would share ideas, and we would share authors. I think we always knew from the jump it was going to be really multifaceted. We're both writers, but we both care so much about visuals. I don't know that either one of us would have been satisfied with just writing.
Kimberly Drew: We both love to read and write, but I don't know that that's everyone's truth. For us to make a book that could really speak to right now is also understanding that there's so many ways that we interpret, so many ways that, historically, we don't always privilege.
There's so much in the book about Black queerness and identity and celebrating those things. It made me think a lot about how so many queer spaces are closed down due to the pandemic — which, Jenna, you've written about Black queer spaces in your work before. 
JW: It's a really gay book, and I don't know if people are expecting that. I mean, if they follow either one of us, they should. I think without being too didactic about it, if we're trying to envision the worlds, plural, that we want, it very much centers queerness, and it very much involves feeling like a safe haven. I think it's just such a moral priority to insist upon safety for Black queer people and Black trans people and Black disabled people. This book itself is a Black queer safe space, but of course, so many of the artists and writers and visual designers and people we were thinking about and interested in are queer. The book organizes itself that way naturally, based on what was top of mind for contributors to ask them that question — what does it mean to you to be Black and alive?
KD: There's this really brilliant part of the book that Jenna really was a driving creative force and curator on — a selection of photographs of nightlife from around the world. I think that especially in this moment when so many of us are yearning for those spaces, to see a photograph of a food table, a photograph of someone talking in a bathroom, and just remembering that those spaces are so sacred. And if, and when, and however, we go back to convening in those ways, maybe we'll hold them more tenderly and we'll document them more thoughtfully.
You mentioned you'd been working on this since 2015. What are you hoping for now that it's in the world? 
KD: Being the queer book that it is, I think a lot about my first early parties that I went to when I was in my early twenties and coming into the New York scene, and I had friends who would invite me into this universe of queerness that I just had been needing for so long. It really is this entry point and companion to so much, and I think I've learned and been emboldened so much by the process of making it. And I hope it emboldens others to either have more curiosity about Black cultural production and Black creators, or those who are Black who read the book to understand the incredible vibrancy that we contain as people.
If you buy something through our links, New York may earn an affiliate commission.