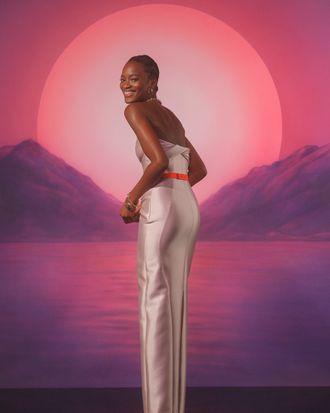 Existential dread doesn't exclude successful designers, especially during a global pandemic. Still, it's not all gloom and doom. For his spring 2021 runway show, which debuted this morning, Brandon Maxwell responds to these difficult times with a message of hope and optimism.
"How do we make sense of the change, the abrupt loss, the uncertainty that we have all undoubtedly felt in both life and our work for so many months now?" the designer asked on Instagram. "For quite some time, I'm sure like many of you, I hadn't the slightest idea. In so many ways I still don't, but for now I've at least found a way to come out of the past and step just the smallest bit forward. And that feels like enough."
Accustomed to the panicked chaos of creating a runway show, Maxwell scaled back — reminiscent of his very first days as a new designer — with no audience to watch and his closest team members behind the scenes. The final product represents Maxwell and his team's path "from dark to light" and finding their "renewed purpose," according to the show notes.
Directed by his husband, Jessy Price, the video re-created backstage aspects of a live show: the chitchat, makeup artists and hairstylists putting final touches on models, a coordinator giving cues over a headset, and Maxwell taking final looks at it all. When the show starts, a moody Moby track pairs with black, white, and gray looks, building slowly to a colorful finale with energetic hues soundtracked by Lady Gaga's "Free Woman." Optimism wins.
Known for impeccable tailoring and clean silhouettes, Maxwell mixed in elements of athleisure this season — his predication of post-COVID dressing that's comfortable but still elegant. Think suiting and dresses in a sensible yet stylish jersey neoprene, a shirt dress in black nylon, and dressed-up versions of quarter-zip hoodies.
Sure, an audience adds an electricity to the air at a runway show, but one model says that she still felt beautiful and powerful nonetheless. "The biggest lesson I've learned is that it's really not about the loud moments," Maxwell said. "It's in the quiet ones where the love can really transpire." Watch the video below.