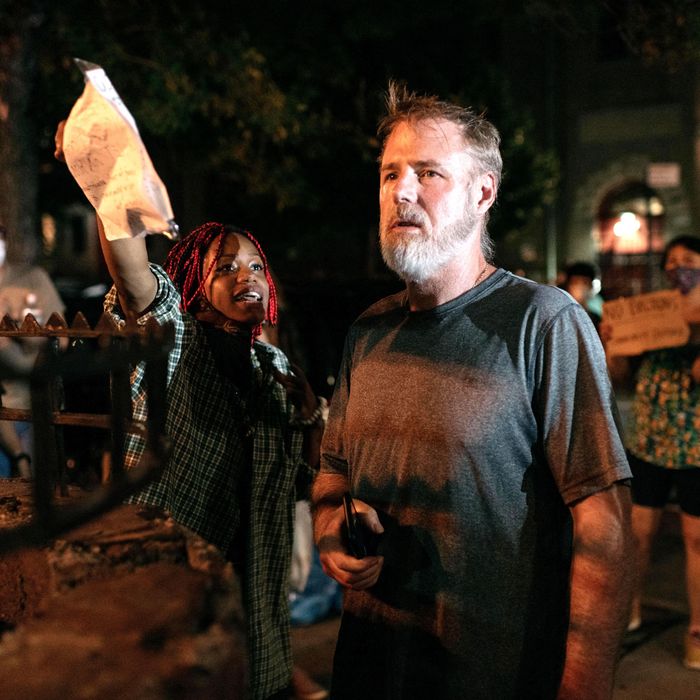 Loretta Gendville and Gennaro Brooks-Church, two New York landlords who were the subject of New York's August feature "The Eco-Yogi Slumlords of Brooklyn," are getting sued — again. This time the Mayor's Office of Special Enforcement is targeting Gendville's and Brooks-Church's illegal short-term rental operations on Airbnb, which filtered thousands of transient guests through over a dozen properties, turning a huge profit.
A civil complaint was filed by OSE this morning, and asserts that Gendville and Brooks-Church "jointly operated a ring of illegal short-term rentals across nine Brooklyn buildings for four years, continuing well into the global COVID-19 pandemic." The massive operation netted them well over $1 million during that period, the city says. The OSE is seeking $1 million in "punitive damages, as well as penalties for consumer deception and a restitution fund for any guests deceived by the illegal listings" for violations of New York City Consumer Protection Law.
In July 2020, Brooks-Church and Gendville attempted to force out tenants from a single-family home they own at 1214 Dean Street, which they were renting out individually by the room, SRO-style, another illegal setup. An investigation into the scandal by New York uncovered years of their shady dealings as landlords and business owners, including some of their illegal rentals on Airbnb. Last month, they were sued by the Mayor's Office to Protect Tenants for violating eviction law. They are also under criminal investigation by the New York State attorney general.
The OSE's complaint, which quotes from New York, greatly expands what was previously known about Gendville and Brooks-Church's moneymaking housing schemes, using data obtained from Airbnb. Since 2016, it says, the pair have converted 14 of 22 permanent residential dwellings into illegal short-term rentals, generating a whopping $1.4 million in profit, the OSE estimates. New York City law mandates that buildings like single or two-family homes must be rented out for longer than 30 days unless the owner also lives in the apartment with short-term renters. Otherwise, they are classified as illegal hotels. Gendville and Brooks-Church established such illegal rentals at the five properties they own in Brooklyn, previously known to New York, but also in four additional properties at which they themselves rent, including the space above Planted, Gendville's restaurant on Smith Street. OSE claims the duo were operating the Airbnb listings under their true names but also under the name of their minor daughter; the name Shepherd Lantz, the father of Gendville's most recent child; and various other aliases. The listings were also made using different IP addresses. Gendville and Brooks-Church allegedly "funneled" tens of thousands of dollars in Airbnb revenue to Area Emporium LLC, Gendville's business, and used employees to facilitate illegal rentals.
According to the suit, guests frequently complained in Airbnb reviews about the false nature of the listings compared to how they were advertised, including cleanliness and safety discrepancies. "THIS IS NOT AN AIR BNB/ ITS A HOSTEL – This place should not be advertised as an air bnb, it's a hostel," one person wrote on Airbnb in 2019. Another said, "From the slow response (not answering phone and having a child be the only one answering door, as well as only person she saw the first day), the unclean room, bathroom that was not private (glass door) and the misleading listing ("free yoga and sauna") It was a terrible experience from beginning to end." The landlords continued their illegal rental operation even after the eviction scandal in August brought them relative notoriety: In October 2020, one reviewer wrote, "This is not a good option during COVID. No social distancing, no posted information about COVID in the area. No masks being warn [sic] in shared spaces. No disinfection happing [sic] to counter tops door knobs and bathroom. Not adhering to NYC State laws." Reviewers also had a complaint in common with tenants at 1214 Dean Street about vermin: One guest wrote that they "personally found a mouse on the kitchen's table" at a rental.
The suit tracks how Gendville and Brooks-Church were already the subject of thousands of dollars in fines and violations by the city, which went unpaid and unaddressed for years. In a statement sent to New York, executive director of the OSE, Christian Klossner, said that the city would no longer "turn a blind eye to illegal activity from unscrupulous owners, hosts, or platforms that knowingly endanger tenants."
New York has reached out to Gendville and Brooks-Church for comment; this article will be updated with any new information.