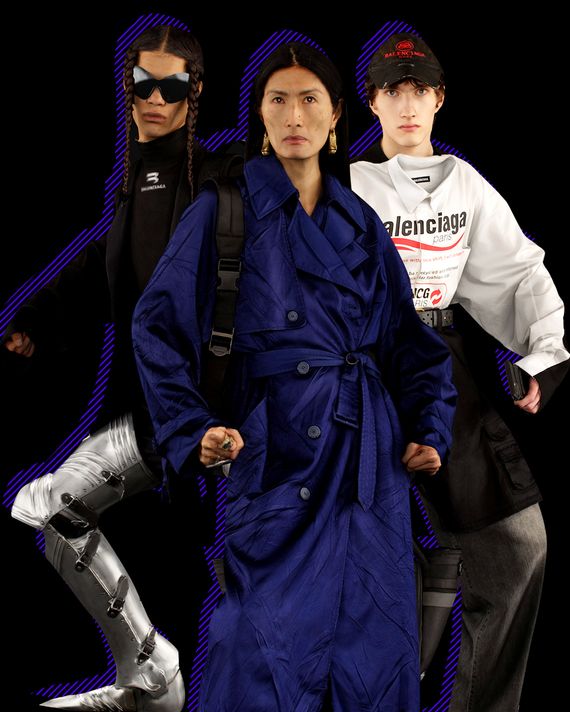 Photo-Illustration: Courtesy of Balenciaga
On Sunday, Balenciaga released a video game of its fall 2021 men's and women's collection and, for a tiny group of editors and clients (roughly 200 worldwide), a virtual-reality runway show using Oculus headsets. I played both while standing in my kitchen as my dog, Murray, noisily ate a bone. I disappeared in the VR world, sitting next to people — front row, natch — who frankly looked like dummies. Hey, these aren't fashion show people. They certainly weren't Balenciaga people, the strangest and coolest of them all.
Still. As I scanned around the scene illumined by my Oculus, as Murray crunched the bone, I could see the future. That was the point, right? Or, it was one point that Balenciaga's creative director, Demna Gvasalia, had in mind, I felt. With the Oculus hand controls, I could conceivably, one day, aim a laser-like beam at a puffer jacket or a pair of boots, and see the object in close detail and perhaps even move it to my shopping cart. I could banish the A.I.-type figures in the audience and repopulate with my own cast. Or I could summon my own landscape for the show or a historical time travel, Balzac meets modern-day Balenciaga on the Rue de Rivoli.
The video game offered the same potential. Its imagery was actually crisper than the VR experience, and though I found the journey a bit tedious — from a bunker-like Balenciaga boutique in a city to a forest and then on to a rave, etc. — I appreciated the ability to get close to the models and the clothes, and circle around them. Again, as the technology advances, I could imagine all sorts of outcomes, including e-commerce links.
And let's consider the big-picture view of Gvasalia's gambit. Not only does he acknowledge the gaming world, but he effectively merges it with luxury. He removes another floor from fashion's crumbling ivory tower. And Balenciaga has the opportunity to develop expertise in another media area.
Ultimately, though, I see in Gvasalia's moves a bid for autonomy and control in an increasingly chaotic world. He wants to write Balenciaga's own script, and not be beholden to what the industry expects — and what the past has ordained. We've seen a lot of interesting initiatives during the pandemic, like Gucci's mini series. But, in my view, Gvasalia has the firmest grasp on the future, even if some of the kinks still have to be ironed out. Next July, he plans to relaunch haute couture at Balenciaga. That will allow him to work in the craft tradition and, possibly, stage an intimate, live show. But, as Gvasalia knows, the craft tradition, at least in clothing, matters to only a relatively small audience. The rest of us are waiting for stuff online.
The new clothes in a way reflect that reality. The parkas and baggy jeans — slashed over a second layer — were particularly strong, as were fake furs made from finely shredded dead-stock. The collection was meant to imagine dress in the year 2031, with an emphasis on recycling, comfort, and street cool. The metallic armor-like boots, with articulated knees, looked boss, even elegant, with the over-scaled parkas, and as an under layer to the slashed denim.
But of course armor has enormous meaning in the history of fashion. It was plate armor, invented around 1200, along with a form-fitting linen undergarment, that got Western man out of his biblical-style drapery and into something fitted and sexy, and new. So the story continues.